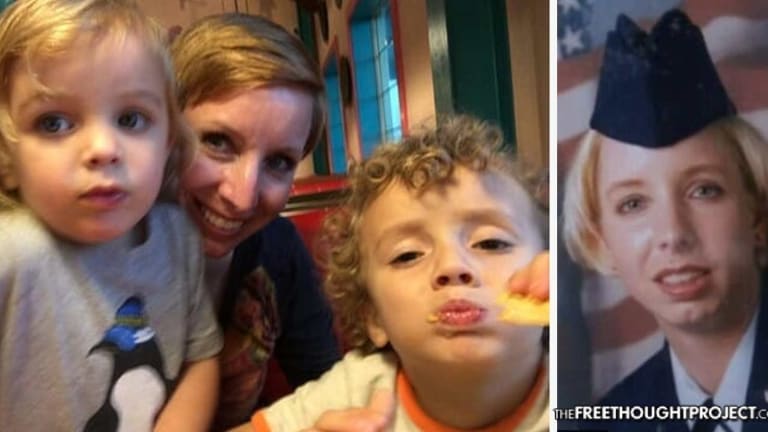 Mother, Air Force Vet Kidnapped, Sent to Rikers for Traveling in NY with Her Legal Texas Handgun
For carrying her legally purchased and licensed handgun in her vehicle as she traveled through New York, a mother of two and honorably discharged veteran was arrested and charged with a felony.
New York, NY -- Mother of two and honorably discharged veteran of the US Air Force, Deanna Jo Robinson had harmed no one, had not taken anyone's property and was merely traveling peacefully in her car when she was kidnapped by police and thrown into Riker's Island at the Rose M. Singer Center with violent armed robbers and murderers.
Robinson was driving from Texas to New York to bring her two children to spend some time with their father when she was arrested by the NYPD in the Bronx and charged with "265.03 FC (CRIM POSS WEAPON-2ND DEGREE C Felony)" for having her legally purchased and licensed handgun in her glovebox.
Robinson, who spent five years on active duty, had secret military clearances and also has her active and valid Texas License to Carry.
According to Federal law, an individual is not restricted from transporting legally acquired firearms across state lines for lawful purposes except those explicitly prohibited by federal law to include convicted felons; persons under indictment for felonies; adjudicated "mental defectives" or those who have been involuntarily committed to mental institutions; illegal drug users; illegal aliens and most non-immigrant aliens; dishonorably discharged veterans; those who have renounced their U.S. citizenship; fugitives from justice; persons convicted of misdemeanor crimes of domestic violence; and persons subject to certain domestic violence restraining orders. Therefore, no federal permit is required (or available) for the interstate transportation of firearms.
Robinson does not fit any of the restricted person criteria as described above. However, having the gun in the glovebox is likely what the New York police have taken issue with.
A Funded Justice page, started by James Gressett, reads:
"Deanna Jo, loving mother of two adorable boys, Veteran, Activist and friend in liberty, was arrested in NYC on Nov 11 while traveling from Texas, when her self-defense handgun was discovered in her vehicle. Please help us free her from Rikers.

Two beautiful little boys are wondering where their mother is after the family of three traveled across the country from Texas to NYC so the children could spend time with their estranged father. Deanna Jo is a responsible mother and a veteran with military clearances and a Texas License to Carry. Concerned primarily with her children's safety and posing no threat to any other person, Deanna Jo arrived at her destination, where her estranged husband took the children into his house then contacted police, who found her self-defense handgun in her vehicle. No mother should be forced to leave behind her best means of self defense, yet the City of New York sends a clear message: "We do not care about your Constitutional rights or your personal safety, and the only people who have guns here are criminals." Now Deanna Jo sits in a cage at Rikers Island, stripped of her rights and incarcerated, and her children are missing her dearly. She needs to return to them so they can be with their mother. The city has basically told her that her life and the lives of her children are meaningless and that her right to protect them is trivial. 
We are a group of friends who want to see Deanna Jo reunited with her children as soon as possible.
This fund is to help us do that, plus assist with the legal battle to come."
The goal set on the fundraising page is $25,000 and as of this writing has reached $6,400. The Free Thought Project spoke with Second Amendment and free speech activist Michael Picard who bailed Robinson out on Friday. He told us that Robinson is going to fight the charges all the way as there was no victim of her alleged crime.
"She served her country in the Air Force, and this is how New York serves her," Picard told TFTP.
Unfortunately for Robinson, this is the second time she's had an unjust experience with police. As TFTP reported at the time, Robinson was raided by police who were there to take her children over an alleged custody dispute. Robinson, who had a camera rolling at the time of the raid was seen pinned into a corner by Hunt County Deputy Josh Robinson who began beating the handcuffed 9-month pregnant woman as she screamed out in horror.
Deputy J. Robinson was subsequently no-billed by a Hunt County grand jury and has since been reinstated to full duty. Robinson was cleared of any wrongdoing and CPS later admitted there was no warrant.
If you'd like to call Bronx District Attorney Darcel D. Clark, and peacefully express to him that this woman has been through enough and doesn't deserve to be locked in a cage for protecting herself and her children, you can so at this number: 718-590-2000. Also, if you'd like to donate to her legal fees, you can do so at her Funded Justice page.