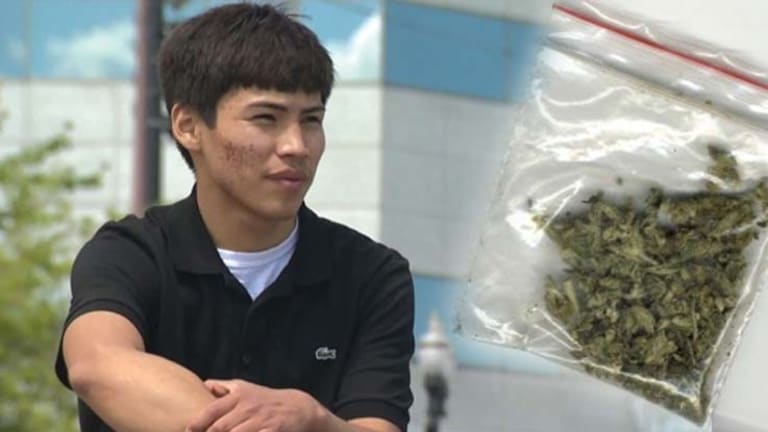 Native American Teen Facing Federal Prison for One Gram of Weed -- in a State Where it's Legal
"It is such a powerful symbol of a waste of resources and the inequity of the system," said U.S. Rep. Earl Blumenauer of the Native American teen's arrest.
In Oregon, a state that has legalized the recreational and medicinal use of cannabis, 19-year-old Thomas was federally charged for possessing one gram of cannabis – equivalent to about one joint.
He could be sentenced to a year in prison and a $1,000 fine, and would also be denied federal student loans and other forms of government aid for his entire life. Ideally, he can succeed without help from the same leviathan that victimizes so many non-violent citizens through an immoral War on Drugs, but the stigma of a federal conviction can be a lifelong problem.
This abomination of justice appears to be due to the fact that Thomas is Native American and was caught with the "illicit" plant at Chemawa Indian School, which is operated by the federal Bureau of Indian Education. The county or the Indian tribe does not have jurisdiction there, leaving the teenager in the clutches of a state apparatus stuck in the Reefer Madness era.
"I think it's deplorable," says U.S. Rep. Earl Blumenauer (D-Ore.). "What are we doing? Where are our priorities? A kid? Turning his life upside down? They don't have anything better to do to protect young people or Oregonians? It's incomprehensible to me...

"It is such a powerful symbol of a waste of resources and the inequity of the system," says Blumenauer, "because you and I can walk around in Portland, or in states where it is illegal, and find people using it. To single him out, to proceed with this, to ignore real problems that are killing people…"
Thomas, a member of the Warm Springs tribe, is far from the menace to society that one would think federal prisons are reserved for. Family and friends describe him as a "really good" kid who "would always help out his peers and be a leader—showing them what's the right things to do."
Thomas played on the junior varsity basketball team, went jogging in the morning, watered plants at the school greenhouse and lived the life of a normal kid with loving parents and grandparents.
But in March 2015, a student at Chemawa accused Thomas of buying a gram of cannabis. Normally, when kids were caught with weed they're just sent home and nothing comes of it, but Thomas wasn't so lucky.
A year later, without even being arrested, "a Chemawa staff member and a police officer drove him to the federal courthouse in Portland to appear before a judge."
The case marks the first time in at least three years that federal prosecutors have opened a cannabis case in Oregon. While anyone over 21 can walk into a store and buy up to seven grams of cannabis, Thomas was being singled out because someone said he bought a gram.
"There's absolutely racial disparity in how these cases are charged," says Amy Margolis, a lawyer at Emerge Law Group, a Portland firm that specializes in cannabis cases. "[Thomas] had the bad luck of being where and who he was."
Thomas and his family members declined to comment for the Willamette Week, fearing they could jeopardize his case, but it appears that Thomas decided to fight this injustice instead of bowing to the corrupted thing called the "justice system."
Thomas' public defender unexpectedly informed the courtroom that Thomas will not plead guilty, but intended to make a federal case out of it.
"Devontre's response, to me, indicates a genuinely felt sense of unfairness," said Alison Holcomb, director of the American Civil Liberties Union's national Campaign for Smart Justice in Seattle. "That it is unfair that he's being charged in federal court for this. It's the latest in a string of dramatic examples of how deeply people are feeling about unfairness and inequality…it sounds like that bubbled up for Devontre."
It appears that public outcry can indeed have an impact, however. Federal prosecutors have agreed to drop charges if Thomas follows certain conditions.
"Procedurally the case remains pending," says spokeswoman Gerri Badden, "however, the motion correctly states the terms of the diversion agreement. Assuming Mr. Thomas completes the agreement, the United States will move to dismiss the case on October 4, 2016."
The text states:
"Under the terms of the Agreement, the government will dismiss the pending misdemeanor Information if, for a period of 60 days, Mr. Thomas: (1) obeys all laws (federal, state, and local); and (2) attends school or works regularly at a lawful occupation."