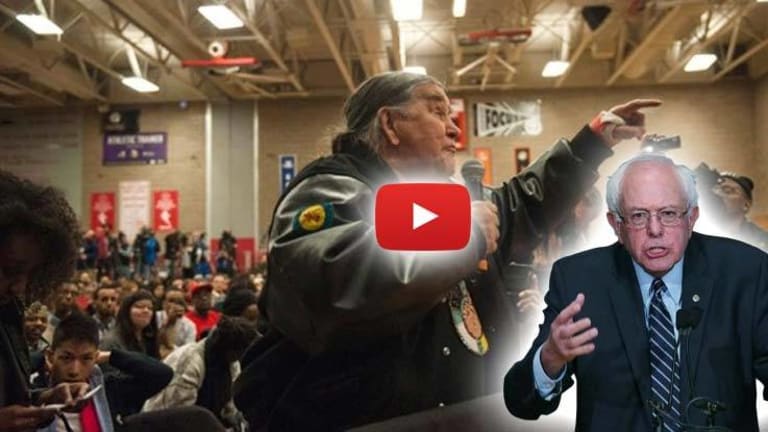 Bernie Left Stunned After American Indian Movement Founder Asks Him if He Will Honor the Treaties
The Founder of the American Indian Movement delivered a powerful rant and demanded Sanders answer his question about the US refusing to honor treaties.
Minneapolis, MN – During the Black America Forum in Minneapolis, American Indian Movement founder, and iconic civil rights activist Clyde Bellecourt was the last audience member to be given the opportunity to pose a question to presidential candidate Bernie Sanders.
Bellecourt, 79, an elder of the Anishinaabe tribe, took direct aim at Sanders and the other presidential candidates for ignoring the Native community and not speaking "a single word about Native people" in the fight for social justice.
According to a report by Indian Country Today Media Network:
Bellecourt introduced himself both by his name in his language and his "colonial name" and reminded Sanders and those gathered of the long struggle of Native Americans to be heard on the national stage. He described his own role and AIM's in leading Native American people to Wounded Knee in 1973 in an armed takeover of an Oglala Lakota village on the Pine Ridge reservation in South Dakota, site of the infamous 1890 massacre of Lakota men, women and children.
The forum moderator, Anthony Newby, attempted to rebuke Bellecourt by noting that event organizers had opened the meeting with a recognition that the event was being held on Native land. Newby then went on to explain to the tribal elder that American Indian issues weren't being discussed, as this was a "Black forum" – to which Bellecourt passionately responded,
"It's not a black forum, it's people of color! And I'm one of those colors!"
As the moderator pushed Bellecourt to present his question, due to Sanders needing to leave for another meeting he was late for, the AIM founder asked:
After 30 years, I worked within the United Nations. The UN finally signed the declaration for rights for indigenous people. I wanna know if you're gonna honor those treaties. I wanna know if you become President of the United States are you gonna honor the treaties made with Indian people?
Sanders responded, "The Native American people have gotten a terrible deal from the federal government. I will do everything I can to redress that, absolutely."
Bellecourt obviously felt as though Sanders was ducking the question as he can be heard saying, "You still haven't answered the question!" as the forum came to a close.
Although Bernie looked caught off guard by Bellecourt's questions, Sanders' campaign has begun to address Native issues, as last week the campaign announced the creation of a new Native American Policy committee to advise the candidate. Additionally, Nicole Willis, Sanders campaign's Native American consultant, stressed that Sanders has worked towards addressing American Indian issues, as evidenced by his co-sponsorship of the 2013 Violence Against Women Act.
The passage of the act allowed for the most significant increase in sovereign jurisdiction of tribes over non-Indians since the Oliphant vs. Suquamish Tribe Supreme Court ruling in 1978, which massively diminished tribal sovereignty, as the court reasoned that tribal courts did not have authority to try and punish non-Indians unless specifically authorized to do so by Congress. There ruling decimated the idea of tribal sovereignty in practice, further subjugating Native Americans to a non-responsive system of federal supremacy.
A 2010 Department of Justice report found that Native women had 2 and one-half times the rate of rape and murder of other American women. It has also been reported that the FBI which has jurisdiction in such cases declined to prosecute in over 70 percent of reported cases.
After generations of genocide and the ongoing destruction of the Native family structure, due to forced federal subservience, the time has come for indigenous people to be treated with the dignity they deserve. The United States should be forced to honor all treaties signed with Native tribes as legally binding documents, without exception.
Jay Syrmopoulos is a political analyst, free thinker, researcher, and ardent opponent of authoritarianism. He is currently a graduate student at University of Denver pursuing a masters in Global Affairs. Jay's work has been published on Ben Swann's Truth in Media, Truth-Out, Raw Story, MintPress News, as well as many other sites. You can follow him on Twitter @sirmetropolis, on Facebook at Sir Metropolis and now on tsu.