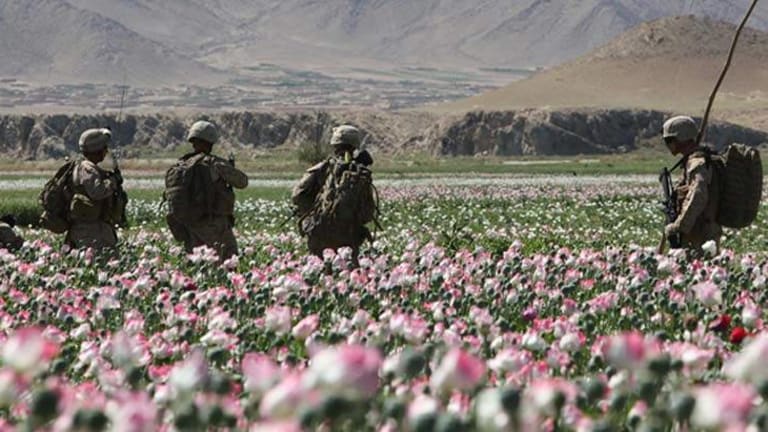 Drug Smugglers Go Free as US Air Strike Kills 11 Police Officers who Tracked Them, Officials Say
This attack will be the deadliest recorded occurrence of friendly-fire throughout the whole course of the war in Afghanistan.
Afghan officials reported this Sunday that a US airstrike killed 11 counter-narcotics police officers that were working for the government of Afghanistan to track down drug smugglers in the region. This attack is the deadliest recorded occurrence of friendly-fire throughout the whole course of the war in Afghanistan.
A US military spokesman, Colonel Brian Tribus, denied that Nato or US forces had conducted any strikes in Helmand on 6 September, but said they had launched an air raid that day in Maiwand district of neighbouring Kandahar province.

However, the area where Afghan officials claim the attack took place is a sparsely populated desert area called Rigestan, or Dasht-e Rigi, a barren plateau without clear borders that stretches across Helmand and Kandahar.
Tribus said in a statement that the airstrike was intended "to eliminate threats to the force."
However, Omar Zawak, spokesman for the region's governor said that the agents posed no threat to US forces and that they were, in fact, planning an ambush on drug smugglers.
A later statement was released by Brigadier General Wilson Shoffner on behalf of the US government, saying that they will investigate the airstrike further, but he still did not admit that the US military was responsible.
"Based on information we received today, we feel it is prudent to investigate the airstrike our forces conducted in Kandahar on 6 September. We will complete the investigation in close coordination with our Afghan partners and in a transparent, timely and thorough manner. We will release further details regarding this incident as they become available," the statement said.
The Guardian reports;
It is not the first time this year that American troops are accused of accidentally killing their Afghan partners. In July, a US helicopter airstrike killed eight Afghan soldiers and wounded five others in Logar, apparently mistaking them for opposition fighters. The US apologised for that incident, which at that point was the deadliest event of friendly fire involving foreign forces since 2001.
There is not yet enough information to speculate whether or not this attack was planned and intentional, or simply an act of carelessness on the part of the US military.
John Vibes is an author, researcher and investigative journalist who takes a special interest in the counter-culture and the drug war. In addition to his writing and activist work, he organizes a number of large events including the Free Your Mind Conference, which features top caliber speakers and whistle-blowers from all over the world. You can contact him and stay connected to his work at his Facebook page. You can find his 65 chapter Book entitled "Alchemy of the Timeless Renaissance" at bookpatch.com.