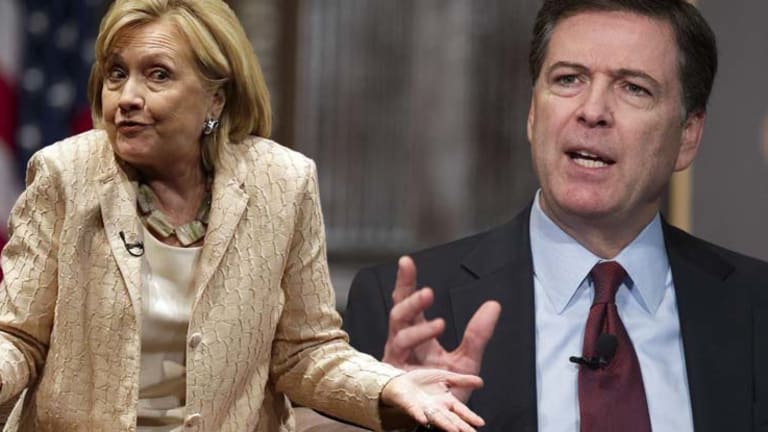 Naval Reservist Committed EXACT Same Crime as Clinton -- Guess What Happened to Him
The case of Bryan Nishimura, found guilty of "removal and retention of classified materials," proves Clinton's cozy corrupt relationship with FBI.
Sacramento, CA - In a case that clearly highlights that the rule of law only applies to the general public -- and not politically connected elites -- the FBI announced they would not refer Hillary Clinton for prosecution under Section 793 of the U.S. code relating to her use of a private email server.
Section 793, subsection (f), "Gathering, transmitting or losing defense information," makes quite clear that intent is not a key consideration in a case like this when deciding whether to press charges:
Whoever, being entrusted with or having lawful possession or control of any document, writing, code book, signal book, sketch, photograph, photographic negative, blueprint, plan, map, model, instrument, appliance, note, or information, relating to the national defense, (1) through gross negligence permits the same to be removed from its proper place of custody or delivered to anyone in violation of his trust, or to be lost, stolen, abstracted, or destroyed, or (2) having knowledge that the same has been illegally removed from its proper place of custody or delivered to anyone in violation of its trust, or lost, or stolen, abstracted, or destroyed, and fails to make prompt report of such loss, theft, abstraction, or destruction to his superior officer— Shall be fined under this title or imprisoned not more than ten years, or both.
According to Section 793, "gathering, transmitting or losing defense information" is a crime, regardless of whether an individual has the intention of pursuing malicious acts with the classified data or not.
During the press conference, FBI director James Comey made the case that while Clinton's actions don't warrant an indictment, "this is not to suggest that in similar circumstances, a person who engaged in this activity would face no consequences."
Highlighting this fact, less than one year ago, naval reservist Bryan H. Nishimura was prosecuted for "unauthorized removal and retention of classified information" without malicious intent -- the exact charge the FBI now says it will not recommend Clinton be prosecuted for violating due to a lack of malicious intent.
According to a Department of Justice press release from July 2015:
Bryan H. Nishimura, 50, of Folsom, pleaded guilty today to unauthorized removal and retention of classified materials, United States Attorney Benjamin B. Wagner announced.

U.S. Magistrate Judge Kendall J. Newman immediately sentenced Nishimura to two years of probation, a $7,500 fine, and forfeiture of personal media containing classified materials. Nishimura was further ordered to surrender any currently held security clearance and to never again seek such a clearance.

According to court documents, Nishimura was a Naval reservist deployed in Afghanistan in 2007 and 2008. In his role as a Regional Engineer for the U.S. military in Afghanistan, Nishimura had access to classified briefings and digital records that could only be retained and viewed on authorized government computers. Nishimura, however, caused the materials to be downloaded and stored on his personal, unclassified electronic devices and storage media. He carried such classified materials on his unauthorized media when he traveled off-base in Afghanistan and, ultimately, carried those materials back to the United States at the end of his deployment. In the United States, Nishimura continued to maintain the information on unclassified systems in unauthorized locations, and copied the materials onto at least one additional unauthorized and unclassified system.

Nishimura's actions came to light in early 2012, when he admitted to Naval personnel that he had handled classified materials inappropriately. Nishimura later admitted that, following his statement to Naval personnel, he destroyed a large quantity of classified materials he had maintained in his home. Despite that, when the Federal Bureau of Investigation searched Nishimura's home in May 2012, agents recovered numerous classified materials in digital and hard copy forms. The investigation did not reveal evidence that Nishimura intended to distribute classified information to unauthorized personnel.
In regards to the Clinton case, FBI director James Comey claimed that "although there is evidence of potential violations of the statutes regarding the handling of classified information, our judgment is that no reasonable prosecutor would bring such a case."
Adding that "prosecutors necessarily weigh a number of factors before bringing charges. There are obvious considerations, like the strength of the evidence, especially regarding intent. Responsible decisions also consider the context of a person's actions, and how similar situations have been handled in the past."
Comey's assertion that a lack of intent creates a situation that doesn't rise to criminal behavior is patently false, as the statute itself criminalizes gross negligence. In essence, the FBI has rewritten the law specifically for this case. People rarely intend the bad things that happen from gross negligence, hence Congress passing a law criminalizing such behavior for people in positions that handle classified materials -- with intent not being a prerequisite for a crime to have been committed.
The feds had no issues with prosecuting a naval reservist that innocently mishandled classified materials, but when it comes to Clinton engaging in similar (albeit less innocent) behavior it seems the rule of law doesn't apply.
So why was Nishimura treated so differently than Hillary Clinton?
In the words of the immortal George Carlin, "It's a big club, and you ain't in it!"
Incidents like this help people slowly wake up to the stark reality that there are two sets of rules; one for the American public, and another for the politically connected power-elites.