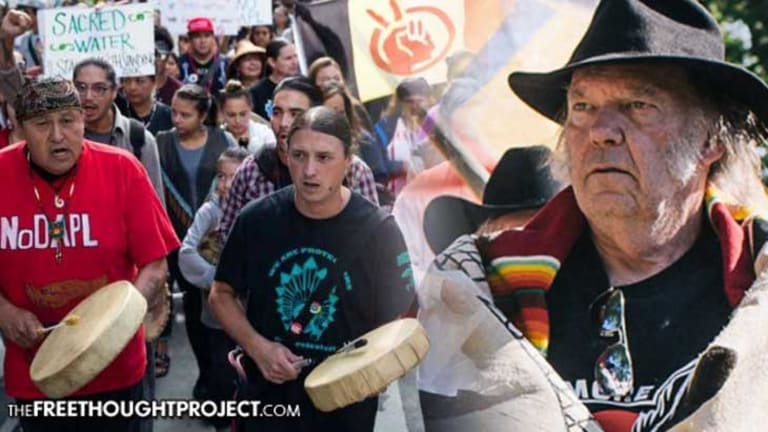 Neil Young Joins Water Protectors at Standing Rock as Obama Admin Mulls Approving Pipeline
Neil Young performed for Standing Rock water protectors over the weekend, as a decision on the most controversial permit for Dakota Access is expected any day.
Cannon Ball, ND — Legendary musician and songwriter Neil Young celebrated his 71st birthday on Saturday in the most fitting way possible — by performing for the Standing Rock Sioux Tribe and other water protectors camped to oppose the Dakota Access Pipeline.
"Got my birthday wish today, my girl took me to #StandWithStandingRock," Young wrote in a Facebook post, referring to his girlfriend, actress and activist Daryl Hannah. Both posted footage of the informal concert to draw attention to the struggle against the insidious pipeline and continued exploitation of Native Americans and Indigenous peoples.
Rather than setting up a formal stage, Young meandered through the gathered crowds, playing guitar, and singing "Indian Giver" in political solidarity — a welcome sight at the still-growing encampments near the banks of the Missouri River, considering reports suggest a crucial decision by the U.S. Army Corps of Engineers could come any day now.
At the center of the dispute sits a permit by the Corps which would grant Energy Transfer Partners the green light to drill under the Lake Oahe reservoir portion of the Missouri. Lake Oahe and the river supply drinking water to the Standing Rock Sioux Reservation and no less than 18 million people downstream.
Under Nationwide Permit 12, the Army Corps permits pipeline construction in a segmented fashion, evaluating environmental impact only in sections which could affect federal waterways, wetlands, and other federal properties. Although critics denounce the Corps' interpretation for violating the spirit of the law, it nonetheless has allowed Energy Transfer Partners a wide berth to construct over 75 percent of Dakota Access while waiting for permit approval.
Although protests and demonstrations have taken place all along the pipeline's route, the Standing Rock water protectors and thousands of their allies have drawn the most decisive attention to the contentious project. Indeed, in early September, the struggle against the pipeline came sharply into the national and international spotlight after a shadowy security firm unleashed vicious attack dogs on a crowd of water protectors and journalists whose only offense had been trespassing.
While corporate media has been glaringly absent from both the stand against the pipeline and the larger issue, a string of celebrities have taken up the cause — using star status to give Dakota Access its proper place in the spotlight, without usurping that attention for personal gain.
Besides Young and Hannah, Shailene Woodley, Dave Matthews, and Mark Ruffalo, among others, have visited the camp, the latter bringing a gift of transportable solar-powered generators to supply much needed electricity for cooking, medical tents, and heat — those camped plan to weather a harsher-than-normal North Dakota winter.
Samuel L. Jackson, Chris Hemsworth, Chris Evans, and Ruffalo — the cast of the Avengers — have all spoken out in support of the Standing Rock Sioux' opposition to the pipeline and struggle for clean water.
Police from at least five states, militarized to an alarming degree, have been quick to deploy mace, pepper spray, LRAD and sound cannons, bean bag projectiles, rubber bullets, and Tasers against water protectors and pipeline opponents, who have remained largely peaceful and prayerful, if impassioned.
Although reports did surface about violent factions among Dakota Access opponents against police and others, witnesses and journalists familiar with the atmosphere in the camps strongly suspect those elements to be paid opposition — perhaps at the behest of the company or government — to cast purposefully negative light on the movement.
However, should the Army Corps of Engineers and the Obama administration issue a ruling on the permit for ETP to drill under Lake Oahe, desperation to stop Dakota Access has officials worried peace at the assorted camps would abruptly turn chaotic and violent. Standing Rock Sioux and other water protectors assert they will remain calm, but view stopping the pipeline as an obligation and a matter of life and death — for which they are prepared to do whatever may be necessary.
According to Politico, an unnamed and unverified spokeswoman for the Army Corps of Engineers said Thursday of the pending permit, "an announcement will come in the next few days."
While other unnamed sources familiar with the process told Politico Friday that a decision could be announced as soon as today, and an unnamed source in the Obama administration clarified that the "process is ongoing and no decisions have been made."
As ETP readies equipment near the banks of Lake Oahe to begin drilling the sub-river section of the pipeline project, the Army Corps warned repeatedly — albeit without much authority for enforcement — for construction to be put on hold until the permit decision is finalized.
ETP and Dakota Access investors eagerly await the permit ruling, which is widely suspected to go in their favor, despite international sympathies with water protectors and the obvious callous treatment of Native Americans.
Amid all the publicity of celebrities on scene and the infamous images of police battling unarmed water protectors on historically-indigenous land, construction has pushed on under heavy guard. As Dakota Access LLC stated,
"As a practical matter, pipeline construction in the state of North Dakota is complete except for the crossing beneath the Missouri River at Lake Oahe."
On Tuesday, a massive display of solidarity with water protectors and the Standing Rock Sioux is planned both nationwide and around the world, with hundreds of events already scheduled and tens of thousands expected to participate. As one site cataloguing those events explained,
"On Tuesday, November 15th, join a massive day of action in solidarity with those at Standing Rock, and demand the Federal government and the Army Corps reject this pipeline [...]
"This is one of the most courageous stands against a fossil fuel project this country has ever seen. Together, our movements stopped the Keystone XL pipeline almost one-year ago today, and an even bigger movement is rising up to stop Dakota Access and all fossil fuel infrastructure.
"We know that elections and individuals alone don't create change -- movements do. That's why we'll continue to fight until native sovereignty is honored, indigenous rights are protected, and our communities, water, and climate matter more than fossil fuel profits."
There are many courses of action to show solidarity with more than empty words, such as demonstrating loudly and peacefully outside Army Corps of Engineers District Headquarter offices around the country, outside banks responsible for financing the controversial project — or consider closing your account and moving your money to a credit union — or by calling government officials and the White House to voice your concerns.
If a decision is indeed imminent — and untainted, uncontaminated drinking water for everyone is important to you — consider joining tomorrow's Day of Action or donating to goods, services, or money to the cause, or even just picking up the phone.