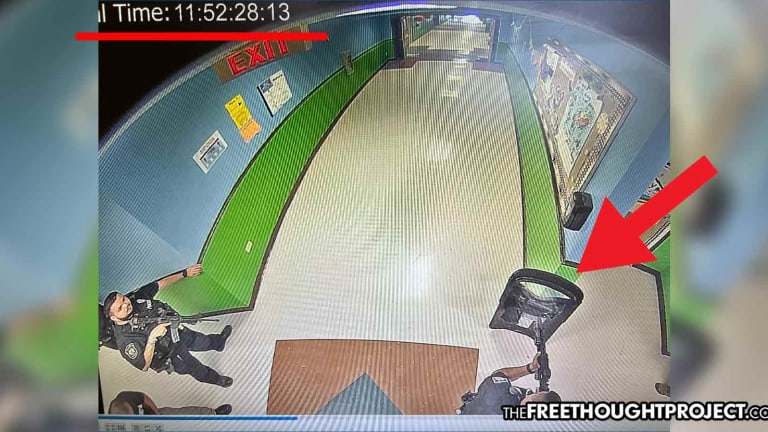 New Video Shows Uvalde Cops in School with Ballistic Shields AN HOUR Before Going Into Classroom
Multiple officers were inside Robb Elementary School in Uvalde with rifles and at least one ballistic shield — 58 minutes before they entered the classroom.
Uvalde, TX — As the Free Thought Project frequently reports, the most effective deterrent to a bad guy with a gun is a good guy with a gun. In the state of Texas, thanks to their lack of gun control, there are lots of good guys with guns and one of them could have prevented the entire tragedy that unfolded at Robb Elementary last month. Unfortunately, however, he was stopped by the people we are told are here to protect us, and 19 children and two teachers were slaughtered.
As TFTP reported last month, the shooter was able to fire off rounds outside the school building for 12 minutes, unobstructed and unchallenged by law enforcement before he entered the school and murdered children. He then entered the school where he was allowed to remain unhindered for 1 hour and 17 minutes before a tactical unit with Border Patrol showed up, disobeyed the order not to go in, and finally took him out.
Prior to Monday night, the country had very little detail about who was in the building and what weapons they had. Now, according to a still shot from a surveillance camera inside Robb Elementary, we know that cops were well equipped to engage the shooter. At least one of the officers is seen with a bullet proof shield nearly an hour before police would enter the classroom.
As parents were thrown to the ground, tasered, and handcuffed outside the school for trying to save their children, heavily armed officers — with the proper gear to take out a shooter — were inside the school just 19 minutes after the gunman arrived.
They would not enter the classroom for another 58 minutes.
According to reports of the new video, at least 11 officers were inside the school within 3 minutes of the shooter entering. KTVU reports that District Police Chief Pete Arredondo reportedly called a landline at the Uvalde Police Department at 11:40 a.m. for help.
"It's an emergency right now," he said. "We have him in the room. He's got an AR-15. He's shot a lot … They need to be outside the building prepared because we don't have fire power right now," he said. "It's all pistols."
Confusion and frustration then set in as some of the officers wanted to go in but did not.
As KTVU reports:
At 11:44 a.m., body camera footage then detects more shots from the gunman. At 11:52 a.m., an officer with the first ballistic shield enters the school and other officers grow more impatient. In body camera footage, you can hear one officer say, "If there's kids in there, we need to go in there."

Based on body camera footage, it is believed that Arredondo was trying to find keys to open the classroom, even though officials say they do not believe officers tried to open the door.

At 12:03 p.m., an officer with another shield enters the school, followed by a third two minutes later. New information also suggests that Arredondo also attempted to communicate with the gunman, asking whether he could hear him.

About 30 minutes before breaching the classroom, Arredondo is heard wondering aloud whether officers could consider shooting the suspect through the classroom's windows.

Then, at 12:46 p.m., the timeline shows that Arredondo told SWAT officers who had arrived that they should breach the classroom door as soon as they were ready. By this time, medical personnel had arrived and they began tending to the children after the suspect was dead.
As TFTP reported, there were multiple 911 calls before the shooter even made it to the school that day and several more before he entered the school as he shot at people out front. Good Samaritans also tried to engage the shooter but were told to stand down.
In an interview, Cody Briseno — who works at a funeral home across the street from Robb Elementary — told reporters that he was one of the first people to encounter the shooter on May 24th.
Briseno told reporters that he originally ran up to the shooter's truck after it crashed, thinking that he may need help but the shooter took out his AR-15 and began shooting.
After obtaining his firearm, Briseno ran back toward the danger to confront the shooter. Unfortunately, he would be stopped by cops.
"Hey, what are you doing," an officer asked Briseno as he began heading to the school to confront the shooter, he said. He told the cops, "I'm going to go in and try to stop them."
Instead of allowing this good guy with a gun to stop the bad guy with a gun, cops told Briseno to stay back and shut up.
Apparently, they thought they had it all under control... They were wrong.