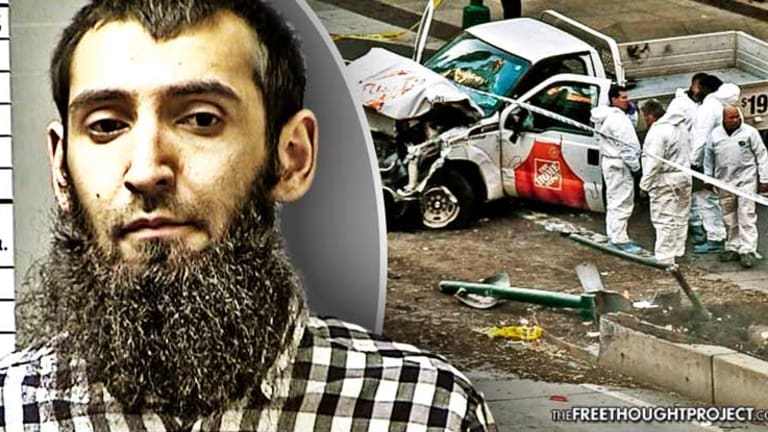 3 Ways The NYC Terrorist Attack Proves The 'War on Terror' is a Failure and Simply Propaganda
The NYC Terrorist Attack serves as a reminder that the War on Terror has taken away Americans' freedoms, and failed to keep them "safe."
A truck attack in New York City that killed eight people on Tuesday is now being hailed the "Deadliest Terrorist Attack in New York Since 9/11," after the suspect reportedly pledged allegiance to ISIS and left a note at the scene. But there are a few glaring reminders that the War on Terror should have prevented the latest "lone-wolf" attack to be sensationalized by the mainstream media.
Here are 3 ways the NYC Attack proves that the War on Terror has failed:
1. The suspect was a legal immigrant from Uzbekistan—a country outside of the United States' fear-mongering terrorist map
Within hours of the attack, police released the identity of the suspect as Sayfullo Habibullaevic Saipov, a 29-year-old from Uzbekistan who was living in the U.S. legally under a Diversity Visa. He was described by a close friend as "a very good guy" who is "very friendly."
While the claims that Saipov emerged from his truck yelling "Allahu Akbar" and left a note apparently saying that he carried out a terrorist attack in support of the Islamic State, are textbook examples of everything the U.S. government wants Americans to associate with terrorism, the similarities end there.
Saipov was not a Syrian refugee, and he was not an illegal immigrant. If he did have connections to ISIS, then the elaborate billion-dollar mass surveillance industry used by the U.S. government to spy on innocent citizens should have picked up on the red flags.
Although the U.S. has restricted travel and attempted to place even stricter bans on countries such as Iraq, Syria, Libya, Somalia and Yemen—all nations where the U.S. has conducted illegal drone strikes and killed innocent civilians—it seems to have completely missed Uzbekistan.
2. The Attack was first reported as both a truck attack and a shooting—but it was not the typical kind of shooting
While it is no secret that as soon as news of a mass shooting is reported, there seems to be a team of politicians, celebrities and media pundits who take to social media to call for gun control before any of the actual details are released, this attack was different. Initial
Truck driver in NYC terror attack has been named as 29-year-old Sayfullo Saipov, a resident of Florida https://t.co/wImBopKhgP
— Daily Mail US (@DailyMail) October 31, 2017
">reports from the scene claimed that both a truck attack and a shooting occurred in downtown Manhattan on Tuesday. However, that story had to be revised.
While there were reports of Saipov brandishing a weapon, it was "later found to be a pellet gun and a paintball gun." Both pellet and paintball guns are widely available to the public, and they are often used by children. While it appears that all of the fatal injuries from the attack were caused by the truck Saipov was driving, it remains to be seen how gun control advocates will choose to respond to this attack.
3. The War on Terror only comes into Play when it fits the narrative for U.S. Propaganda
When a shooter opened fire in Las Vegas on Oct. 1, killing nearly 60 people and injuring more than 500, the response from both law enforcement and the mainstream media was infuriating. The suspect was named "Stephen Paddock" and the first photo that was released featured a white man in a bar. In response, the FBI was quick to announce that it found "no evidence to indicate terrorism in Las Vegas Shooting." When a suspect plowed a truck onto a bicycle path in New York City, killing eight people and injuring a dozen others, the attack was immediately labeled terrorism by both law enforcement and the media, and the hashtag "#NYCTerroristAttack" began trending on Twitter. This is a reminder that the term "Terrorist Attack" only comes into play when it fits a narrative that justifies the United States' foreign policy.

There are a number of ways in which the "War on Terror" has failed to keep Americans safe, no matter how much it actively infringes upon their freedoms. Every time an attack occurs, each of the government agencies who have increased their own power in the name of "freedom" should be held responsible.
In the case of the Central Intelligence Agency, WikiLeaks founder Julian Assange
If the CIA spent more time investigating terrorists and less time training and arming them we might not have had today's truck attack in New York.
— Julian Assange ? (@JulianAssange) October 31, 2017
">noted, "If the CIA spent more time investigating terrorists and less time training and arming them we might not have had today's truck attack in New York."