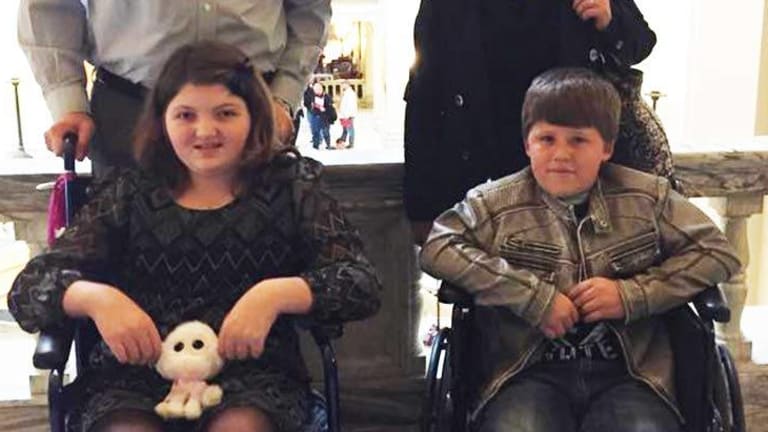 Since Oklahoma Legalized Cannabis Oil, These Two Children Have Been Seizure Free
Lawmakers who've been keeping this plant illegal should all be fired immediately.
Oklahoma City, OK -- Last month, Oklahoma lawmakers came to their partial senses and legalized cannabis oil as a means of medication.
HB 2154 or "Katie's Bill," named after Katie Dodson, was ceremonially signed into to law yesterday by Governor Mary Fallin on Katie's 11th birthday.
Despite being a staunch advocate against legalizing this part of nature, Governor Fallin finally caved to the pressure and allowed for the legalization of cannabis oil only.
Her daily doses of potent pharmaceuticals had put Katie in a daze. She began to regress and barely spoke, according to her family.
However, all that changed in May when Katie began taking the now legal CBD oil.
"She is talking more and she is talking in complete sentences, her reaction time is much quicker," said Kelli Dodson, Katie's mother.
According to News 9 Oklahoma, Kelli says other pieces are also fitting into place. Katie immediately started sleeping through the night. And she hasn't had a seizure for over a month.
Katie's friend, Robert Boren also suffered from debilitating seizures. Together, their families have been pushing for the legalization of CBD oil and it has finally paid off.
Robert also started taking the oil immediately after it became legal and he hasn't had a seizure since. According to News 9, his recent checkup revealed a totally clear EEG. He is also off all other medications.
Both families couldn't be happier and explained that the results from this amazing plant are all they hoped for and more. They said that this plant has not only saved the lives of their children, but changed all of their lives too.
"Yesterday morning, I was making breakfast for her and she said 'Mommy, come here,' and I came over to the kitchen and she said 'Mommy, had anyone ever told you what a wonderful mommy you are?' and I will remember that moment and cherish it for the rest of my life," said Kelli.
It is important to note that all children do not respond the same to the same type of CBD oil as there are many different forms of epilepsy. There are more than 42 types of THC and CBD that assist with other forms of epilepsy and diseases.
However, denying sick children and adults the potential to treat themselves is criminal and states like Oklahoma are finally realizing the sick nature of prohibition.