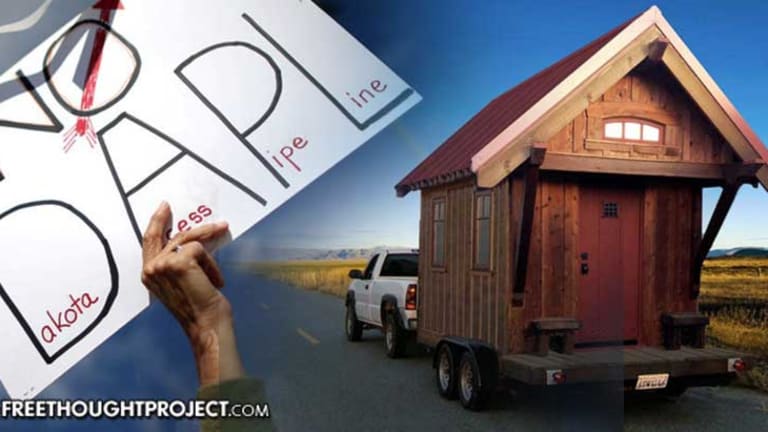 Oregon Community Just Donated Tiny Homes and Solar Energy to DAPL Water Protectors
A community in Oregon just donated tiny homes, wood stoves, and a stand-alone solar energy system to Standing Rock Sioux and other water protectors.
Cannon Ball, ND — Donations of warm clothing, blankets, and other items to the Standing Rock Sioux Tribe water protectors and their supporters have been welcomed as several encampments brace for a severe North Dakota winter on the open plains. But, perhaps most welcome among those donations, are tiny houses transported all the way from Oregon by a carpenter.
Matt Musselwhite arrived at the camps near the Missouri River in a 5-ton flatbed truck, bearing the modular components of three tiny homes to be assembled on site, Yes! Magazinereports. Volunteers welcomed Musselwhite, quickly unloaded the sorely-needed houses, and began putting the pre-constructed pieces together, as free coffee and food were passed around.
"This feels like a new America I want to be a part of," Musselwhite told Yes! Magazine.
Musselwhite hails from a small community southwest of Medford, Oregon, in the mountains along the border with California. He and other residents have been concerned about how water protectors will survive subzero temperatures and frigid winds this winter, but weren't sure how to help.
They recalled seeing a request for solid housing amongst the pleas for winter clothing and other items, and with Musselwhite's experience as a carpenter, decided tiny houses would be greatly appreciated. Yes! Magazine explains:
"The Oregon project named itself Shelter for the Storm and began with five large trees on private lands. All were dead or dying—perfect for milling into lumber for houses. Using the trees landowners donated and a barn vacated for the construction, several volunteers built three modular homes in three short weeks."
Roofs and the screws needed to fully assemble the homes at the camps were eagerly donated by Oregonian Rodger Parrott, who owns a metal-roofing company.
"I'm just grateful to see people that are willing to step up," Parrott said of the Standing Rock Sioux' protection of the Missouri River from likely contamination by the Dakota Access Pipeline. "Someone has to stand up for the planet."
Musselwhite is part of what's known as the "Little Applegate" community, where many residents live off grid and most grow at least some of their own food. Supporting the pipeline opposition came naturally to community with an activist mindset.
A Teamster trucker volunteered to drive Musselwhite and the tiny homes from Oregon to North Dakota — a trip that took three days.
And the carpenter and trucker brought more than just tiny houses, according to Yes! Magazine, they also transported"three donated woodstoves, a stand-alone solar energy system, 100 loaves of organic bread, and 1,000 pounds of organic pork, salmon, hamburger, and produce."
But the houses have special significance, both for those who constructed them in Oregon and for water protectors at the camps.
"They took wood from their own backyards to protect these protesters during this winter. They came to help and work,"noted Christopher Francisco, a Navajo member and photographer with the Diné media team who is staying in one of the camps.
One person from the Oregon forest community has direct and deeply personal ties to the water protectors — something he took into consideration when the Shelter for the Storm project was first conceived. Yes! Magazine explains of the three houses:
"One of them is designated for Mni Wiconi, the first baby born at what the water protectors call 'the struggle.' She was born in a tipi October 12. Her name is the Lakota phrase for 'Water is Life,' a central message of the Standing Rock Sioux protest that began in April. Mni Wiconi will move into her new home, which is swaddled in lumber selected just for her: It comes from a tree on land near Yale Creek owned by Rocky Verdugo, who felled it and donated the wood. Verdugo's nephew, Lowischa Falls-Rock, is Mni Wiconi's father."
Verdugo told the outlet, "It added that much sacredness and power to know that taking this tree would keep this new family warm for the winter. We put our prayers into it."
Musselwhite believes the movement to stop the pipeline and support the Standing Rock Sioux is part of a larger global push toward more responsible energy sources — renewables like the solar panels powering the tiny homes, but also wind and other means he witnessed at the North Dakota camps.
"All we're doing is lending our support to something that already existed and will continue to grow after we leave," he told Yes! Magazine of the Oregon community's contributions. "We wanted these folks—these brave people—to know they are not alone, that we're here and in solidarity with their resistance: thousands of people working together, sharing stories, fighting a pipeline with prayer and creativity."
Along with monetary support and winter supplies pouring in from around the world, other notable contributions to the camp have included portable solar panels donated by Mark Ruffalo, four Mongolian yurts donated by actress and activist Jane Fonda — and around 50 chefs and activists spent time cooking a Wopila Feast of thanks for water protectors yesterday.