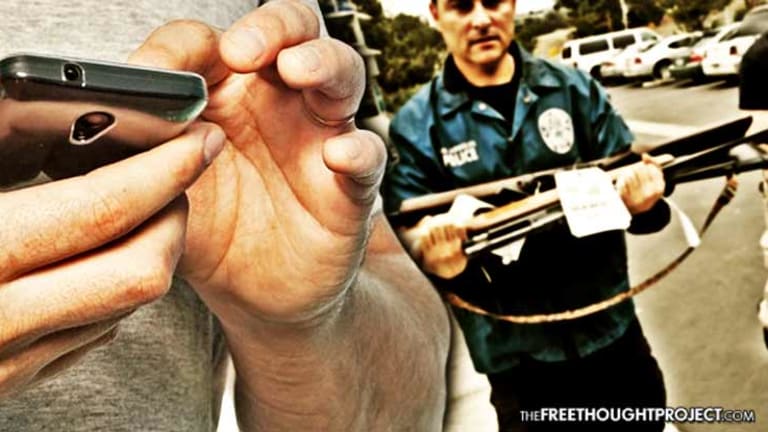 New Law Lets Police Confiscate Guns "Without Due Process" If Someone Reports You
Critics of the new law argue that it takes away an individual's right to due process, by confiscating his or her guns based on a single complaint.
A new law in Oregon could lead to residents having all of their guns confiscated based on a single complaint, raising concerns about the possibility of corruption if false complaints are used to strip law-abiding citizens of their right to defend themselves.
Senate Bill 719, which is defined as one that "Creates process for obtaining extreme risk protection order prohibiting person from possessing deadly weapon when court finds that person presents risk in near future, including imminent risk, of suicide or causing injury to another person" was signed into law by Democratic Gov. Kate Brown on Wednesday.
The confiscation of an individual's firearms can be pursued through the filing of an "Extreme Risk Protection Order," which is submitted to a judge in civil court by a police officer or a concerned family or household member.
"Requires court to order respondent to surrender deadly weapons and concealed handgun license within 24 hours of service of initial order, and immediately upon service of continued or renewed order. Provides for law enforcement officer serving order to request immediate surrender of deadly weapons and concealed handgun license and authorizes law enforcement officer to take possession of surrendered items."
During the legislative process, Brown expressed her support for the bill, calling it "a common-sense, life-saving bill that will help protect Oregon's women and children by closing the 'Boyfriend Loophole,' preventing convicted stalkers from buying or possessing guns, and keeping guns out of the wrong hands."
The bill passed in the Oregon State Senate by a vote of 17-11 in May, and in the House by a vote of 31-20 in July, before it reached Brown's desk in August. Once it goes into effect, if an Extreme Risk Protection Order is granted by a judge, the resident in question could legally lose his or her right to possess or purchase firearms of ammo for one year.
While suspects have 30 days to request a hearing in an attempt to regain possession of their seized firearms once an order has been issued, and while individuals who file fake protection orders could face up to one year in prison, gun rights advocates still are not convinced that this new law will eradicate gun violence, even in domestic situations.
In a statement, the National Rifle Association's Institute for Legislative Action argued that Extreme Risk Protection Orders "could be obtained by a law enforcement officer, family member, or household member in an ex parte hearing to deprive someone of their Second Amendment rights without due process of the law."
"By allowing a law enforcement officer, family member, or household member to seek the ERPO, SB 719A would allow people who are not mental health professionals, who may be mistaken, and who may only have minimal contact with the respondent to file a petition with the court and testify on the respondent's state of mind. This ex parte order, which strips the accused of their Second Amendment rights, would be issued by a judge based on the brief statement of the petitioner. The accused would not be afforded the chance to appear in court to defend themselves against the allegations when the ERPO is issued. These orders may be issued without any allegations of criminal behavior."
The new law in Oregon was inspired by a law that went into effect in California in January 2016. Assembly Bill No. 1014 authorized "gun violence restraining orders" which allowed law enforcement to seize the firearms of an individual if a judge "finds that there is reasonable cause to believe that the subject of the petition poses an immediate and present danger of causing personal injury to himself, herself, or another by having in his or her custody or control, owning, purchasing, possessing, or receiving a firearm."
While there are a number of problems with the new trend of gun confiscation laws, one of the most glaring issues is that a "protection order" can be filed by a police officer who has had minimal contact with the suspect in question, and if it is granted by the judge, the suspect will have his or her firearms confiscated immediately, and the only way to return them is to go through a lengthy court process—eliminating one of the most basic principles of due process.