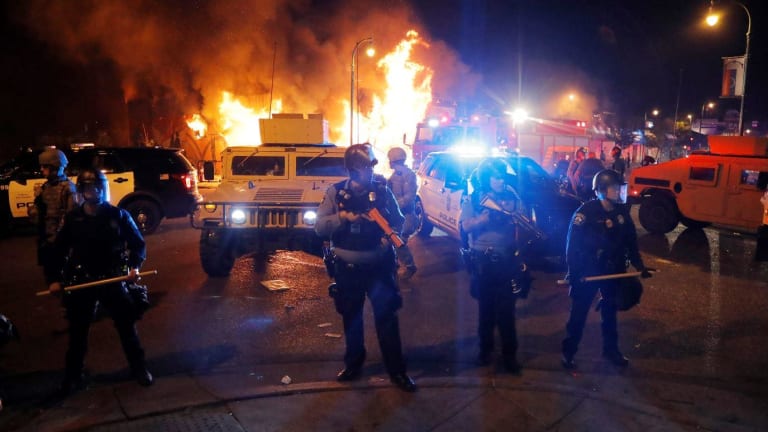 Pentagon Puts Military Police on Alert, GA Calls in Nat'l Guard As Protests Spread Nationwide
As anti-police brutality protests continued to spread across the United States, the pentagon and the state of Georgia are calling up reinforcements.
(RT) Georgia Governor Brian Kemp has activated National Guard units and declared an emergency as demonstrations in Atlanta escalate into riots and looting, sparked by the police killing of a Minneapolis man earlier this week.
Mayhem has erupted in downtown Atlanta, where arsonists have set fire to several cars, including a police vehicle, with reports of several other fires around the city.
"At the request of Mayor Keisha Bottoms and in consultation with public safety and emergency preparedness officials, I have issued a State of Emergency for Fulton County to activate as many as 500 Georgia Guard troops to protect people and property in Atlanta," Kemp said in a statement posted to Twitter early on Saturday morning, adding that they would "deploy immediately."

We will continue to make all state resources available to local leaders during this emergency situation.
Videos shared to social media showed smashed up storefronts and looting in progress around the city, particularly at the Lenox Square shopping mall, where a number of law enforcement helicopters were seen hovering overhead.
Earlier on Friday, a rally elsewhere in the city was dispersed by police, pushing a crowd of demonstrators to the nearby CNN headquarters, where they staged a raucous protest, smashing police cars and windows at the building's entrance.
A cop car burns during a protest against the death in Minneapolis police custody of African-American man George Floyd, in Atlanta, Georgia, US May 29, 2020 © Reuters / Dustin Chambers
A heavy police presence was deployed at the headquarters' front door to keep the protesters out.
The Pentagon plans to send military police to Minneapolis to help restore order in the city, according to reports. The city has seen its fourth night of unrest.
The Defense Department has ordered active-duty military police units to prepare to deploy to Minneapolis, which has seen riots sparked by the alleged police killing of an unarmed black man, George Floyd.
Army personnel from Fort Bragg in North Carolina and Fort Drum in New York have been ordered to be ready to deploy within four hours if called, the Associated Press reported.
Soldiers in Kansas and Colorado have been told to be ready within 24 hours if they are ordered to Minneapolis.
The alert was reportedly put in place on Friday, after US President Donald Trump asked Defense Secretary Mark Esper to devise military options for dealing with unrest in the Minnesota city.
Around 500 members of the Minnesota National Guard are already in the city. The troops have been guarding fire fighters as they put out blazes, and have also participated in dispersing protesters.
Other cities hit by protests and riots have started to deploy military personnel. On Saturday, Georgia's governor sent 500 members of the state National Guard to "to protect people and property in Atlanta."
Like this story? Share it with a friend!