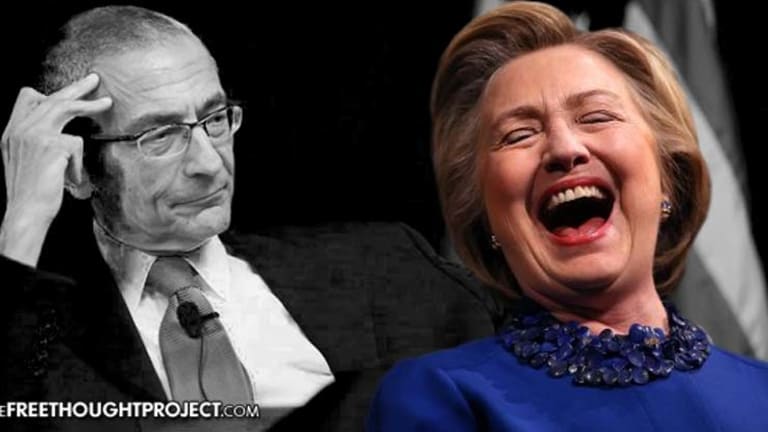 New Clinton Probe Dead from the Start, John Podesta's Best Friend at DOJ In Charge of Investigation
Reopened investigations of Hillary Clinton by the FBI and DOJ might be failed from the start, since John Podesta's best friend will oversee the perusal of Huma Abedin's emails.
Late on Friday evening, the FBI announced the reopening of its investigation of Hillary Clinton and her opprobrious emails, and the Department of Justice quickly followed suit on Monday, vowing to "dedicate all needed resources to quickly review emails in [the] Clinton case," according to a
BREAKING: Justice Dept. says it'll dedicate all needed resources to quickly review emails in Clinton case.
— The Associated Press (@AP) October 31, 2016
">tweet by the Associated Press.

Both announcements, made after Clinton aid Huma Abedin's emails were discovered on estranged husband Anthony Weiner's computer, come amid growing internal contention, as the FBI and DOJ parse out how to deal with the pressure of a rapidly approaching presidential election, as well as public perception the original investigation had been purposely bumbled in favor of the Democratic nominee.
However welcome or unwelcome the news of reopened investigations might be, one major detail — revealed in Wikileaks ongoing publications of Clinton campaign chair John Podesta's emails — presents evidence the Justice Department's probe could amount to little more than a smoke screen to placate an irate public.
Assistant Attorney General Peter Kadzik
#BREAKING Senior DOJ official sends letter to lawmakers responding to request for more information about email review.#8dayspic.twitter.com/PCgT2ODkQd
— Just the Facts (@JTF_News) October 31, 2016
">promised Congress in a letter the Justice Department "will continue to work closely with the FBI and together, dedicate all necessary resources and take appropriate steps as expeditiously as possible."

Perhaps that vow, from a government branch putatively dedicated to ensuring the criminal element is duly punished for misbehavior, should reassure those increasingly suspicious of an obviously-rigged system.
Perhaps, before Wikileaks revealed interdepartmental communications and corruption, that promise might have held weight beyond a symbolic gesture of obligation — but as Podesta's emails reveal, it's entirely possible this reopened investigation is failed from the start.
Kadzik, in fact, maintains a cozy enough relationship with Podesta to have had dinner with the Clinton insider just one day after the former secretary of state testified before the House Select Committee on Benghazi last October.
And the pair's familiarity isn't held to a simple dinner party, as the Daily Caller reported, "Podesta and Kadzik, the assistant attorney general for legislative affairs, were in frequent contact, other emails show. In one email from January, Kadzik and Podesta, who were classmates at Georgetown Law School in the 1970s, discussed plans to celebrate Podesta's birthday. And in another sent last May, Kadzik's son emailed Podesta asking for a job on the Clinton campaign."
So, Kadzik — an extremely close friend to the chair of Hillary Clinton's presidential campaign — is tasked with heading the newly reopened investigation of Hillary Clinton.
Clinton couldn't ask for an arrangement better situated to again find insufficient evidence worthy of bringing charges against her. As far as conflicts of interest go, this takes the cake.
"The political appointees in the Obama administration, especially in the Department of Justice, appear to be very partisan in nature and I don't think had clean hands when it comes to the investigation of the private email server," executive director of the Foundation for Accountability and Civic Trust, Matthew Whitaker, told the Daily Caller.
If political wranglings and connections marred transparency and neutrality the first time around, it would be reasonable to assume the players haven't since magically unentangled themselves from Clinton and her campaign mere days before Americans take to the polls.
"It's the kind of thing the American people are frustrated about is that the politically powerful have insider access and have these kind of relationships that ultimately appear to always break to the benefit of Hillary Clinton," Whitaker continued, also noting the controversial meeting between Bill Clinton and Attorney General Loretta Lynch on an airport tarmac in Phoenix during the DOJ's previous investigation.
In fact, Kadzik, as an Obama appointee to the Justice Department beginning in 2013, also initiated the effort to have Loretta Lynch appointed to the role of Attorney General.
And the friendship between Kadzik and Podesta — as well as their connections to the Obama administration and additional officials overseeing the Clinton investigation — spans decades.
In 2008, for example, as the Washington Free Beaconreported from one of the leaked emails, Podesta emailed an Obama campaign official to recommend Kadzik have a supportive role in Obama's presidential campaign — particularly because the latter was a "fantastic lawyer" who managed to keep Podesta "out of jail."
Although Kadzik, as head of the Office of Legislative Affairs, does not have a direct role in 'chain of command' for the Clinton investigation, he does field inquiries from Congress concerning her emails.
Noted by the Daily Caller, in "November, he denied a request from Republican lawmakers to appoint a special counsel to lead the investigation," which sparked outrage by the GOP over potential conflicts of interest.
Florida Rep. Ron DeSantis voiced particular concerns about Lynch's longtime connections to the Clintons in a February 1, 2016 letter, and that Obama's appointees "are being asked to impartially execute their respective duties as Department of Justice officials that may involve an investigation into the activities of the forerunner for the Democratic nomination for President of the United States."
While the Daily Caller's report goes much further in depth concerning the relationships of Podesta and Kadzik with the Clintons and their insiders, it can be easily surmised in even a simple perusal of facts there could be no possible way an investigation this critical — and with resounding implications — would maintain any semblance of impartiality.
When Julian Assange vociferously denounces the U.S. electoral and political systems as rigged beyond repair, these connections are precisely what he's referring to.
It might calm an irate public to hear an investigation had to be reopened — but when the effort involves the same players as the first round, the outcome is all-too predictable.