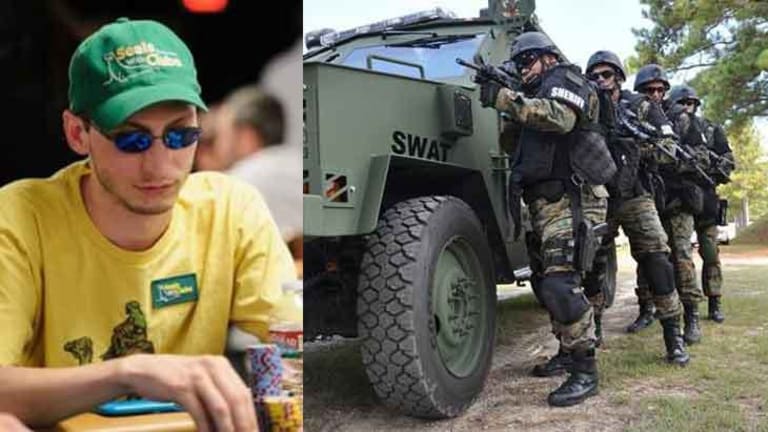 Man Raided at Gunpoint In Front of Wife and Toddler for the "Crime" of Competing with a Casino
Seemingly acting as a strong arm for the casino monopoly, a dozen heavy militarized men raided a man's home while his wife and toddler were present.
"Math does not bow to guns."
Las Vegas, NV-- Friend of The Free Thought Project, professional poker player, chairman of the most popular Bitcoin poker website, Seals With Clubs, as well as the host of the Donk Down Radio podcast-
They raided me @CassandraRules ! https://t.co/MpYX4iGIk4
— Bryan Micon (@BryanMicon) February 21, 2015
">Bryan Micon, was raided at gunpoint on February 11. The warrant was executed on behalf of the Nevada Gaming Commission while his wife and two-year-old child were present in the home. https://twitter.com/bryanmicon/status/569232316750368769 Many had been wondering what was going on, as management of Seals With Clubs was leaving and distancing themselves from the website. On Saturday, Bryan recorded a five minute long video from Antigua and posted it to his twitter feed as well as on Reddit, explaining what him and his family have been going through for the past ten days. Micon's door was broken down, he was handcuffed at gun point and lead out of his home in his underwear while all of his electronics were seized. There was also an irregularity on the Seals With Clubs server hosted in Romania around the same time as the raid, despite the system thwarting hacking attempts in the past. Little information has currently been released regarding the breach, but all Bitcoins on the site remain in place and Micon believes it to still be secure, despite the incident.

"Effective immediately, SealsWithClubs will cease providing Bitcoin poker and will be shutting down all operations except to allow player funds to be withdrawn for a limited period of time. SealsWithClubs is, and has been, completely solvent up to this point in operations. On approximately February 11th, 2015, several events occurred related to operational security that we consider to indicate SealsWithClubs now operates in a perpetual state of jeopardy. We will not divulge details publically, but they may come to light if any team member chooses to come forward of their own volition at a later date. All player funds and data remain intact and the issue was not software related. We do not believe any of our Bitcoin wallets used in operations to be compromised or lost. However, this event has made the majority vote of the ownership and team agree that shutting down operations is the best move for safety and security purposes." A statement on the website read.
Micon stated that the officers were very familiar with his social feed and were aware of his two year old child being present in the home. Micon questioned why ten men with guns would knock down his door knowing that he is a reasonable person and had a toddler. He was reportedly provided with weak and nonsensical answers on why they wouldn't just call him or knock instead of performing a raid.

"I hope those agents felt that it is was wrong to disturb a happy, peaceful home like that, but I fear it was just another Wednesday for them and they were just lulzing before lunch." Micon wrote of the incident.
The officers who conducted this raid know that Micon is not a violent person, and he was not charged with any violent crimes. Micon is one of the kindest and most pleasant people that I personally have the pleasure of knowing. There is not a single reason or excuse that could possibly validate the state holding this man at gunpoint in front of his family over a passion for poker and technology. The Nevada casinos, clearly afraid of a little competition, have not won. As Micon not been charged with any crime, he has started a new venture, SWCPoker, away from the United States militarized police. SWCPoker will also honor all player loyalty points or Krill, earned at Seals With Clubs He has removed his family from the country, citing that he does not want to raise his daughter in a place where creativity is stifled by men with guns. He is also urging everyone to pull their Bitcoins from Seals With Clubs. Visit Block Chain to download a quick wallet.

We wish Bryan and his family nothing but safety and the absolute best as he refuses to bow down to the state that would like to see him imprisoned for an act of allowing adults to spend their money enjoying themselves and competing freely, without government intervention.
Be free.