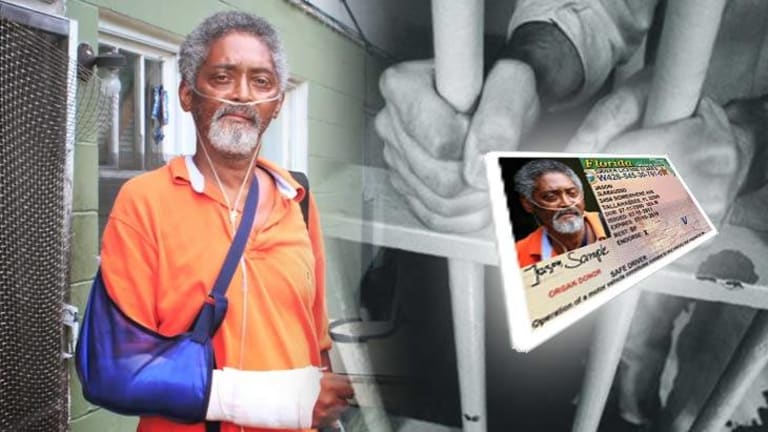 Police Arrest Terminally Ill Hospice Patient Over Court Costs from a Suspended License
The elderly man was too ill to be accepted into jail, so taxpayer money was spent for armed guards to watch him in a hospital bed. Over a driver's license.
Orange County, FL -- While traveling to the doctors last week, hospice patient Larry Thompson was arrested by police for unpaid court fines that were accrued back in 2010, when he faced charges for driving on a suspended license. Thompson, 61, suffers from chronic obstructive pulmonary disease and needs an oxygen tank to breathe.
When Thompson attempted to cash a check at the bank before his doctors appointment last Tuesday, the teller noticed that his name was flagged, and she immediately called police. When police arrived on the scene they arrested him without remorse or discretion.
When Thompson was taken to the prison, the staff there decided that he was too ill to be incarcerated, so he was then sent to the hospital, where two armed officers guarded his room
"When they took him to the jail, the jail would not accept Mr. Thompson because he was too ill, and they had to take him to the hospital with two guards,"Public Defender Robert Wesley told reporters. Wesley is the lawyer who will be taking on Thompson's case, since he is too overburdened with medical costs to afford to hire a lawyer on his own.
When he was finally released from the hospital two days later, Thompson was informed that he now owes more money to the state. In addition, $30 per month will be added onto his fine for each month that the fees are not paid.
"I'm on a fixed income — I can't afford to break my budget. If I go anywhere outside my budget, I'm homeless. I might be able to make it that month, but the next month I won't. I just can't afford it. I need a roof over my head," Thompson told reporters after his release.
The ridiculous logic applied here by the state is that they think using all these resources such as the hospital, armed guards, and public defenders is justified when attempting to extort money from a terminally ill man over his driving "privilege."
In a statement after the arrest, representatives for the police department did not rule out the possibility of placing Thompson under arrest a second time if he fails to pay his fines.
"In the event that an inmate is booked here at the Orange County Jail, and their medical condition is so serious that it warrants hospice level care, that inmate would traditionally remain in our custody — but in a hospital setting," Orange County Corrections Department spokeswoman Carrie Proudfit said in an email with the Orlando Sentinel.
John Vibes is an author, researcher and investigative journalist who takes a special interest in the counter culture and the drug war. In addition to his writing and activist work he organizes a number of large events including the Free Your Mind Conference, which features top caliber speakers and whistle-blowers from all over the world. You can contact him and stay connected to his work at his Facebook page. You can find his 65 chapter Book entitled "Alchemy of the Timeless Renaissance" at bookpatch.com.