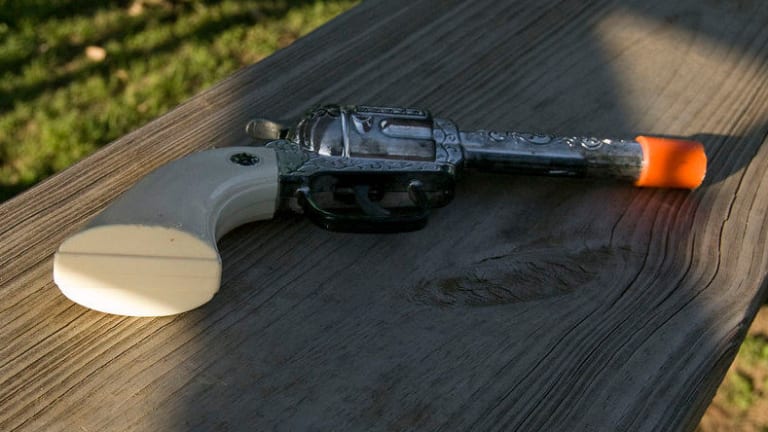 Police Board School Bus To Seize Toy Gun From 6 Year Old
Luckily the boy was only six so police won't be filing charges against him.
Police in Springfield Township, Ohio boarded a school bus to remove a 6-year-old and his toy gun. The bus driver called police because he was playing with it on the bus.
The toy was a western style cap gun without any caps in it, and according to the bus driver, the 6-year-old first grader threatened to shoot another student with the fake weapon.
The bus driver then stopped the bus and took the toy gun from the child. Next, the driver called the police, and did not move the bus until police arrived. Whether or not the bus driver thought that this was actually a real gun is unclear.
Police Capt. Kenneth Ray called the child's actions "aggressive horseplay", and claimed that other students on the bus were terrorized.
Ray said that no charges will be filed against the child because of his age.
"He's only 6, so I don't know if he had any idea how serious it was," he said.
While the police department's reaction to this call was likely ridiculous, it is also important to call attention the lack of personal responsibility on the part of the bus driver.
One of the many responsibilities that comes along with driving a school bus, is being responsible for the children while they are in your care. This would include resolving disputes among the children and keeping them safe.
If the bus driver felt that these fake weapons were a problem, he or she could have dealt with the issue through the school or through the parents, there was no need to get the police involved.
The rise of the police state is aided and perpetuated by well meaning, but misguided people who want to call the police every time they encounter a situation that they are too lazy or uncomfortable to handle for themselves. With that being said, it is important in our own lives, especially when we are dealing with situations that are not life threatening, to learn how to solve problems without calling government agents for "help".
John Vibes is an author, researcher and investigative journalist who takes a special interest in the counter culture and the drug war. In addition to his writing and activist work he is also the owner of a successful music promotion company. In 2013, he became one of the organizers of the Free Your Mind Conference, which features top caliber speakers and whistle-blowers from all over the world. You can contact him and stay connected to his work at his Facebook page. You can find his 65 chapter Book entitled "Alchemy of the Timeless Renaissance" at bookpatch.com.