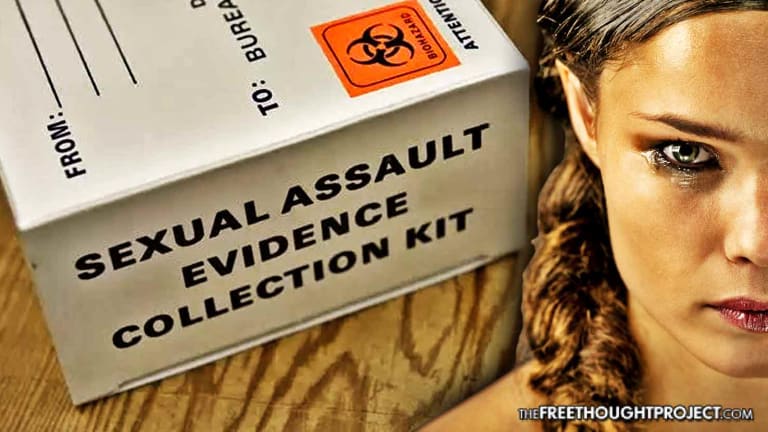 Police Finally Test Child Rape Victim's Test Kit, Catch Predator—15 Years Later
A Seattle woman had to wait 15 years in order for the Seattle police to do their jobs and have her rape kit tested for DNA evidence against her perpetrator.
Seattle, WA — One might be tempted to think police officers actually go out and find the bad guys and bring them to justice on a regular basis. However, modern-day police work seems to be more concerned about policing for profit than actually solving crimes. Below is just one of many pitiful examples of how bureaucratic police work has become. One Seattle child rape victim had to wait 15 years for law enforcement to simply do their jobs to identify, charge and convict her rapist.
In 2004, JD (identity withheld out of respect for victims of sexual crimes) was approached by a man who called himself "James" and asked if she wanted to get high with him. JD, who was only 15 at the time, made a poor choice and said yes and the two smoked crack inside a storage shed behind someone's home. That's when she says he raped her. She says she was a virgin and was incredibly ashamed. Yet she found the courage to immediately go to Harborview Medical Center. She spoke about her decision saying:
I wanted to make sure I didn't get pregnant...This was one of the first times I'd ever even had sex, and I didn't know what to expect, what the risks were.
JD went through the humiliating experience of allowing a nurse to collect samples from her body to serve as criminal evidence. But because she did not go through with conducting a forensic interview with a sex crimes detective, her case was labeled "inactive," was shelved, and was not reopened until 2018. She said she had so many mixed emotions about not prosecuting her perpetrator.
I didn't want to prosecute or do anything because I was so young and I was so ashamed that I'd use drugs that I thought, you know, I just made this happen...
While police had evidence of the reported rape, it wasn't until 2018 that the police crime lab actually processed her rape kit. It took no time to find a perfect match. His name wasn't James, it is Michael Anderson and he was already behind bars for robbing a convenience store.
Anderson pleaded guilty for raping JD, was sentenced to an additional 7 years in prison, but may be able to get out after 3 years based on the plea deal he was given.
With 10,000 unprocessed raped kids, Seattle is years behind, even decades from being caught up on testing the only evidence some women have proving they've been raped. It could have been decades longer before JD knew who had raped her. But following 2015, things were different in the State of Washington. According to KUOW:
In 2015, lawmakers changed state law and mandated that all kits be tested, regardless of what action a police agency took in the case.
There's now millions more dollars for the crime lab to process its backlog of rape kits. Yet, even though there was now money and a mandate to test rape kits sitting on police departments' shelves, it still took nearly two years for JD's rape kit to be tested. The kit which was submitted in 2004, sat on the shelf in the evidence locker until the mandate of 2015 forced the kit to be tested. But even though the test was funded and conducted, it still took two more years for the results to come back and be returned to the police department.
To date, 1087 raped kits submitted prior to 2015 have been tested with 36% of those kits being associated with a match. In other words, there's greater than a 30 percent chance all the rapes prior to 2015 can be solved if the kits would just be examined properly and in a timely manner.
Testing these rape kits means more work for the police as detectives now have to reevaluate each and every case once the rape kits come back tested. Those investigations could be done more quickly if cops were reassigned from vice squads, or traffic enforcement to the sex crimes division for example. However, since solving rapes is not as profitable as writing speeding tickets or ticketing people for substances deemed illegal by the state, then rape kits will continue to pile up in evidence lockers all across the U.S.