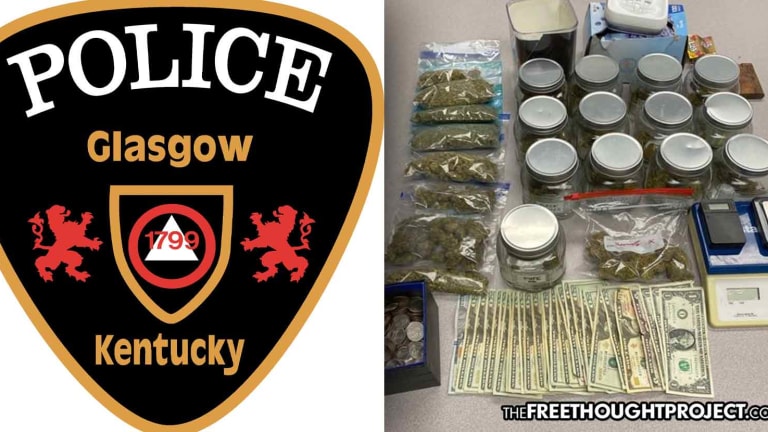 Cops Brag About Stealing Man's Weed & Pocket Change After He Called 911 for a Tree on His Home
Cops responded to a 911 call about a tree falling on a man's home and instead of helping him, they kidnapped, robbed, and caged him for having a plant.
In spite of the fact that weed is legal in some form in well over half the country, the drug warrior predator class still viciously enforces the war on marijuana, ruining and ending countless lives from coast to coast in the process.
Showing the massive disconnect between the police and the policed is the fact that despite the majority of the country agreeing on the legalization of marijuana, police departments still shamelessly take to social media to brag about kidnapping, caging and robbing people for it.
The Glasgow police department in Kentucky is feeling the backlash of the internet this week after they took to Facebook and bragged about robbing a man of his weed and even his pocket change.
Officers originally responded to the home to "help" the occupants because a tree had fallen on their house. Instead of helping them, however, cops searched the home, stole their plant matter, money, and even a box of quarters, dimes, and nickels -- shamelessly bragging about it in the process.
The department posted a photo of their stolen loot to their Facebook page along with the following caption:
On 08/31/2021, the Glasgow Police Department responded to a complaint of a tree that had fallen onto a house on Sporran Way.
Upon arrival, Officers made contact with all the occupants of the house to make sure they were all safe and determined that there were no injuries. Officers received consent to search of the residence to assess the damage and located in plain view Marijuana, scales, grinder and money.
Timothy Nunn of Glasgow Ky., was arrested and charged with Trafficking In Marijuana (8 oz. To < 5 lbs.) 1st Offense, Possession Drug Paraphernalia.
The arrest was made by Officer Josh Hardin, assisted by Sgt. Wesley Hicks.
Imagine being so proud of this shameful and immoral act that you actually congratulate the two robbers (Hardin and Hicks) publicly.
Naturally, many folks disagree and took to the post to voice their concerns. But, before we quote the rational people, one woman's comment shows the sheer lunacy that is still accepted by some in regards to the war on weed.
Angel Harris, clearly delusional about the reality of cannabis, let everyone know how she felt, saying:
First marijuana is illegal, period…. Marijuana is not like it was 30+ years ago… It's laced with with dangerous stuff and one hit can kill you when you least expect it. These pills that you would think are safe because a doctor prescribed it, but don't take it unless it's prescribed to directly because they're laced with stuff and it only takes one pill. Marijuana is illegal!!!!!
Perhaps Miss Harris is the mother of one of the officers involved in the theft of this man's cannabis and pocket change.
Luckily, Harris was alone in her madness and the rest of the comments show the paradigm has already shifted in regard to refer madness. Below are a few of the ones that stood out.
"Tell us your a small town police department without telling us your a small town police department."

"So a tree fell on their house and then you took their weed too???"

"I have to know the name of the officer who thought posting pictures of some change and weed they found after a tree smashed through this poor guy's house was a good idea. There was a real person who thought, "Let's arrest him and post about it! The people of glasgow will be so proud!" Like... I HAVE to know who this dude was"

"Shame on you for taking advantage of someone's misfortune like that! Literally, no one thinks you are the good guys here."
While the internet disagrees with the cops bragging about stealing a man's change and plants, unfortunately for that man, his reality is a jail cell and he is not alone.
Despite an increasing number of states legalizing marijuana, arrests for the beneficial plant continue to take place. As Forbes reports:
According to new data released by the FBI in October, there were 663,367 marijuana arrests in the country in 2018.

That's one every 48 seconds, and represents an uptick from the 659,700 cannabis busts American police made in 2017, and from 2016's total of 653,249.

The jump comes despite the fact that there are now 11 states where marijuana is legal for adults over 21.
"Americans should be outraged that police departments across the country continue to waste tax dollars and limited law enforcement resources on arresting otherwise law-abiding citizens for simple marijuana possession," NORML Executive Director Erik Altieri said. We agree.