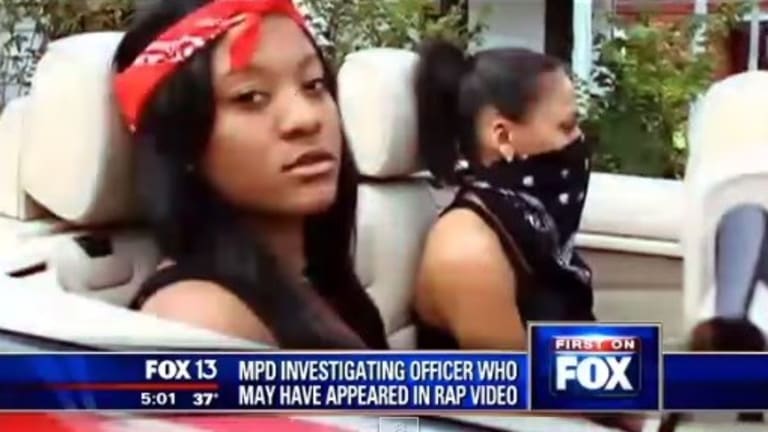 Cop May Lose Her Job, Not for Killing Someone on Camera, But For Acting In A Music Video
If you're a cop you can kill someone on camera and you'll be fine; Act in a rap video though, and you're outta here!
Memphis, Tennessee - This week, Officer Paris Glass was suspended from the Memphis police department after an anonymous informant accused her of acting in a hip-hop music video.
The informant passed on a copy of the music video to the police department, and the video has since been removed from YouTube. According to police, officer Glass is now under official investigation for involvement in gang activity, and could risk losing her job if investigators determine that she did in fact appear in the video.
The music video in question was for the song "What's Up Bitch?," by local rapper P. London, which featured a number of other artists and dozens of extras.
Few details about the video are actually available now that it was taken down from YouTube, however, the news clip below shows a few different scenes where people cast in the video are wearing bandannas over their faces and participating in kidnappings. However, fictional scenes of crime are depicted in television shows, movies and music videos all the time, that doesn't mean that the actors are criminals.
Nonetheless, the Memphis police department is now suspecting Glass of being a spy for the "Bloods," and believe that she may have been tipping off gang members about inside police information during her 7 years working at the department.
The police department seems to be taking this issue far more seriously than the rampant police brutality and abuse of authority that is allowed to go unchecked.
There is no clear time-frame for the length of Glass' suspension, or if the police will attempt to file any criminal charges against her.
Do not misinterpret this article for making the assertion that Glass is innocent, she very well may guilty of criminal activity. However, it is important to point out that she is facing disciplinary action for a non-crime. Police in America can kill people, on video, and not face any disciplinary actions. This ridiculously backwards scenario is indicative of a corrupt and failed police state.
John Vibes is an author, researcher and investigative journalist who takes a special interest in the counter culture and the drug war. In addition to his writing and activist work he is also the owner of a successful music promotion company. In 2013, he became one of the organizers of the Free Your Mind Conference, which features top caliber speakers and whistle-blowers from all over the world. You can contact him and stay connected to his work at his Facebook page. You can find his 65 chapter Book entitled "Alchemy of the Timeless Renaissance" at bookpatch.com.