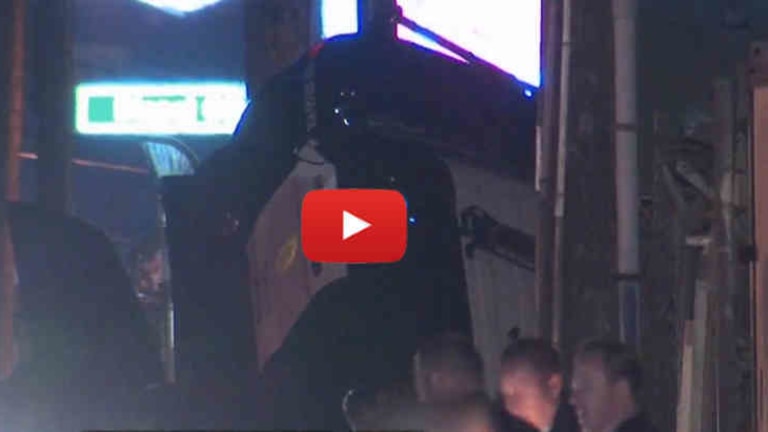 Police Officer Run Down By His Own Cruiser After It Was Stolen
San Diego, CA -- A 25-year veteran of the the SDPD is lucky to be alive after being run down by his own police cruiser Tuesday night.
Officer Jeffrey Swett was transported to UC San Diego Medical Center with non-life-threatening injuries Tuesday night after being intentionally run over by his own police cruiser in Barrio Logan, police said.
The incident occurred at 10:29 pm in the alley behind the 3600 block of Main St. near Una St., just a few blocks from Naval Base San Diego.
San Diego Police Lieutenant Mike Hastings said that Swett and another officer were responding to a burglary attempt at an occupied residence. Swett was speaking with a witness in the alley of the home when the burglary suspect jumped into his running police car.
The suspect, who has been identified as 25-year-old Frank William Bogard, then drove the car directly at Swett sending him flying up onto the hood of the SUV.
With the officer on the hood of the car, Bogard continued to accelerate, according to police.
The other officer with Swett then opened fire on the police cruiser, striking Bogard. Swett flew off the vehicle and Bogard crashed the stolen SUV into an electric pole, leaving the vehicle perpendicular to the pavement.
Police say a canine was used to remove Bogard from the vehicle. Bogard was then taken to Alvarado hospital for his gunshot wound before being transported to Scripps Mercy hospital around 3:30 a.m. Wednesday.
Officer Swett was taken to UCSD Medical Center in serious condition but with non-life-threatening injuries, according to reports.