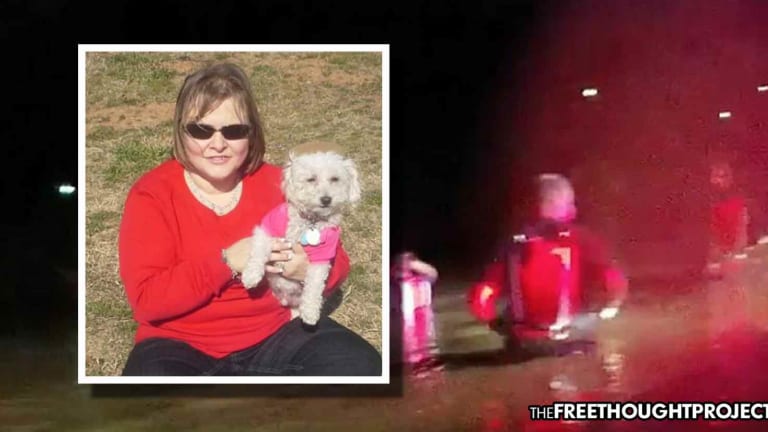 Police Say 911 Dispatcher Did Nothing Wrong When She Mocked and Scolded Dying Woman
Instead of elevating her case and getting a drowning woman the help she needed a 911 operator told her to shut up and mocked her for driving into flood waters.
Fort Smith, AR — As TFTP has reported on numerous occasions, calling 911 for help does not guarantee you will receive help. Many times, families who call 911 for help end up watching their family members get maimed or killed. Even in instances in which people tell police their location and need assistance getting out of a life threatening situation, responding officers won't even get out of their car to look — letting an innocent child die. As the following case illustrates, the 911 system can even mock or lambast victims as they die, and face no consequences.
This week, a former 911 dispatcher in Arkansas was cleared of wrongdoing in a case in which she told a drowning woman to 'shut up' instead of calming her down. What's more, instead of getting her help, the 911 operator, Donna Reneau made fun of the woman for driving into flood waters.
As the Arkansas Democrat-Gazette reports:
The department on Friday released its internal review of the actions of 911 call operator Donna Reneau and emergency responders during the Aug. 24 drowning of Debra Stevens, a newspaper carrier.

Stevens drowned in her car near 5801 Kinkead Ave. after torrential rainfall resulted in flash flooding throughout the city. About 4 inches of rain fell in just a few hours.

In the recording of the 911 call, which drew national attention, Reneau told Stevens to "shut up" and chastised her for driving into floodwaters.

Though the department received hundreds of phone calls saying that Reneau's actions were disrespectful to the dying woman, the review concluded that Reneau performed her duties as required.
"Despite the manner in which Reneau spoke to Stevens, I can find no indication of negligence in Reneau's actions in dispatching first responders, nor in the actions of those who responded to the scene," wrote Dean Pitts, the police department's deputy director of administration, who led the internal review.
For 24 minutes, instead of elevating the call to officers, Reneau opted to tell the woman — who could not swim — it is her fault she is about to drown.
"Well this will teach you next time don't drive in the water," Reneau says. "I don't see how you didn't see it. You had to go right over it, so."
This would be the last thing Stevens would hear as the water had filled the car and she would never come up for air again.
Police called Reneau's treatment of Stevens a judgment error, noting that she did not "understand the severity of what was going on" — despite this being her job.
Reneau was not fired for the instance as she had already turned in her resignation prior to mocking the dying woman. Perhaps this was the reason for her reckless attitude. The day she scolded a woman as she drowned, happened to be her last day in the office.
Below is the footage from that fateful night.
As this tragic case illustrates, calling the police for protection is nowhere near effective, not to mention that there is a good chance your house will be wrecked, your pet killed, or worse.
Not only is it a crap shoot to call 911, but it's a terribly rigged craps game in which the house almost always wins - and you lose.
Researchers found that less than 5 percent of all calls throughout the country dispatched to police are made quickly enough for officers to stop a crime or arrest a suspect. The 911 bottom line:"cases in which 911 technology makes a substantial difference in the outcome of criminal events are extraordinarily rare."
Even the cops know this.
As the Free Thought Project previously pointed out, Police chiefs across the country are urging citizens to arm themselves and admitting that police cannot stop mass shootings or home invasions, only a well-armed society can.
This is due to the fact that police officers have absolutely no legal duty to protect you.
The leading case on the topic is Warren v. District of Columbia, 444 A.2d 1 (D.C. Ct. of Ap., 1981) when the Court stated that the "fundamental principle of American law is that a government and its agents are under no general duty to provide public services, such as police protection, to any individual citizen."
In that case, police were directly alerted by Carolyn Warren, Miriam Douglas, and Joan Taliaferro that they were being held hostage by Marvin Kent and James Morse. Warren called police twice. But police never intervened and Warren, Douglas, and Taliaferro were held captive, raped, robbed, beaten, forced to commit sexual acts upon each other, and made to submit to the sexual demands of Kent and Morse—for over 14 hours.
The appellants argued that because police were alerted—twice—that police had a specific duty to protect them from the harm to which they were alerted. However, the court ruled in favor of police following "the well-established rule that official police personnel and the government employing them are not generally liable to victims of criminal acts for failure to provide adequate police protection."
On top of this case is another from the Supreme Court dating back to the 1930's which established the guidelines for federal government protection of citizens. In short, there is none. In the case of Erie Railroad Co. Vs. Tompkins, 304 U.S. 64, 82 L.Ed. 1188, the Court stated "there is no federal general common law. Congress has no power to declare substantive rules of common law applicable in a state whether they be local in their nature or 'general,' be they commercial law or a part of the law of torts. And no clause in the Constitution purports to confer such a power upon the federal courts."
In fact, the only case establishing that police have a duty to protect individuals states that those individuals must be under direct responsibility of police at that time.
In the case of DeShaney v. Winnebago County Department of Social Services (109 S.Ct. 998, 1989; 489 U.S. 189 (1989)), the court in DeShaney held that no duty arose as a result of a "special relationship," concluding that Constitutional duties of care and protection only exist as to certain individuals, such as incarcerated prisoners, involuntarily committed mental patients and others restrained against their will and therefore unable to protect themselves.