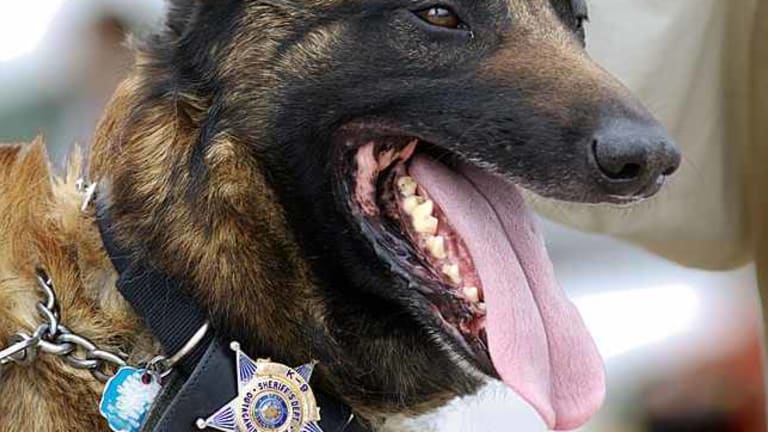 Porn Sniffing Dogs Trained to Detect Computer Memory Cards
According to multiple reports in the mainstream media, police are currently training dogs to sniff out computer memory cards in order to catch people who may be in possession of child pornography.
This program is still in its early stages, but these dogs are currently being used at the scenes of crimes. However, this is being expanded into wider applications, possibly even on the side of the road.
"One of the tasks they're responsible for is assisting with the seizing of computers and computer parts at the scenes of crimes, from child pornography to narcotics. A lot of times, the criminal element will try to hide hard drives or electronics that contain information that would be pertinent to the investigation. Hence the idea to attempt to train animals was born and has, in fact, materialized and expanded," Connecticut State Police spokesperson Lieutenant J. Paul Vance told The Daily Dot.
As horrible of a thing as child pornography is, these crusades that the government takes up against it are far from genuine. This topic is used as an excuse to violate people's rights and search them without reason or evidence For years this topic has been used to violate the privacy and anonymity of people on the internet, but now the police actually have the ability to use this excuse on the streets.
This sort of program opens the door for police to hunt down average people and search their belongings for computer hardware. A great majority of the people who travel carry electronic devices with them, and if this becomes implemented on the side of the road, this could be used as a pretense to search and detain innocent people, simply because they were in possession of a computer.
Things have not gotten that bad yet, but it is only a matter of time before these tactics are used to their maximum potential.
John Vibes is an author, researcher and investigative journalist who takes a special interest in the counter culture and the drug war. In addition to his writing and activist work he is also the owner of a successful music promotion company. In 2013, he became one of the organizers of the Free Your Mind Conference, which features top caliber speakers and whistle-blowers from all over the world. You can contact him and stay connected to his work at his Facebook page. You can find his 65 chapter Book entitled "Alchemy of the Timeless Renaissance" at bookpatch.com.