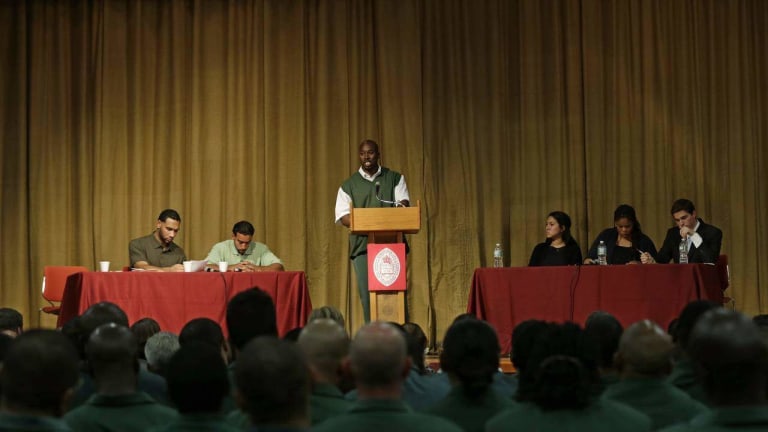 The Power of Knowledge: Harvard Debate Team Loses to Prison Debate Team
A privately funded program of prisoner education is getting incredible results, not only are prisoners winning national debates, but they are staying out of prison once released.
Napanoch, NY - In a true testament to the raw talent, and stellar minds being wasted in American maximum-security prisons, three men incarcerated for violent crimes at the Eastern New York Correctional Facility defeated the elite debate team from Harvard University.
On one side of the stage sat three Ivy League undergraduates from the elite Harvard debate team, while sitting opposite them were three men serving felony prison sentences for violent crimes.
After an hour of intellectual sparing the fast-moving debate was over, with the judges declaring victory for the inmates after weighing the veracity of each teams' arguments.
The audience, which included almost 75 fellow participants in the Bard College Initiative, burst into applause when it was announced that the prison debate team had bested the Harvard team.
Prior to the start of the debate, team members discussed hopes of inspiring other inmates.
"If we win, it's going to make a lot of people question what goes on in here," said Alex Hall, a 31-year-old from Manhattan convicted of manslaughter. "We might not be as naturally rhetorically gifted, but we work really hard."
The prison debate team is the product of the Bard College Initiative, which began in 2001. The program is a rigorous academic experience offered to the men incarcerated at the Catskills, New York penitentiary through the Bard College in Annandale-on-Hudson, N.Y.
The forward thinking program allows motivated inmates the ability to develop their academic talents through hard work and dedication. Roughly 10 inmates apply for each opening in the program through interviews and written essays.
According to a report by the Wall Street Journal:
There is no tuition. The initiative's roughly $2.5 million annual budget comes from private donors and includes money it spends helping other programs follow its model in nine other states.

Last year Gov. Andrew Cuomo, a Democrat, proposed state grants for college classes for inmates, saying that helping them become productive taxpayers would save money long-term. He dropped the plan after attacks from Republican politicians who argued that many law-abiding families struggled to afford college and shouldn't have pay for convicted criminals to get degrees.

The Bard program's leaders say that out of more than 300 alumni who earned degrees while in custody, less than 2% returned to prison within three years, the standard time frame for measuring recidivism.

In New York state as a whole, by contrast, about 40% of ex-offenders end up back in prison, mostly because of to parole violations, according to the New York Department of Corrections and Community Supervision.
Members of the Harvard team were clearly impressed by the prisoners' intellectual prowess.
"They caught us off guard," said Harvard debate team member Anais Carell, a 20-year-old junior from Chicago.
The prison debate team has actually been scoring victories over some of the nation's most elite debate teams.
In their first debate in spring of 2014, the prisoners beat the U.S. Military Academy at West Point, then defeated nationally ranked University of Vermont.
The stark reality is that an amazing wealth of human capital has been systematically thrown away in locked in cages as a means of lining the pockets of special interest groups and politicians, known as the Prison Industrial Complex.
Additionally, the program touts how much capital can be saved by implementing common sense educational opportunities for inmates.
According to the Bard Prison Initiative:
The criminal justice system is staggeringly expensive. As a country we spend $212 billion dollars annually to apprehend, try, and incarcerate prisoners. In recent years, the United States has maintained a prison population of more than 2.3 million people, with the average annual cost of over $29,000 per person (in many states, including New York, the cost is much higher). And while America has the longest and most punitive sentencing structures in the modern world, 750,000 inmates are released each year. Nationwide, nearly 68 out of every one hundred prisoners are rearrested within three years of release, and more than half return to prison. Research indicates that these high and expensive rates of recidivism fall to less than 22% if prisons offer significant educational opportunity to incarcerated men and women. Among formerly incarcerated Bard students, less than 2% have returned to prison. The estimated cost per person, per year of the BPI program is a small fraction of the price of continuing incarceration. It saves tax payers money, while increasing public safety.
At least 95% of all inmates will be released back onto the streets of America. The current prison system has essentially become college for criminals, with survival of the fittest being taught as the curriculum.
Is that who you want moving in next door to you?
The get tough on crime approach has failed, and new approaches must be undertaken to overhaul the failing corrections system. The Bard Prison Initiative program should serve as a model as to what can be accomplished if we shift our focus from a punitive to restorative model of justice.
Share this story if you agree that it's time to end the prison for profit scam!!
Jay Syrmopoulos is an investigative journalist, free thinker, researcher, and ardent opponent of authoritarianism. He is currently a graduate student at University of Denver pursuing a masters in Global Affairs. Jay's work has been published on Ben Swann's Truth in Media, Truth-Out, AlterNet, InfoWars, MintPressNews and many other sites. You can follow him on Twitter @sirmetropolis, on Facebook at Sir Metropolis and now on tsu