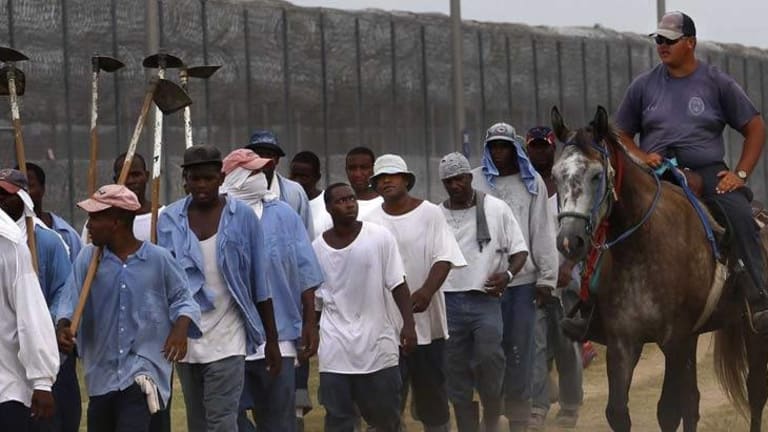 Officers Arrested After they Were Caught Enslaving Prisoners for their Personal Profit
Prison officials have been placed on administrative leave after being accused of using prison labor to run their own private business.
Nashville, TN - Three prison officials were arrested this week after they were implicated in a scheme to use prison labor for their own personal gain. The prison employees, Robert Hill, Stephen Binkley and Roy Napper have been accused of establishing a shell corporation that sold items made by inmates under their direction.
The business "Stand Firm Designs" was reportedly marketed as a "Christian-based organization," according to ABC News. The men are charged with official misconduct and inmate labor violation and are already free on a $1,000 bond.
The plot was exposed by former inmates Larry Stephney and Charles Brew who were forced to work on projects for the prison without any compensation. The former inmates said that they were forced to make a variety of random objects, including bird houses, dog beds, games and sports memorabilia.
While this type of situation is typical for inmates in American prisons, it is usually the prison corporation or state agency in charge that benefits from the free labor. However, in this case, the prison employees cut out the middle man and ran their own personal sweatshop for the inmates.
"We are evaluating the indictments and will be making a determination regarding the employment status of the indicted individuals, who had previously been placed on administrative leave," Corrections Corporation of America spokesman Jonathan Burns
It is important to understand how fallible and corrupt the legal system is when reading stories about people in prison, because many innocent people end up behind bars. Even among those technically "guilty" of breaking some law, a vast majority (nearly 70% according to some statistics) are peaceful people, or so-called non-violent offenders who don't belong in prison to begin with. These people are not guilty of any transgression, and they are in fact themselves victims of state violence.
In the past three decades, the prison system has grown into a monstrous system of oppression that now houses over 2 and a half million people in the US. That is by far the largest prison population in the world, no country on earth has as many inmates as the "land of the free". Ironic isn't it? Since 1991, the violent crime rate in America has dropped at least 20% while the amount of people in prison has increased by 50% in that time. These numbers show that the rapid increase in prisoners is largely due to over prosecution of nonviolent crimes. This has nothing to do with "cleaning up the streets" or making our society safer, this is about controlling society and turning human beings into a cash crop.
That is not to say that there aren't a lot of very bad people in prison who actually do need to be quarantined from society, but many of the people who end of on the "wrong side of the law" are decent human beings who are thrown into a very dangerous, abusive and scary situation for no good reason.
John Vibes is an author, researcher and investigative journalist who takes a special interest in the counter-culture and the drug war. In addition to his writing and activist work, he organizes a number of large events including the Free Your Mind Conference, which features top caliber speakers and whistle-blowers from all over the world. You can contact him and stay connected to his work at his Facebook page. You can find his 65 chapter Book entitled "Alchemy of the Timeless Renaissance" at bookpatch.com.