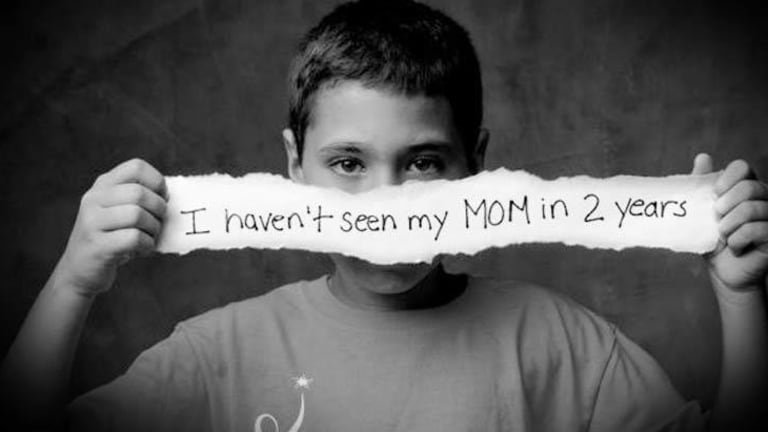 How the Prison State Destroys Families, 1 in 8 Poor Children have a Parent Behind Bars
What is going on? Only ten years ago, 60,000 children in the U.S. had a parent behind bars. Today, that number is 2.7 million.
The first wave of prison releases, under reforms put out by the U.S. Sentencing Commission, began last week. Approximately 6,000 federal prisoners convicted of nonviolent drug-trafficking offenses are being freed as judges across the country cut original sentences.
The move is a heartening sign that government is at least making a gesture to the problem of mass incarceration, mostly brought about by an immoral War on Drugs.
The ill effects of locking up so many people for nonviolent, victimless crimes are wide and varied, and it impacts families as much as the prisoners themselves.
Underscoring this is the shocking fact that one in 14 children has at least one parent behind bars. It's almost twice as bad for poor children—with one in eight having a parent in prison—and black children, with one in nine having a parent in prison.
Only ten years ago, 60,000 children in the U.S. had a parent behind bars. Today, that number is 2.7 million.
The national research organization, Child Trends, reported their analysis of 2011-2012 data in Parents Behind Bars: What Happens to Their Children?
"The issue of what some people have termed mass incarceration in the United States has really attracted a lot of attention so we were interested in looking at this issue," David Murphey, report co-author and senior research scientist at Child Trends, said in a telephone interview with USA TODAY. "We feel it's important to put this on the radar screen" and help people "realize there's more to it than the adults themselves," Murphey said."
They say that children with parents in prison typically suffer from problems in their personal life, such as low self-esteem, and problems in school.
"Most research finds negative outcomes for these children, such as childhood health and behavioral problems and grade retention," said Murphey. "Children who grow up with a parent in prison are more likely to suffer from poor mental and physical health in adulthood."
Hope for Miami, which advocates for children of incarcerated parents, adds that the kids often experience depression and shame, and are more likely to get in trouble with law enforcement. Many incarcerated mothers tell their children they are away at college.
"The stigma and shame associated with it is haunting, so that's why the more awareness the better," said Deborah Jiang-Stein, who was born in prison and founded the unPrison Project. "Addiction and trauma and developmental delays impact every kid that I've said has a parent in prison. Part of it is the loss that no one talks about. And the less we talk, the more damage it is."
Since the War on Drugs went into full force in the 1970s and 80s, the U.S. has become the world's largest prison state, having 4.4% of the world's population but 22% of its prisoners. And the fact is, creating more prisoners does not reduce crime.
It is time to do away with mandatory minimum sentences and end the practice of criminalizing people for victimless deeds. Bureaucrats cite the burgeoning costs of keeping so many people in prison, but more important is the denial of civil rights to nonviolent prisoners and the devastating effect it has on the nation's youth.
Below is a heart-wrenching video by Children of Promise, a community-based, non-profit organization, in Bedford-Stuyvesant (Bed Stuy) Brooklyn, whose mission is to embrace the children of incarcerated parents and empower them to break the cycle of intergenerational involvement in the criminal justice system.