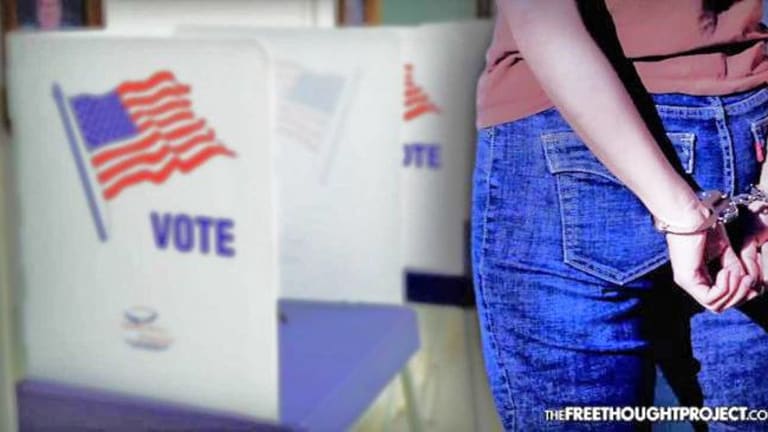 Woman Sentenced to Five Years in Prison for Voting While on Probation
Because a Texas woman didn't wait until the end of her probation period before voting in the 2016 election, she was arrested, charged, and convicted of illegally voting and sentenced to five years in prison.
Tarrant County, TX -- (RT) A woman in Tarrant County, Texas has been sentenced to five years in prison for illegally voting in the 2016 presidential election.
Crystal Mason, who was already a convicted felon for tax fraud, voted while on supervised release, the Dallas Morning News reported. According to Texas law, convicted felons cannot vote until they serve the entirety of their sentence, including supervised release.
The court heard how Mason, 43, was given a provisional ballot at the polling station when she discovered that her name was not on the list of registered voters. After signing an affidavit declaring she was not a felon, Mason cast her vote.
The affidavit, Tarrant County prosecutor Matt Smid said, "was a stop sign in front of her face." According to Smid, the judge had the option to sentence Mason to anywhere between two and 20 years in prison or probation.
Mason, who served just under three years in a federal prison for her previous offense, argued that she did not know she was forbidden from voting and said she only voted in the first place to keep her mother happy. She claimed that she didn't recall anything on the affidavit that prevented her from casting a ballot. "I would never do that again. I was happy enough to come home and see my daughter graduate. My son is about to graduate. Why would I jeopardize that?" Mason told the Fort Worth Star-Telegram. Mason's defense attorney J. Warren St. John told the Star-Telegram that an appeal has been filed in order to allow Mason to be released on bond. Allegations of voter fraud abounded in the aftermath of the 2016 election. The Trump administration set up a panel to investigate this fraud, but abandoned it in January, citing a lack of cooperation from states run by Democrats.

If you like this story, share it with a friend!