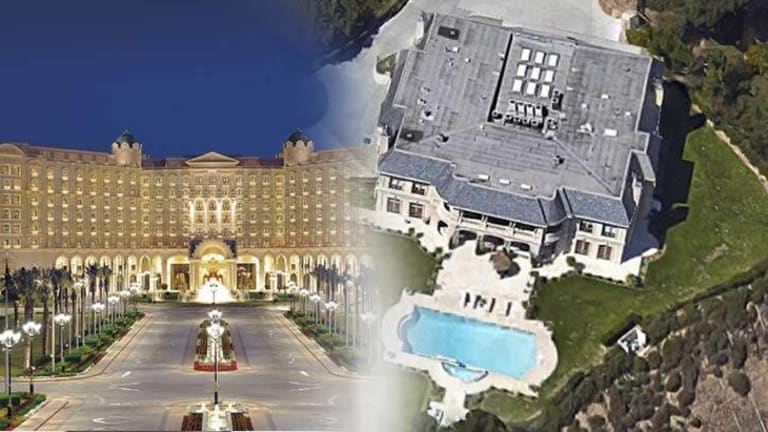 Saudi Prince Gets Royal Treatment in U.S., Let Off on Charges of Raping Multiple Women
Despite multiple witnesses watching a bloody woman scale an 8' wall to escape his Beverly Hills Mansion, a Saudi Prince has been given a get out of jail free card.
Los Angeles, CA - On Monday, Los Angeles County prosecutors announced that they would not be filing charges against a Saudi prince, due to "lack of evidence," after arresting him on suspicion of sexual assault at a Beverly Hills mansion.
The accused was connected directly to the geopolitical centers of power, as Prince Majed bin Abdullah bin Abdulaziz, 29, is the son of King Abdullah the former ruler of Saudi Arabia, who died in January at the age of 90.
On Sept. 23, at a palatial 22,000-square-foot Beverly Hills mansion currently valued at $37 million, neighbors reported seeing a bleeding woman screaming for help as she tried to scale an 8-foot-high wall that surrounds the property, according to the Los Angeles Times.
Upon investigation by the police, resulting from the call by neighbors, Al-Saud was arrested on suspicion of sexual assault. Police reports allege that there were multiple victims, one of which was a female worker who alleged that Al-Saud tried to force her to perform oral sex.
In what amounts to slap in the face of the alleged victims, the case was referred to the L.A. city attorney's office, for consideration of a misdemeanor charge.
As previously reported by The Free Thought Project, the three women accusers filed suit in civil court days after the incident:
On Friday, three women filed a civil lawsuit accusing Al-Saud of inflicting emotional distress, assault and battery, sexual discrimination, and retaliation against his domestic employees. The women claim Al-Saud attacked them inside his home for several days until his arrest on Wednesday. To avoid paying taxes and fair wages, many affluent residents of Beverly Hills and its surrounding communities often employ illegal immigrants because they are less inclined to report any form of abuse. Although the prince is a royal member of the House of Saud, the U.S. State Department eventually confirmed that Al-Saud does not have any diplomatic immunity.
Al-Saud's attorney, Alan Jackson stated that his client was innocent and that his client was glad to have resolved the matter.
"The allegations against him are false," Jackson said. "The decision by the D.A.'s office not to file charges shows that the accuser's stories cannot be substantiated. The sheik is very happy to put it behind him and move on with his life."
According to a report by the L.A. Times:
Al-Saud was detained by police for hours last month after a reported disturbance inside the compound, police said. After police interviewed other people inside the residence, they arrested Al-Saud on suspicion of forcing oral copulation.

When officers arrived at the home, they found a "party atmosphere," LAPD Lt. John Jenal said last month.
Since his arrest on Sept. 23, Al-Saud has remained in Southern California, free on $300,000 bail, according to his attorney. However, he may very well have been back home in Saudi as neighbors reported him moving out the day after the arrest. A scheduled court appearance on Monday failed to take place due to the fact that no charges were ultimately filed.
It seems the wealth and power of being a member of the Saudi royal family gives special privilege. The Saudi royals spend lavishly in the Beverly Hills area and police often give deference to them by engaging in a more hands-off approach.
It should come as no surprise that there is virtually no accountability for a member of the House of Saud, as they break U.S. law with impunity. They have figured out the formula that makes "American justice" work, having large amounts of wealth and being politically connected to powerful individuals.
Similarly to how the U.S. gave a tacit nod of approval to the ascension of the Saudis to the head of the UN Human Rights Council, despite having beheaded more people in the past 12 months than ISIS, Al-Saud was given the Saudi royal treatment by U.S. authorities.
The reality that the accused was the son of the former Saudi ruler cannot be disregarded as a reason for preferential treatment, and why felony charges were not filed.
People in the U.S. are arrested on far less evidence for drugs and other non-violent crimes, but get the hammer of justice upon their head. This man had a bloody woman scaling his wall, screaming for help, which was witnessed by multiple neighbors, and he's given the green light -- because he's a 'prince.'
Is this "justice?"
Please share this story is you are tired of seeing "justice" being bought, and want to see system with accountability for all people regardless of class, race, social status or wealth!
Jay Syrmopoulos is an investigative journalist, free thinker, researcher, and ardent opponent of authoritarianism. He is currently a graduate student at University of Denver pursuing a masters in Global Affairs. Jay's work has been published on Ben Swann's Truth in Media, Truth-Out, AlterNet, InfoWars, MintPressNews and maany other sites. You can follow him on Twitter @sirmetropolis, on Facebook at Sir Metropolis and now on tsu