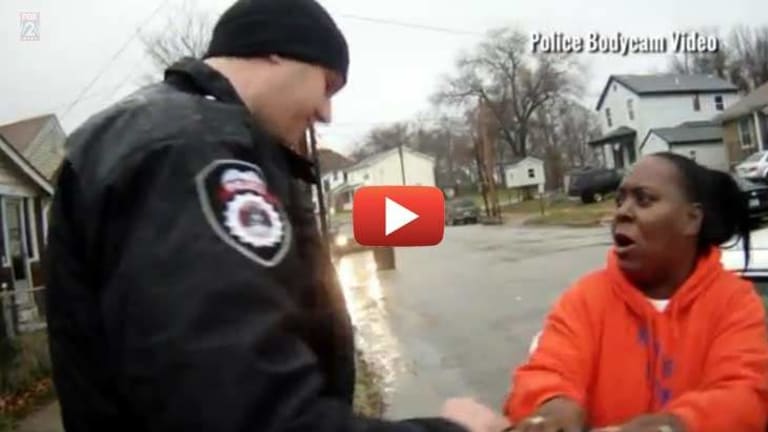 Public Official Caught on Body Camera Controlling Cops, Preventing them From Helping People
A corrupt city councilwoman was caught on video, using cops as her personal puppets; firing them when they don't do her bidding.
"(Terrance Dixon) did this before and his momma got him out of it... if ya'll find me dead some where, then its your fault."
Wellston, MO-- In yet another case proving that corruption is everywhere, a council woman seems to be running a St. Louis suburb's police department.
The son of Wellston city councilwoman, Janet Dixon, was raided in 2013 after a tip-off that he was dealing drugs from his home. A 3-year-old and a 9-month-old were also living in the house.
The raid produced heroin as well as cocaine. Terrence Dixon, the public official's son, admitted in an audio recorded interview with police, to dealing both substances.
For most citizens, this would have been a cut and dry sentencing with a harsh penalty and serious jail time. Dixon received probation for drug possession only.
Officer Donahue and two other officers involved in the investigation were subsequently terminated from the department. They believe it was directly related to the arrest of Dixon.
The officers won in court and were returned to their positions shortly after.
In August, a woman called 9-11 to report that she was being abused by Terrence Dixon. She told dispatch that she was tired of being beaten and that every time it happened his mother, Janet Dixon, got him out of trouble.
"He's beating me with belt buckles. This is not the first time. It has happened several times." the woman cried, in the 9-11 call obtained by Fox 2 News. The station also received photos taken by police of the injuries allegedly caused by Dixon.
In December, the police were once again called to the home of Terrence Dixon. This time, a neighbor called 9-11 to report that the same woman who requested help in August was screaming and trying to escape from his second story window.
"The (witness) said it seemed like she was trying to crawl out the window, she knocked the screen out but it appeared somebody pulled her back in," Chief Walker explained.
The officers were reportedly not allowed to enter the residence. Body camera footage shows Janet Dixon walking the alleged victim to the council woman's car and blocking her from speaking to the officer. Officer Donahue, one of the same officers she is believed to have fired for investigating her son, was on the scene.
The officer can be heard telling the woman that the violence will continue without her cooperation as Janet Dixon grows increasingly agitated.
The official returns to her son's home shortly there after, without the alleged victim. In another comment caught on body camera, she tells Donahue- "this will be your last pay check."
Dixon made good on her promise, and Donahue was fired at the next Wellston City Council meeting.
The local station investigating this corruption confronted the official and attempted to get some answers.
"Councilwoman Dixon smiled when we confronted her. I asked her, 'What do you say to police officers who say they're afraid to go after reports of drug activity or drug dealing because they're afraid the board will fire them?' Dixon answered, 'No comment.'

Two days after we confronted Dixon, she filed a protection order against the officer claiming he told her he'll 'kill my black ass.'" Fox 2 reported.
Dixon testified about the threat in court, but a St. Louis County Police intelligence officer had tracked Donahue's location at the time of her allegation based on calls he had made. The tracking showed him to be nowhere near where the council woman had described. The case was ultimately thrown out.
"Right now, pretty much the whole department is constantly coming to me saying what do we do if this happens? What do we do if that happens? Will we be fired? And it`s hard for me to assure them, that they won`t be indiscriminately fired or fired for doing their jobs, if I couldn`t keep Donohue from being fired." Chief Walker told the investigating news team.
We would be prepared to give this woman the greatest 'cop-blocker ever award,' if she were using her weight and influence to target officers who beat, kill, rape, and otherwise abuse their badges.
Unfortunately, this is not the case. She is just another crooked government official who doesn't care about justice and is protecting her violent son.
Read the full investigation here.