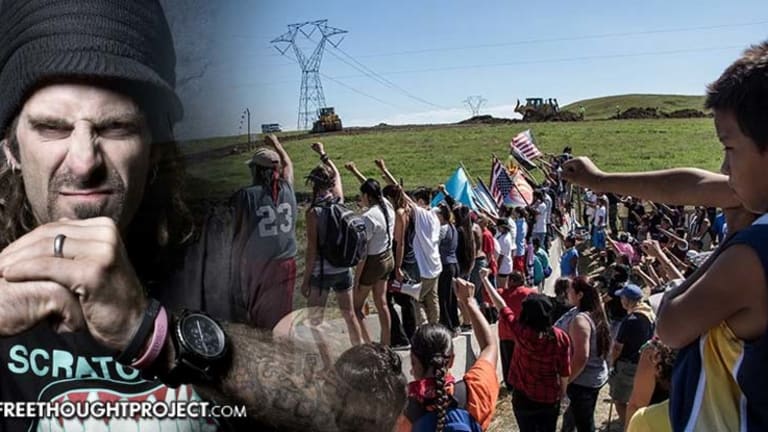 Lamb of God's Randy Blythe Finishes Tour to Join Water Protectors at DAPL, Donate Supplies
Lamb of God frontman Randy Blythe will join the Standing Rock Sioux water protectors, and donate much needed winter supplies.
Opposition to the Dakota Access Pipeline has picked up steam in recent months, as Standing Rock Sioux water protectors and their supporters face increasingly ferocious attacks by police guarding Energy Transfer Partners' construction project.
Sunday night saw the most merciless crackdown to date, as police from multiple agencies led by the Morton County Sheriff's Department continually fired rubber bullets and beanbag rounds, tear gas, mace, concussion grenades, and a water cannon into a group of 400 water protectors trapped on a bridge in 23° weather — for over six hours.
A tribal elder went into cardiac arrest, twice, a 13-year-old girl was shot in the face, likely by a rubber bullet, a young man suffered a grand mal seizure, many stumbled away with fractures, multiple people became hypothermic, and one woman, Sophia Wilansky, might lose her arm after a concussion grenade tore through flesh, exposing the bone.
A first responder with 30 years' experience described the hours-long attack as "the worst thing I've ever seen in my life."
And while the silence from President Obama and corporate media has been deafening, multiple celebrities have stepped up to the plate to call attention to the Standing Rock Sioux Tribe's quest to preserve the integrity of their drinking water source, the Missouri River — which a completed pipeline threatens to contaminate.
Now, metal band Lamb of God's frontman, Randy Blythe, an avid surfer and water-lover, will join the water protectors in their North Dakota encampments near Cannon Ball to lend his support because, as he explained on Instagram, the struggle to preserve clean water concerns all of us.
"I am a surfer, and a true son of the South Eastern Coast of the United States. This means I spend a lot of time in the relatively warm waters of Virginia & North Carolina; in fact I spend as much time in those waters as possible given my job as a touring musician- whenever I can I ride waves, I fish, & I swim in the ocean. I have not been able to surf for a few months now because of touring with 2 different bands, & I am dying to go catch a wave. So now when I am finally off tour, why am I going far inland to freezing North Dakota (of all places), where people are getting tear gassed & arrested, instead of to the much warmer beach to chill?" Blythe explained.
"I am going because as a surfer, I know that all of our planet's water is connected, and that you cannot poison a river without it eventually leading to the sea. I am going because there are people trying to stop a river from being poisoned, & they need firewood, coffee, wool blankets, winter sleeping bags, & strong hands that know how to swing an ax- I have those things, so I am driving them there."
Indeed, the Morton County Sheriff's Department's cruel — and perhaps intentionally ironic — decision to saturate water protectors with weaponized water in sub-freezing temperatures drew stark attention to the frosty conditions the camps will endure in coming months. With winds whipping through the open plains, wind chills will dip far below zero — and this winter is predicted to have temperatures well below already-frigid averages.
Blythe's winter supplies and assistance will be a bit of welcome relief. Like other celebrities who have spent time at the camps, the Lamb of God vocalist isn't doing so for publicity or self-promotion — rather, Blythe views opposition to Dakota Access as imperative, and his ability to bring winter supplies and help the effort as a duty.
"I am going & bringing my Ojibwe bro David so that he can hoist his tribal flag & represent his people, & I can represent the South Eastern punk rock wave riders," Blythe wrote.
"I am going because I have been planning this for weeks, my heart tells me it is the right thing to do, & my spirit is restless & will not sit still inside of me until I do something besides talk about how horrible it is we are destroying our planet. So people of Standing Rock, @rollingcloud1 & I are on our way from Minnesota- we come in peace, but make no mistake- we are coming in full effect, & we are coming to stand with you. #nodapl #waterislife #hokahey"
A number of other celebrities have dedicated time and donated supplies and resources to the water protectors, including, among others, Mark Ruffalo, who donated portable solar generators; Shailene Woodley, who was arrested while filming live; Dave Matthews, who will perform a Stand With Standing Rock benefit concert on November 27; Neil Young, who gave an impromptu concert to boost morale; and Jane Fonda, who is donating four Mongolian yurts and will assist with a Wopila Feast for 500 water protectors.
This isn't the first time Randy Blythe offered his assistance — when he learned Lamb of God fan, Wayne Ford, was dying from leukemia, the vocalist befriended the man in 2012. Ford, who ultimately lost his battle with cancer, so inspired Blythe, he wrote a song called "The Duke" about and dedicated to him — and later donated his gold record for Lamb of God's 2004 album of the year, "Ashes of the Wake," to a charity auction to benefit The Leukemia & Lymphoma Society.
As the fight to permanently halt construction of the Dakota Access Pipeline continues, Standing Rock Sioux and the other water protectors need winter supplies like those being donated by Blythe. If you would like to donate items, a list of possibilities can be found here.
For all the Standing Rock Sioux Tribe has been forced to endure — just to ensure future generations will have clean water — the best possible outcome would be the halt of construction of the Dakota Access Pipeline. Perhaps, as an increasingly vocal opposition calls attention to the atrocities committed by police and ETP thus far, that goal will come to fruition.