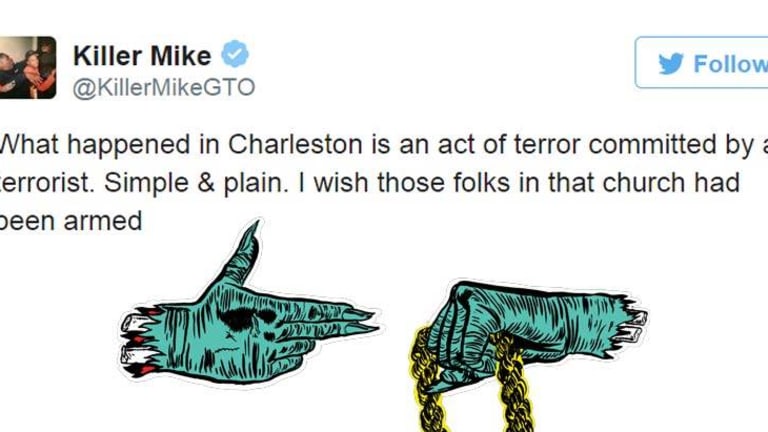 Rapper Killer Mike Ignited a Twitter Battle After Wishing Charleston Church Members Were Armed
Rapper Killer Mike takes to twitter to talk about why guns are a necessary form of self-defense.
Killer Mike of the hip-hop group Run The Jewels recently voiced his opinion about the Charleston shootings, saying that he wishes that members of the church were armed so they could have prevented the shooting. His comments drew criticism from some of his fans that are in favor of gun control. However, Killer Mike held a good discussion and made several key points about how more armed people can make the world a safer place.
Some of his Twitter debates can be viewed below:
Killer Mike is no stranger to controversy and has spoken out about gun rights and police brutality on many separate occasions in the past.
"I do worry about my gun being taken. I do worry about these roadblocks that are popping up for DUIs illegally, these checkpoints in my community. I worry about that. We're promised not to be treated like that domestically. We're promised that our police cannot act like the military does. But we have allowed not only military machines but military tactics. We're funding local municipalities with drug raids," Killer Mike told Reason last year.
As we reported earlier this year, Run The Jewels released a new video calling attention to the struggle against police brutality.
Had any of the church goers been armed, the situation would have more than likely had a different outcome. In 2012, in Spartanburg, SC, the grandson of the pastor was carrying a concealed pistol when a man kicked in the church doors wielding a shotgun. He successfully defended the entire church, no one was killed. Had Aaron Guyton not had his gun that day, things would have been much different.
John Vibes is an author, researcher and investigative journalist who takes a special interest in the counter culture and the drug war. In addition to his writing and activist work he organizes a number of large events including the Free Your Mind Conference, which features top caliber speakers and whistle-blowers from all over the world. You can contact him and stay connected to his work at his Facebook page. You can find his 65 chapter Book entitled "Alchemy of the Timeless Renaissance" at bookpatch.com.