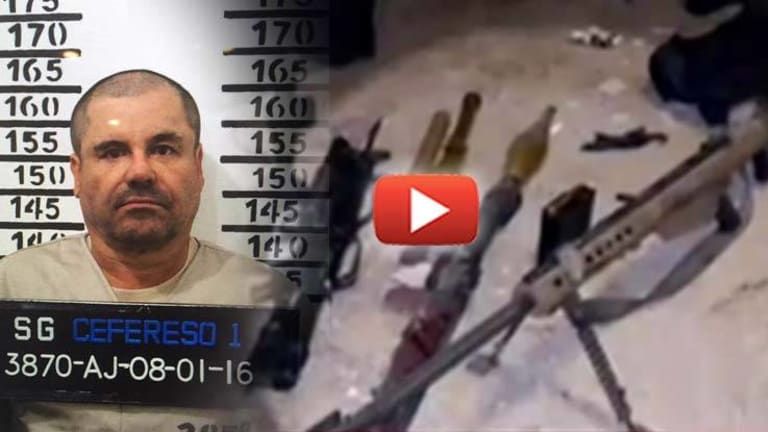 Rifle Capable of Taking Down a Helicopter, Found in El Chapo's House - Guess Who Gave it to Him
A set of .50 cal high-powered rifles were found in the house of El Chappo, one of them, paid for with your tax dollars.
Washington, D.C. - In the wake of the successful recapture of Joaquin "El Chapo" Guzman, Mexican authorities discovered a .50-caliber rifle in Guzman's safehouse that was subsequently traced back to an infamous U.S. gun-smuggling operation know as 'Fast and Furious.'
Guzman had .50-caliber rifles perched on hilltops, with guardsmen instructed to shoot down any Mexican police helicopters flying into the valleys to conduct raids, federal officials told Fox News.
According to a report by Fox News:
After the raid on Jan. 8 in the city of Los Mochis that killed five of his men and wounded one Mexican marine, officials found a number of weapons inside the house where Guzman was staying, including the rifle, officials said.

When agents from the Bureau of Alcohol, Tobacco, Firearms and Explosives checked serial numbers of the eight weapons found in his possession, they found one of the two .50-caliber weapons traced back to the ATF program, sources said.

Federal officials told Fox News they are not sure how many of the weapons seized from Guzman's house actually originated in the U.S. and where they were purchased, but are investigating.

Out of the roughly 2,000 weapons sold through Fast and Furious, 34 were .50-caliber rifles that can take down a helicopter, according to officials.
Operation Fast and Furious was an operation in which federal agents allowed criminals to purchase weapons from Phoenix, AZ-area gun shops, with the ostensible intent of tracking the weapons once they made their way into Mexico.
Instead, the ATF 'lost track' of 1,400 of the 2,000 firearms involved in the operation, resulting in a series of congressional inquiries that culminated with Attorney General Eric Holder being held in contempt by the House for refusing to turn over documents relating to the investigation.
In 2012, then-Attorney General Eric Holder requested a claim of executive privilege from President Barack Obama, who granted it after e-mails showed "extensive" communication with the White House on the operation. The case has been stuck in the courts ever since.
Coincidentally, yesterday, after more than three years of stonewalling, a judge denied the executive privilege claim by the Obama administration. House Oversight chair Jason Chaffetz pointed that the order didn't allow access to all the documents sought in House subpoenas, but that "it is an important step forward."
The fact that the U.S. government put high caliber firearms into the hands of one of the most powerful drug cartels in the world speaks to the extreme lack of accountability within the upper echelons of the American empire.
Perhaps finding the head of the Sinaloa cartel in possession of one of the missing 'Fast and Furious' firearms will provide the impetus to hold those responsible for the botched operation accountable under the law.
Jay Syrmopoulos is a political analyst, free thinker, researcher, and ardent opponent of authoritarianism. He is currently a graduate student at University of Denver pursuing a masters in Global Affairs. Jay's work has been published on Ben Swann's Truth in Media, Truth-Out, Raw Story, MintPress News, as well as many other sites. You can follow him on Twitter @sirmetropolis, on Facebook at Sir Metropolis and now on tsu.