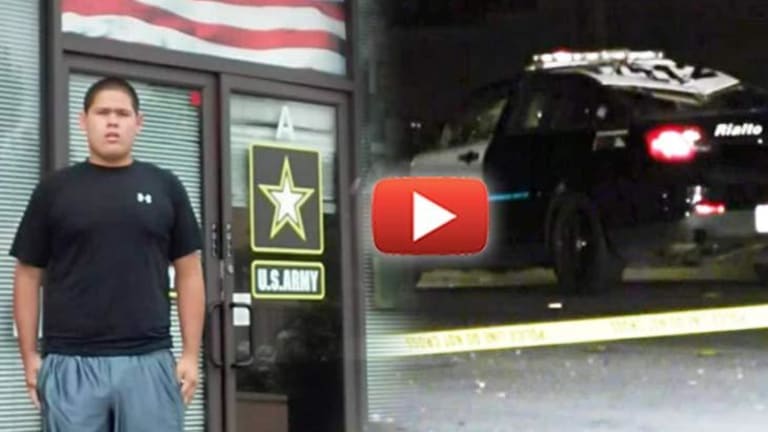 Cop Carelessly Runs Over "Role Model" Teen, Dept then Attacks the Dead Teen's Character
A community mourns the loss of a young man after he was fatally hit by a cop not paying attention to the road.
Rialto, CA - A family is in mourning and a community grieving after losing a beloved young man. This recent high school graduate and former football player tragically lost his life at the hands of a negligent police officer.
On Sunday, September 13th, 19-year-old Anthony Camacho was crossing the street at the intersection of Rosewood Street and Cactus Avenue shortly before 9 pm when he was fatally struck by the vehicle of an inattentive police officer. The officer was reportedly responding to an unrelated call of a suspicious person at an apartment complex when he came barreling through the neighborhood, without lights or sirens on.
Without warning, the unidentified officer turned to look at another pedestrian crossing the street at the same time as Camacho and didn't have time to stop before hitting and killing him, Rialto police Capt. Randy De Anda said.
According to Anthony's brother-in-law, Michael Gonzalez who was walking with him at the time of the incident,
"Looked both ways and didn't see nothing. So we proceeded to walk. The cop car just wham, swipes him out."
Another witness, who asked not to be identified, stated that when Anthony was hit, he flew approximately 12 feet into the air and "did about three somersaults" before landing on the back of the cop car. This caused him to suffer a broken neck and severe body trauma. Video taken at the scene also shows the roof of the police cruiser with a very large dent.
Anthony was transported to Arrowhead Regional Medical Center in Colton with no brain activity and was pronounced dead at 5:30 pm Tuesday.

"I'm blown away," Anthony's former football coach Jason McMains said. "Camacho was a role model who never missed practice and took younger players under his wing"
Camacho, who graduated from Rubidoux High School in June, had enlisted in the Army and was set to report to basic training.

"He was actually about to go to the military. He came over just to spend the last weekend with us before he left," his sister Kathy Cardenas said
However, this teenager's upstanding character didn't stop police officials from going on the attack in defense of their fellow officer. Shortly after the accident, police stated that Anthony had been jaywalking and that alcohol may have been a factor.  This disgusting act of "victim shaming" is an obvious attempt to cover up for the overt negligence of another officer and is a brazen example of the "thin blue line" in action. Police also claim that their preliminary investigation showed that the officer was traveling within the designated speed limit. Anthony's brother-in-law witnessed the horrifying incident and has disputed this claim, stating that the officer was going much faster than the 45 mph speed limit. Michael's account was corroborated by another witness who claimed that the officer appeared to be going at least 60 mph.
Anthony's mother Denise McGowen also blames the officer.
"How can you sit there and watch all these tubes in your own kid because of somebody's ignorance and for it to be a cop," she said.
His sister Kathy echoed this sentiment stating simply "This shouldn't have happened."
While the investigation into this horrific accident is still underway, one can only wonder if this officer's position will affect the decision as to whether charges are filed or not. That this question could even be proposed truly speaks to the double standard that exists between agents of the state and ordinary citizens.
On average, one person every day is killed during a high-speed chase.
To put this into perspective, that's larger than the number of people killed by floods, tornadoes, lightning and hurricanes — combined.
Innocent bystanders are all too often the victims of reckless police driving.
According to the report, more than 5,000 bystanders and passengers have been killed in police pursuits. Tens of thousands more were injured as officers repeatedly pursued drivers at high speeds and in hazardous conditions.
Johnny Liberty is a researcher and investigative journalist. You can follow him on Twitter @LibertyUnltd