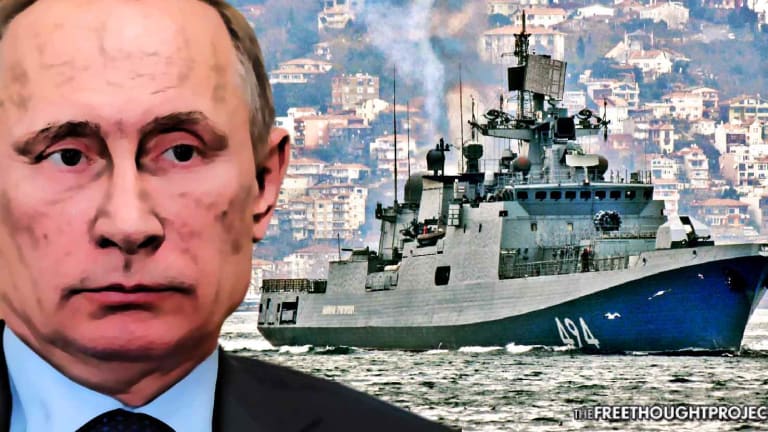 "In Violation of Int'l Law" — Russia Deploys Cruise Missile Frigate in Response to Syrian Strike
Russia chastised the Trump administration's rush to bomb Syria, "in violation of international law, and also under an invented pretext."
Russian President Vladimir Putin has now responded to the U.S. blasting Al-Shayrat airbase in Syria with over 50 Tomahawk missiles launched from two destroyers Thursday night, as quoted by spokesman Dmitry Peskov, saying he "regards the strikes as aggression against a sovereign nation," adding the strikes were carried out "in violation of international law, and also under an invented pretext."
Media reports indicate six military and nine civilian casualties — including, unironically, four children — and several wounded in the first direct act of aggression by the United States in Syria.
That pretext was a chemical attack against civilians in Khan Sheikhoun in Syria's Idlib Governate, that President Donald Trump and other Western leaders pinned squarely on Syrian President Bashar al-Assad — a claim which, despite a dearth of evidence and lack of independent investigation, became the impetus for the U.S. to jump head first into a war otherwise drawing to a close.
Peskov avowed"the Syrian army doesn't have chemical weapons" — and that has been "observed and confirmed by the Organization for the Prohibition of Chemical Weapons, a special UN unit."
Through Peskov, the Russian president deemed the airstrikes a distraction from one of the 'deadliest attacks on civilians in recent memory,' in which nearly 300 people were killed in an airstrike in Mosul, Iraq — widely suspected to be the work of the U.S.-led coalition, although an investigation is currently underway.
Worse, the abrupt show of military force prior to unassailable confirmation Assad had been responsible for inexplicably gassing to death civilians veritably decimated already tightly strained relations between the U.S. and Russia.
"This step deals significant damage to US-Russian ties, which are already in a deplorable state," Peskov asserted.
"The main thing, Putin believes, is that this move [by the U.S.] doesn't draw us nearer to the end goal in the fight with international terrorism and on the contrary, deals a serious setback to the creation of an international coalition in the fight with it."
Putin, the spokesman said, accused the U.S. of repeatedly ignoring the use of chemical weapons by terrorists in Syria, which has only served to aggravate the situation.
"Without bothering to investigate anything," Russia's Foreign Ministry criticized in a statement, "the US went forward with a demonstration of force, a military confrontation with a country that is fighting international terrorism.
"Obviously, the cruise missile attack was prepared beforehand. Any expert can tell that the decision to strike was made in Washington before the events in Idlib, which were used as a pretext for a demonstration."
Before Trump green-lighted the astonishing use of force, a number of U.S. officials, analysts, independent journalists, and others conjured the memories of former President George W. Bush and the ramp up to the Iraq War under the premise Saddam Hussein had ferreted away Weapons of Mass Destruction. That claim, of course — doubted by critics at the time — later proved to be an utter fabrication, despite its championing as an excuse for the illegal invasion.
Abominable though the torturous deaths of at least 86 civilians to an as-yet-undetermined chemical agent certainly are, aggressive military actions will not only ensure further killing of innocents, it undoubtedly will worsen Syria's humanitarian and refugee crises.
"When speaking about the military intervention in Iraq many years after it happened," Lavrov elaborated, "Tony Blair (who served as the Prime Minister of the United Kingdom from 1997 to 2007) acknowledged that they had misled everybody. Now they did not even bother to provide any facts referring only to photos. They indulged in speculations on children's photos, on evidence provided by various non-governmental organizations, including the so-called White Helmets, which staged various 'incidents' to instigate action against the Syrian government."
Displaying utmost restraint at the U.S.' hot-headed reaction, Lavrov insisted Moscow would still demand a thorough investigation of the dubious chemical attack in Idlib. Quoted by TASS news agency, Lavrov lamented,
"It is regrettable that all these causes do more harm to the already damaged relations between Russia and the United States. Hope remains that these provocations will not entail irreversible effects."
Other top Russian officials were equally adamant U.S. missile strikes would further fray relations and could plunge the Middle East into even worse destruction and chaos — with little, if any, benefit to any of the parties involved.
"It's a new round of escalation in the Middle East. These ill-judged, irresponsible actions don't contribute to global security, security in the Middle East," railed Russian Airborne Troops Colonel Andrei Krasov told state-run RIA, cited byZero Hedge. "Other military conflicts, an expansion of military conflicts, are entirely possible."
Russian officials expressed doubt broad international cooperation against terrorism would be possible if the United States continues raining missiles on Syria, as Russian Senator Konstantin Kosachev surmised such a coalition now "bites the dust before it was even born."
Still others shared concerns with Western critics of the military endeavor — that an already-boiling proxy war between the U.S. and Russia in Syria could explode into active engagement if extreme caution isn't employed in the coming days.
"The U.S. is being dragged into the war in Syria in the full knowledge that Russia is supporting Syria and our troops are there, which means it's fraught with direct clashes between Russia and the U.S. and the consequences could be the most serious, even armed clashes and exchanges of strikes,"admonished Russian lawmaker, Mikhail Emelyanov.
Indeed, with the tangible potential for Russian forces to come under fire, unintentionally or otherwise, Moscow suspended the memorandum of understanding on flight safety in Syria with the United States. Originally signed in October 2015, the memorandum sought to prevent blunders as both nations operated independently of one another inside Syria.
Although Washington's immediate plans remain unclear, the revocation of that agreement gives the Russian military additional options for defending its operations — and possibly those of the Syrian government.
Notably, if portentously, Moscow also deployed the Russian Black Sea Fleet's frigate, The Admiral Grigorovich — armed with Kalibr cruise missiles — which is slated to arrive in the Mediterranean later today before visiting a logistics base in the Syrian port of Tartus.
Whether or not the Grigorovich remains in place near the Syrian coast after that time will be decided by actions next undertaken by the United States, an unnamed Russian military-diplomatic source toldTASS.
RIA reported just 23 of the 59 total Tomahawks fired by the U.S. met their intended targets, though media reports do vary. RIA, cited byReuters, quoted an unidentified employee of Syria's Al-Shayrat base, who noted, "All the aircraft on the base have been taken out of action, it's safe to say they are completely destroyed" — though reports variously dispute that claim, as well.
"The US pretends it doesn't get obvious things," the Russian Foreign Ministry gently castigated. "It turned a blind eye on terrorist usage of chemical weapons in Iraq, which Baghdad officially reported. It dismissed documented cases of terrorist chemical warfare usage in Aleppo. All this does is abet international terrorism and bolster it."
Perhaps most ironically in the Trump administration's lustful rush to retaliate is its playing directly into terrorists' desires — embittering those previously moderate or apathetic to the point radicalizing and fighting back becomes an appealing option.
Blowback.
Provocation of this magnitude, the Foreign Ministry warned, would only lead to an increase in terrorist attacks "with weapons of mass destruction."