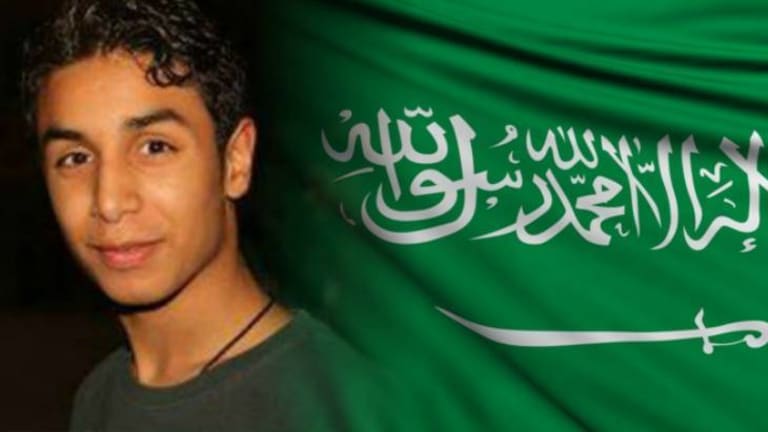 Human Rights Activist To Be Crucified & Beheaded By US Ally
After a confession was tortured out of him, this young man was sentenced to be crucified for his role in the Arab Spring Movement.
Riyadh, Saudi Arabia - A young Saudi Arabian man arrested as a teenager, Ali Mohammed al-Nimr, will be decapitated and then crucified, after his death penalty appeal was denied.
Ali was arrested for taking part in an anti-government protest in 2012, when he was only 17 years old. He was allegedly tortured and forced to sign a confession, and was sentenced to death in May 2014, according to anti-death penalty charity Reprieve.
The authoritarian Saudi regime in the midst of a bloody crackdown, in the wake of the Arab Spring, came down upon Ali with swift brutality. Ali objected to the use of his forced confession being used to sentence him at trial, but no investigation was ever undertaken into the matter.
According to a report by the International Business Times:
Ali Mohammed al-Nimr's name is well-known eastern Saudi Arabia, the hotbed of the country's Shia minority and the scene of a burgeoning protest movement.

Ali, 21, is the nephew of Shia cleric and activist Sheikh Nimr Baqr al-Nimr, who was jailed and sentenced to death for his fiery speeches against Saudi Arabia's ruling House of Saud dynasty, which has controlled the Arabian Peninsula since the 1930s. Sheikh al-Nimr was detained and then sentenced to death on terrorism charges as well as "waging war on God" for his speech during anti-government protests in Qatif, a city that saw massive street protests followed by a bloody crackdown by the Saudi authorities in the wake of the Arab Spring.
Ali's charges ranged from explaining how to give first aid and encouraging protests with his BlackBerry, to targeting security patrols and being part of a terrorist organization, charges which he vehemently denies.
A sham "trial" was held, with Ali being given no attorney, to provide legitimate cover for the state persecution of political dissent. His case is meant to serve as a warning to anyone willing to speak out against the brutal and authoritarian House of Saud.
Saudi Arabia is ruled by a Sunni monarchy under a strict interpretation of Islam, Wahabbism, while those that live in al-Ahsa and al-Qatif districts in the country's eastern province, which also contains the bulk of the kingdom's oil, are predominantly Shia. The persecution of Shia in Saudi Arabia is rampant, as they are often portrayed as heretics or agents of Iran, the other major regional power.
The beheading and crucifixion of Ali Mohammed al-Nimr speaks to the implicit nature of the House of Saud. This brutal regime has beheaded more people than ISIS in the past 12 months, and yet this is the choice for a strategic geopolitical ally for the U.S. government. Perhaps Americans should be wary of any U.S. politician that supports such a tyrannical regime.
Jay Syrmopoulos is an investigative journalist, free thinker, researcher, and ardent opponent of authoritarianism. He is currently a graduate student at University of Denver pursuing a masters in Global Affairs. Jay's work has been published on Ben Swann's Truth in Media, Truth-Out, AlterNet, InfoWars, MintPressNews and many other sites. You can follow him on Twitter @sirmetropolis, on Facebook at Sir Metropolis and now on tsu.