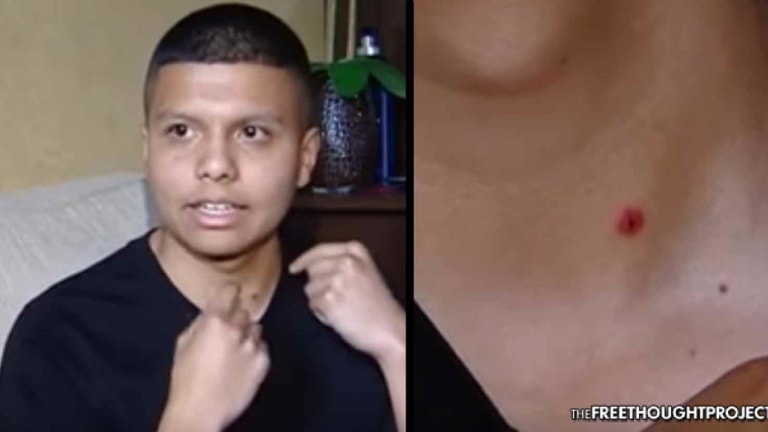 Kids Injured as School Cop Shoots Gun in a Class—Officials Cover It Up, Wounded Kid Blows Whistle
Not one, but two school cops discharged firearms in schools this week. One of the officers injured multiple students in the process and the media and school officials attempted to cover it up.
Alexandria, Va - This Tuesday morning, a teacher who also serves as a reserve police officer accidentally fired his gun at a school in Seaside, California, while instructing a class on firearms safety.
Three students were injured, and one was hospitalized, but the school did not report the incident, nor did they notify the parents or seek medical help for the injured children. The most badly injured of the three went home to his father covered in blood with a serious wound, and bullet fragments lodged into his neck
According to Seaside Police Cheif Abdul Pridgen, officer Dennis Alexander was pointing the gun at the ceiling when he accidentally fired, sending bullet fragments to ricochet across the classroom. The school resumed classes as normal and later told reporters that the students had minor injuries, but one father disagrees.
Fermin Gonzales, the father of the 17-year-old boy who was hospitalized, said that the school never notified parents about the incident.
"He's shaken up, but he's going to be OK. I'm just pretty upset that no one told us anything and we had to call the police ourselves to report it," Gonzales told KSBW.
"It's the craziest thing. It could have been very bad,"Gonzales added.
According to Seaside Superintendent PK Diffenbaugh, this was not an authorized course.
"I think a lot of questions on parents' minds are, why a teacher would be pointing a loaded firearm at the ceiling in front of students. Clearly in this incident protocols were not followed," Diffenbaugh said.
Seaside High School is a gun free zone, but exceptions are made for members of law enforcement.
The mainstream media is complicit in the attempted coverup of this issue, with many outlets overlooking the fact that this teacher was a police officer. Instead, they are using this as an opportunity to point out that guns are dangerous.
It is obvious that guns are dangerous, and that is why they should be handled with care, but cases like this illustrate that police officers are no more safe with guns than the average person. Therefore, it makes no sense to suggest that police should be the only ones allowed with guns.
Meanwhile, on the same day, on the other side of the country, in Alexandria, Virginia, another school resource officer accidentally fired his gun while inside his office at George Washington Middle School. According to the Alexandria Police Department, the officer was sitting down while it was discharged, and that no one was hurt. They would not say whether or not the gun was in the holster, but if the gun was fired, it is safe to assume that it was not in the holster.
Contrary to how the rest of the media is reporting these incidents guns do not simply "go off" by themselves. With modern handguns, this is not possible.
"I just think it was an accident that happened, and we're going to investigate it and find out, and we're going to move forward,"Capt. D.C. Hayes told NBC.
Imagine if another adult or child who is not a cop did the same thing. The school would be on lock down, helicopters would be swarming the air and the person who fired the shot—"accidentally" or not—would be taken out with extreme prejudice. Instead, this is just written off with very little media coverage because the "gunman" was a public servant.
The Captain would not say if there were any students nearby, only that no students were injured and that classes continued as normal after it was determined that everyone was safe.
It is important to reiterate that in both of these cases the issue was swept under the rug because the guns were fired by police. In every other case where there is even a possible sighting of a gun, schools are locked down, parents are called, and classes are canceled.
It is also important to point out the convenient timing of guns being accidentally fired in schools as America debates putting guns in schools. Since the debate began, there have been several instances of guns being fired "accidentally" in schools across America.