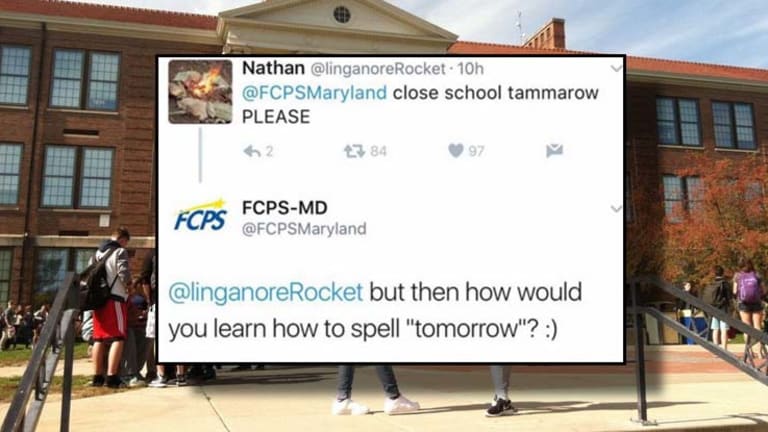 Nanny State Unhinged: School Employee Fired for Politely Correcting Student's Spelling on Twitter
For creatively, politely, and humorously correcting a student's spelling error on Twitter a kind-hearted school employee was fired.
Frederick, MD — Inside the violently enforced politically correct safe space, known as America, the perceived right to remain ignorant and unoffended reigns supreme. The latest case of PC police striking those who would dare to politely correct someone comes from Federick, MD, in which a school employee was fired for correcting a student's spelling error on Twitter.
Katie Nash, the now former Frederick County Public Schools Social Media Coordinator, is learning the hard way what life in politically correct America is like. Nash ran the FCPS Twitter account and earlier this month, following predictions of snow, a student tweeted to @FCPSMaryland asking the schools to close "tammarow."
Nash did not ridicule the student, nor did she blatantly call him out in a negative light. She politely, and cleverly, responded by saying:
"But then how would you learn how to spell 'tomorrow?' :)"
According to WHAG, Nash says the school system was working on being more relaxed and interactive with students on social media. She thought her reply would be a way to engage the students, who were excited about the possibility of a snow day.
"The students were tweeting back and forth, so it just sort of provided a natural opportunity to respond, in a fun, light-hearted way," Nash tells WHAG.
However, immediately after seeing the tweet, Frederick County Public Schools made Nash delete it and the Director of Communications for the school district personally apologized to the student. Apparently, schools, who are tasked with teaching students how to spell, are not supposed to teach people how to spell.
"Any social media manager is looking for increasing engagement, and that's sort of the expected parameter," Nash said. "I think a conversation about how we engage with students would have been completely appropriate and I would have welcomed that."
Nash tells WHAG that she met with FCPS and was given a letter which read:
"Dear Katie, this letter confirms our discussion today that your probation period as a Web Experience Coordinator for Frederick County Public Schools will not be extended. You will be terminated from your assignment effective January 13, 2017."
According to CBS Baltimore, Michael Doerrer, a district spokesman, confirmed Nash was no longer employed with the school system, but he didn't comment on the circumstances.
Not surprisingly, it was not the student who was offended at all. After she made the tweet and then apologized for it, the student took to twitter to express how he thought it was actually funny.
The internet is now firing back at the decision by FCPS to fire Nash and she's since become the subject of the hashtag, #KatiefromFCPS and #freekatie.
When school officials are fired for such innocent humor, which was actually used to make a creative teaching point, something is seriously wrong.
It would be hard to find an example that epitomizes the failure of the American educational system quite like this one. If it is this bad now, imagine what it will look like in 10 more years.
[author title="" image="https://tftpstagingstg.wpengine.com/wp-content/uploads/2016/03/magorist-e1456948757204.jpg"]Matt Agorist is an honorably discharged veteran of the USMC and former intelligence operator directly tasked by the NSA. This prior experience gives him unique insight into the world of government corruption and the American police state. Agorist has been an independent journalist for over a decade and has been featured on mainstream networks around the world. Follow @MattAgorist on Twitter and now on Steemit[/author]