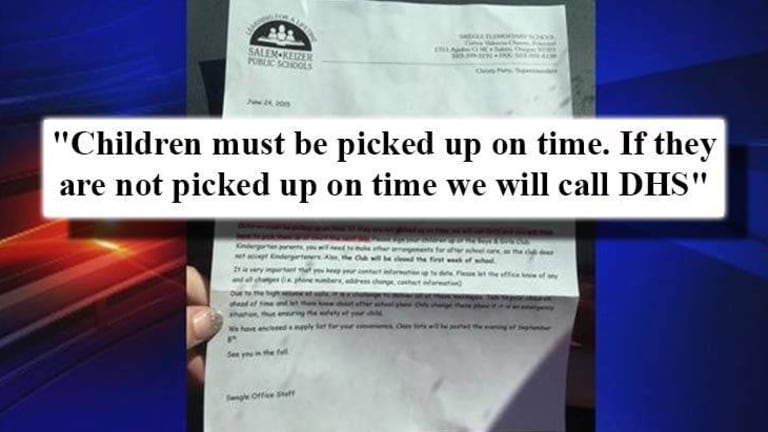 School Writes Letter to Parents: Kids Will Be Taken By the State if They're Not Picked Up On Time
Oregon parents alarmed after receiving a letter stating their kids would be given to the state if they arrived late to pick them up.
Salem, OR -- An Oregon school district is conducting damage control after receiving backlash from concerned parents who received a particularly threatening letter.
Last week, parents of the Swegle Elementary school received a letter about procedures for the upcoming school year. Most of the letter was innocuous. However, contained in the letter were two paragraphs that said that if parents were late to pick up their kids or early to drop them off, they'd be turned over to the state.
The third paragraph of the letter states:
"Children must be picked up on time. If they are not picked up on time we will call DHS and you will then have to pick them up at court the next day."
DHS is the Oregon Department of Human Services.
Not only did the letter threaten parents who were late to pick up their children, it also threatened those who arrived early.
"We will be serving breakfast at 7:45 a.m. at no cost," the letter said. Cafeteria will close at 8:15 a.m. for breakfast. If your child is running late, please feed them at home before sending them to school. Please do not drop your children off before this time. There will not be supervision. If children are dropped before 7:40 the staff will call the authorities."
This letter was confirmed to be sent from the school by a Salem-Keizer School District spokesman, Jay Remy.
Remy said that while the letter was in fact sent from the school, it was done so "in error." However, no official statement of "error" was given, until after parents spoke out.
According to the school district, the letter was sent out without the approval of the school's principal, Corina Valencia-Chavez, who was on vacation and could not be reached. Remy said the letter was written by an "office level employee." He did not identify its author.
Remy says the district will make an apology on behalf of the school.
Threatening to kidnap children if their parents get a flat tire, or work late, or get stuck in traffic is quite the ominous move. Whether or not this was an actual mistake is of little consequence when there are employees within the school board ranks who feel this way.