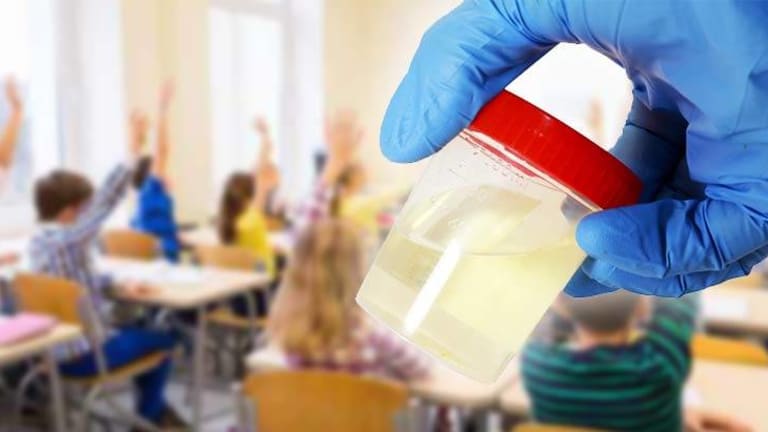 Public Schools to Begin Randomly Drug Testing Students, What Could Possibly Go Wrong?
Crivitz, WI -- Many government schools across the country are now considering mandatory drug tests for students. This fall, schools in the Crivitz school district, in Wisconson, will actually be implementing the drug testing policy for students. This is just the latest example of children and young adults having no rights in school.
Football coach Jeff Dorschner is one of the supporters of the new policy, and it seems from his comments that he fails to see how drug testing students is a gross violation of their privacy and natural born rights.
"We have a growing drug problem in Marinette County and in talking with the police force and talking with school administrators and other conference athletic directors, I just felt that as a school we could do something to try to deter students," Dorschner told WBAY.
Luckily, there are a few loopholes that will allow some students to opt out of the testing, but they will only be exempt if they stay away from extracurricular activities and if they don't apply for a parking pass. Students who enroll in extracurricular activities, or purchase a parking pass for the school parking lot will all be forced to take mandatory drug tests. It is possible that the district will also find other ways to trap students into the tests, perhaps requiring them for field trips, lunch assistance or special events like school dances.
The students will not have any warning about when they will be tested either, as every two weeks their names will be selected randomly.
Dorschner attempted to defend the new policy by saying that students will not be expelled or arrested, but a failed drug test could obviously cause immense trouble for students who may choose to use drugs responsibly.
"They're not expelled from school. We're not getting the police involved. Their records are totally confidential through the nurse's office, and it's getting these kids back on track," Dorschner said.
"I've heard a lot of positive feedback. I've heard some parents that maybe aren't necessarily too happy," said Dorschner.
Proponents of this new measure claim that the area has been flooded with drugs and that students are getting into drugs at an increasing rate. However, one aspect of this whole situation that is often overlooked is the fact that many students take drugs because public school is so traumatizing and torturous. Many students seem to take drugs simply to make the day go faster while they are in a place that closely resembles a prison.
If young adults are taking drugs in their teenage years, and it becomes damaging or unhealthy, there is obviously a reason and a root cause for their drug abuse. This is not a problem that can be solved with punishments and lectures, but rather, is a problem that can only be solved by targetting the depression, anxiety and pressure that young adults experience in this society.
The implications of a government violating the sanctity of a child's body to search for "illegal" substances are grave, to say the least. Imagine the horrid society that would result from children who consider government claiming the right to know the content of their bodies as "normal." A Brave New World, indeed.
John Vibes is an author, researcher and investigative journalist who takes a special interest in the counter-culture and the drug war. In addition to his writing and activist work, he organizes a number of large events including the Free Your Mind Conference, which features top caliber speakers and whistle-blowers from all over the world. You can contact him and stay connected to his work at his Facebook page. You can find his 65 chapter Book entitled "Alchemy of the Timeless Renaissance" at bookpatch.com.