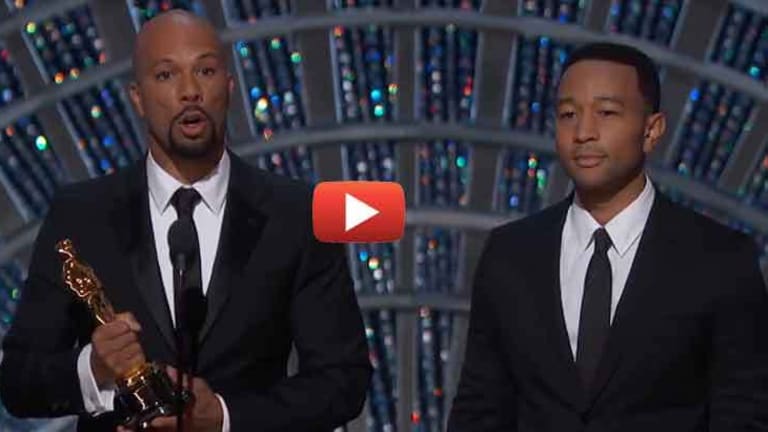 John Legend and Common Speak Truth About Prison Industrial Complex At Oscars
Common and John Legend use their time at the Oscars to bravely point out that the US has the largest prison population in the world today. "We say that Selma is now, because the struggle for justice is right now."
"We say that Selma is now, because the struggle for justice is right now."
Los Angeles, CA-- John Legend and Common took home the win for Best Original Song for "Glory" after performing it at the 87th Academy Awards on Sunday evening in Los Angeles.
After the two men had accepted their award, they used their time with the microphone to call attention to some of the huge issues that people are fighting in our country today. They asserted their solidarity with those who continue to march for justice.
"We live in the most incarcerated county in the world, there are more black men under correctional control today than there were under slavery in 1850." Legend stated.
This was not their first time using an acceptance speech for good, either. At the Golden Globes, last month when accepting their award for best original song they also made sure to declare that Selma is now.
"The first day I stepped on the set of Selma, I began to feel like this was bigger a movie. As I got to know the people of the Civil Rights Movement, I realized, I am the hopeful black woman who was denied her right to vote. I am the caring white supporter, killed on the front lines of freedom. I am the unarmed black kid, who maybe needed a helping hand, but instead was given a bullet. I am the two fallen police officers murdered in the line of duty. Selma has awakened my humanity, and I thank you Ava." Common stated after accepting the Golden Globe.
" width="790" height="444" frameborder="0" allowfullscreen="allowfullscreen">
At the Grammy's, Common took to the stage after Beyonce to do his part to raise awareness. During the performance, Common subtly called out police brutality and institutional racism by holding up his hands in the "Don't Shoot" protest gesture.
Many are often quick to jump on celebrities who show support for social issues and causes, calling them opportunistic, yet in the same breath will attack those who say and do nothing.
With mainstream media's interest in these issues waning, it is more important than ever for people to keep bringing it up, and to keep forcing those who would prefer to turn away to look and listen.
Common and John Legend should be applauded for raising their voices in front of so many and in such a meaningful way. Imagine the power if more celebrities would follow their lead.
Selma is now, and we cannot stop until we win.