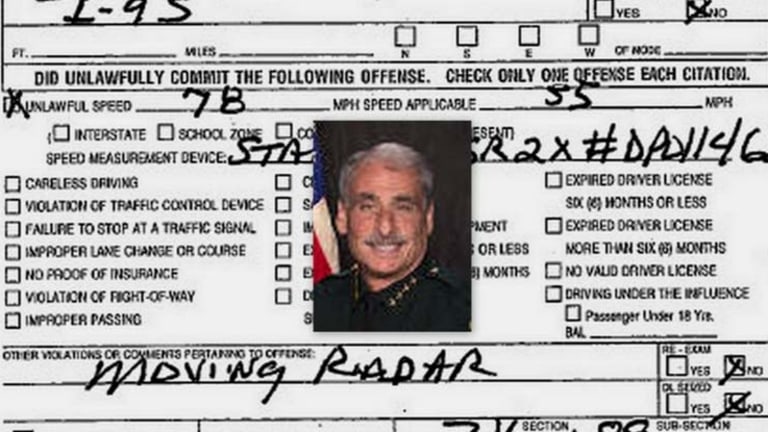 Sheriff Caught Speeding Refuses Blue Privilege — Demands Cop Write Him a Ticket
A Florida sheriff is reversing the trend of blue privilege after he demanded that a cop write him a ticket after he caught the sheriff speeding.
Volusia County, FL — In case after infuriating case, the Free Thought Project has reported on cops who abuse their authority to break the law or do things that would get normal citizens ticketed or arrested. So, when we see a cop who doesn't pretend to be above the law they enforce, we think it is a good idea to report on it — to set the bar for police across America. A Florida sheriff has done just that and demanded he be given a ticket for speeding.
Known as blue privilege, there is an unwritten law among police officers: when they catch their fellow cop, or even their fellow cop's family member, breaking the law, they are let go without consequence.
Just two months ago, dashcam video was released showing preferential treatment of an Arkansas police chief who was let off — without so much as a warning — after speeding to an off-duty job as a referee at a football game.
The examples are unlimited.
In one case, in particular, an entire caravan of cops was given a pass for needless and dangerously speeding through town. An audio tape and video were published online of a conversation between a Washington State Patrol aircraft and a patrol car on the ground.
The aircraft kept identifying speeders while the ground unit would let them all go by since they were LEOs.
The cars were both marked and unmarked. There was also a dangerously driving motorcycle in the mix as well, weaving in and out of cars, who was actually stopped and then let go after realizing he was an LEO. Nothing happened to any of the officers for speeding.
However, there is a new sheriff in town in Florida, who is setting out to reverse this trend.
As the News Journal reports, after a deputy's radar clocked Volusia County's new sheriff going 78 mph in a 55-mph zone, Mike Chitwood said he asked for a ticket "to set an example" for the agency.
"I ordered him to write a ticket to send a message," Chitwood said of his own violation. "I was as wrong as could be, especially when we are paying out money in lawsuits for not operating vehicles in a safe manner."
Chitwood is referring to a lawsuit settled this week in which the county paid out money for a deputy-related crash. According to the Journal, the county last week paid $200,000 in a lawsuit settlement to a motorist who was seriously injured after a deputy caused a chain-reaction crash in September 2014.
There is also a current internal investigation underway after another deputy was caught speeding and then crashed his vehicle into three other vehicles last month. Deputy Cory Freeburn, 30, was driving 81 mph in a posted 45-mph zone on his way to a non-emergency call, an Edgewater police accident report states.
The sheriff's stop was untraditional as he was pulled over in his personal vehicle. However, the sergeant who pulled Chitwood over quickly applied the blue privilege and told the sheriff to be on his way. But the sheriff realized this was wrong and called the sergeant back.
"I told him to write me a ticket," Chitwood said, adding that the deputy was initially hesitant. "I shouldn't be given a professional courtesy. I'm the sheriff for Christ's sake."
When cops refuse to act above the law and hold themselves accountable, this is most certainly a good thing. The Free Thought Project applauds Sheriff Chitwood and hopes his example spreads to others.
"I have to set the example," Chitwood said. "If I'm going to discipline these guys (for speeding), I have to discipline myself."
Please share this story to show the world what being a good cop means.
[author title="" image="https://tftpstagingstg.wpengine.com/wp-content/uploads/2016/03/magorist-e1456948757204.jpg"]Matt Agorist is an honorably discharged veteran of the USMC and former intelligence operator directly tasked by the NSA. This prior experience gives him unique insight into the world of government corruption and the American police state. Agorist has been an independent journalist for over a decade and has been featured on mainstream networks around the world. Follow @MattAgorist on Twitter and now on Steemit[/author]