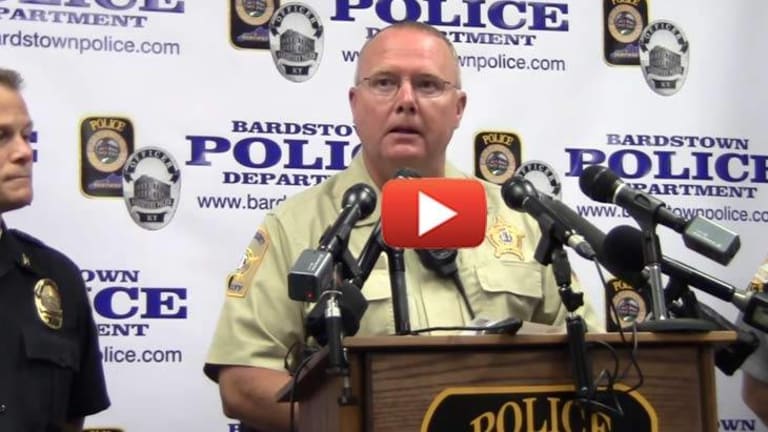 VIDEO: Sheriff Says Police are "Glad" the most Recent Man they Shot "Was White"
In a press conference this week, a confused Kentucky sheriff felt the need to express delight about the most recent man they shot being "white."
Bardstown, Kentucky - Police in Kentucky shot a man this week, and according to Nelson County Sheriff Ed Mattingly, he is glad that the man was white. According to police, suspect John Kennedy Fenwick was being chased by police in a stolen truck, and was shot and injured when he was finally apprehended. Police said that other officers were also injured in the chase, but this was likely due to car accidents that occurred in the pursuit.
Fenwick is in the hospital and is expected to survive his injuries.
In a press conference this week, Mattingly expressed joy that the victim of this police shooting was not a black man.
We are glad that he is white, and we shouldn't have to be worried about that. And we do not want any backlash or violence in this community because people have been misinformed. I think that the public needs to know how the criminal justice system works and... what officers are able to do," Mattingly said on Monday.
Apparently Mattingly assumes that anger in communities stems from the citizens being misinformed. Apparently, according to the Sheriff, the anger is unfounded and has nothing to do with watching police detain, harass and gun down members of their community on a regular basis.
"We must take notice of previous cases and how the media has handled those situations. We want the public to be informed and accurately informed. We do not want trouble, the media has not done a very good job of informing the public, and the public is not educated on how the system actually works," he added.
While race does play a significant role in the problems in policing, and people of darker skin do face greater persecution from police, police brutality and government oppression are issues that affect people of all racial and social backgrounds. Communities should be concerned about this violence carried out against their neighbors regardless of age, race, gender or social class.
John Vibes is an author, researcher and investigative journalist who takes a special interest in the counter culture and the drug war. In addition to his writing and activist work he organizes a number of large events including the Free Your Mind Conference, which features top caliber speakers and whistle-blowers from all over the world. You can contact him and stay connected to his work at his Facebook page. You can find his 65 chapter Book entitled "Alchemy of the Timeless Renaissance" at bookpatch.com.