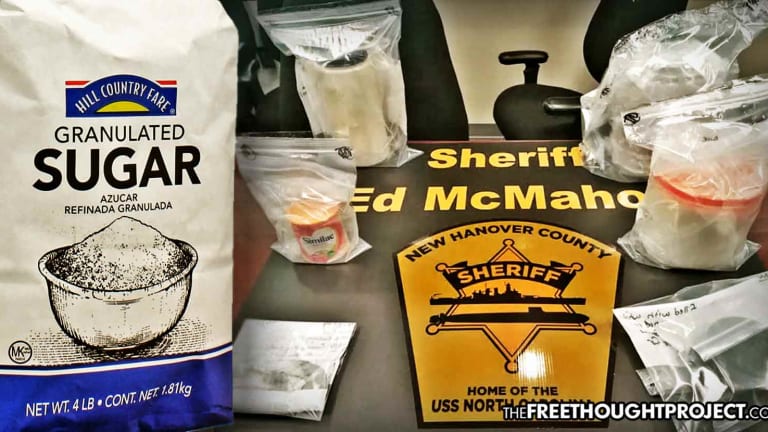 Sheriff's Dept Brags About Largest 'Fentanyl' Bust in History, 3 Arrested—But It Was Actually Sugar
A sheriff's department claimed to have made the largest fentanyl bust in the state's history, however, they were wrong and the substance was just sugar.
Wilmington, NC — In July, detectives with the New Hanover County Sheriff's Office Gang Task Force raided a home and arrested three people for what they called one of the "largest seizures" of fentanyl ever made in the state.
The substance found in the home tested positive using the infamously faulty field drug test kits. However, after holding the three people in prison, an actual lab test found the substance to be nothing other than sugar.
"As far as we can tell this is one of the largest seizures in the state," said NHC Sheriff Ed McMahon after the bust on July 13th.
The department noted at the time that the "fentanyl" found at the home had about a $2 million street value. The standard photos were uploaded to social media of this historical bust and news agencies around the state and nation carried the story.
Police say the task force executed the search warrant after tips that the three residents were selling heroin from the home. At the time, investigators said that the amount of "fentanyl" discovered in the home could have produced hundreds of thousands of bags for sale.
"What we seem to be finding is the dealers are putting more of the fentanyl and less of the heroin and we believe that's one of the main reasons we're having people overdosing and dying on this stuff," McMahon said.
"When you think about this poison - this fentanyl - one grain can kill you," McMahon explained. "Our detectives are having to gear up with all this safety equipment before we go in. Once they get in, if we find something - any kind of drugs that we think may be fentanyl - we stop, we have to get our CSI team to come in and we test that in a lab now under special conditions. So we do all that, it makes it that much more dangerous for our local law enforcement officers."
While it is certainly true that fentanyl is extremely dangerous, it was apparent that these "special conditions" couldn't tell the difference between fentanyl and ordinary sugar. What's more, if heroin users were purchasing this substance from the home, it was likely doing nothing to them other than spiking their blood sugar levels.
This week, New Hanover Sheriff's Lt. Jerry Brewer tells WECT-TV that the powder seized in July includes no illicit ingredients and is nothing more than "a combination of simple and complex carbohydrates."
In other words, police executed a search warrant, threw thee people in prison, spent a massive amount of resources, all to seize about $3 worth of sugar.
As WECT reports, the false positive result can be traced to a CSI field test using a kit invented and sold by Scott Company Drug Testing to the NHC Sheriff's Office, according to Brewer. It was not user error on the part of the CSI technician, because several samples were tested from each bag, said Brewer.
When contacted about their faulty kits, the company responded by saying that their kits can falsely identify sugar as contraband.
"While presumptive testing is extremely reliable, faster, and less expensive than other methods of testing, it is possible (though unlikely) to receive a false positive result under certain conditions, when certain substances are introduced into the presumptive test," according to the press release. "We strongly advise the individual officer and appropriate agencies to use common sense and evaluate the totality of the circumstances before making an arrest."
In this instance, however, it was not 'unlikely' as every single test conducted on the site proved positive for fentanyl. Not only was this highly embarrassing for the sheriff's department, but it also nearly cost thee people life in prison.
Sadly, as TFTP reports on a regular basis, thousands of people are falsely imprisoned because of the use of kits like these. Just last month, we brought you the story of Rebecca Shaw, a mother of four who had never been in trouble with the law before, but ended up spending five months in jail because a field drug test falsely identified her vitamins as opioids.
Studies have shown how everyday foods, spices, and medicine tested positive in field drug tests. In one experiment, scientists even discovered that air could set off false positive for these tests.
According to Forensic Resources:
"The director of a lab recognized by the International Association of Chiefs of Police for forensic science excellence has called field drug testing kits "totally useless" due to the possibility of false positives. In laboratory experiments, at least two brands of field testing kits have been shown to produce false positives in tests of Mucinex, chocolate, aspirin, chocolate, and oregano."
Dr. Frederic Whitehurst, a Ph.D. chemist and former FBI lab supervisor, has also voiced objections, saying that he has "no confidence at all in those test kits."
Over the years, The Free Thought Project has reported on countless stories of odd things creating false positives in field drug tests. We have seen people put behind bars for possession of things like drywall, glazed donuts, crackers, kitty litter and baking soda.