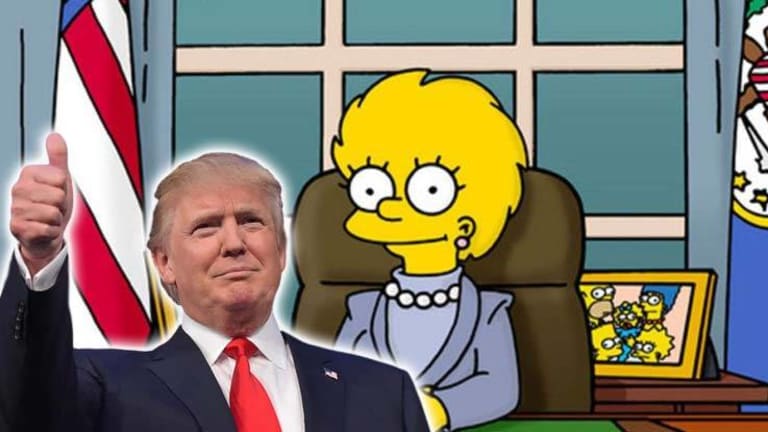 Simpsons Writer Predicted Trump Presidency 16 Years Ago — Wrote Episode to "Warn America"
Writer of the Simpsons episode, Dan Greaney, said it was meant as a "warning to America"
Washington, D.C. - With the Trump presidential juggernaut methodically inching towards locking up the 2016 GOP presidential nomination, an episode of the Simpsons that aired almost exactly 16 years ago, on March 19, 2000, seems to have predicted the rise of a Donald Trump presidency.
The episode featured Bart having a vision of 30 years into the future, in which his sister Lisa has become president, following a disastrous Trump presidency.
Writer of the Simpsons episode, Dan Greaney, said it was meant as a "warning to America" and "just seemed like a logical last stop before hitting bottom. It was pitched because it was consistent with the vision of America going insane," Greaney told The Guardian.
Interestingly, Trump formally began his quest for the Oval Office by forming an exploratory committee for the Reform Party presidential nomination in 2000 and qualifying and winning two state primaries. The former party of Ross Perot was on the ballot in all 50 states and had qualified for federal matching funds for the election, but Trump never went past the exploratory phase of his candidacy despite winning the Reform nomination in the two states.
Putting the episode in to context, Greaney told the Hollywood Reporter, "The important thing is that Lisa comes into the presidency when America is on the ropes and that is the condition left by the Trump presidency. What we needed was for Lisa to have problems that were beyond her fixing, that everything went as bad as it possibly could, and that's why we had Trump be president before her."
"I am tickled we are getting all this attention, but I don't think it's going to trigger this well-awaited re-evaluation of my episode that I was hoping for," he s, laughing. "The Simpsons has always kind of embraced the over the top side of American culture … and [Trump] is just the fulfillment of that."
Jay Syrmopoulos is a political analyst, free thinker, researcher, and ardent opponent of authoritarianism. He is currently a graduate student at University of Denver pursuing a masters in Global Affairs. Jay's work has been published on Ben Swann's Truth in Media, Truth-Out, Raw Story, MintPress News, as well as many other sites. You can follow him on Twitter @sirmetropolis, on Facebook at Sir Metropolis and now on tsu.