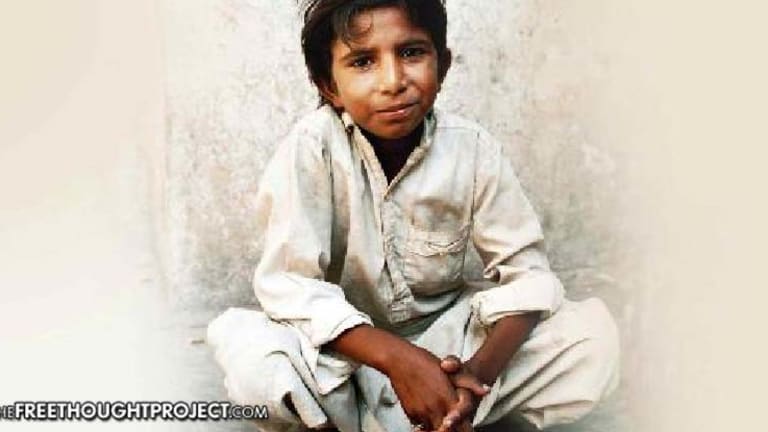 Meet the 12-Year-old Boy Who Was Murdered for Fighting Against Modern Day Slavery
His actions led to companies getting exposed for using slavery and many children were freed as a result — but this made him a target.
Pakistan — Slavery, across the globe, is a very harsh reality. It is estimated that around 46 million adults and children are in some form of slavery worldwide. This includes over five million men, women, and children in modernized countries.
When defining slavery, it is important to note that this does not include those who work for low wages and are able to walk free. The Walk Free Foundation defines modern slavery as the deprivation of individual liberty for the purpose of exploitation. This broad definition includes many slavery-related practices such as human trafficking, forced labor, debt bondage, forced marriage, commercial sexual exploitation and the sale and exploitation of children.
Despite slavery being outlawed nationally, Pakistan has one of the highest prevalences in the world of modern slavery and, as the case of Iqbal Masih illustrates, there are some ominous forces working to keep it that way.
Masih's story is as inspiring as it is tragic. At the age of five, Masih was sold into bondage for less than $7 USD. Masih's mother needed a life-saving operation and so little Masih lost his freedom.
According to the Express Tribune, Bonded labor means that Masih was to work as a carpet weaver for the factory owner till the loan was paid back. His freedom remained a dream because his family's financial burdens kept growing and they were unable to pay back the loan. Masih's torture continued without any respite and any hope of the loan ever being repaid.
The slavery operation was set up in such a way that the few cents a day that applied to the loan were never enough to pay it back. In spite of growing up in this harsh environment, Masih longed for freedom. On one occasion, as the Tribune reports, he managed to escape and reached the local police station. He told the police about how the factory owner had shackled him into slavery. But he was brought back by the custodians of law to the factory owner for a petty bribe.
After being betrayed by police, Masih knew he could not rely on the government to obtain his freedom. But one day, in 1990, Pakistan's Supreme Court finally outlawed slavery. This gave Masih new hope and he escaped again. This time, however, he went to the Bonded Labour Liberation Front (BLLF), instead of police.
His story reached the ears of Ehsan Ullah Khan, Chairman of BLLF, who directed his efforts towards freeing Masih from bondage, and mercifully succeeded.

Masih made it his mission to raise awareness about child slavery. He toured various cities of Pakistan where child slavery is known to exist. He also travelled internationally inviting masses to stand with him against child labour. He resumed his education and managed to complete four years of education in a two-year period.
"Children should have pens in their hands, not tools." -Iqbal Masih
For the next several years, Masih traveled around Pakistan and the world to raise awareness about child slavery. His actions led to companies getting exposed for using slavery and many children were freed as a result. According to Khan, Masih's actions forced dozens of factories who enslaved children to close.
Unfortunately, however, this made Masih a target. On April 16, 1995, at the age of 12, Masih was shot and killed as he rode his bicycle with friends.
"We know his death was a conspiracy by the carpet mafia," said Khan at the time as Masih had received numerous death threats for his activism.
These modern-day slave masters may have killed Masih but they did not kill his mission. Masih remains an inspiration in Pakistan to those who fight against others who would enslave their fellow human.
As the Free Thought Project has reported on multiple occasions, there is a dark market around the globe that deals in human currency. Even in the U.S., it is estimated that there are 60,000 men, women, and children enslaved at this very moment.
The human trafficking business is estimated to earn $150 billion annually. Because this industry is so profitable, governments around the world and domestically often look the other way instead of enforcing the laws against slavery.
One of the best ways to fight this slavery is refusing to buy products from companies who use slavery. As we've previously reported, thousands of products are sold in the US that rely on slave labor. One of the main culprits is Nestlé who admitted last year that they were using slaves to make their products.
As the failure of anti-slavery laws illustrates, voting with your money is far more effective than a corrupt government who enables it. Slavery is one of the fastest growing industries in the world today and until we refuse to support it — it will continue to grow.
Please share this article with your friends and family so that Masih's story can continue to shed light on this horrible abuse.
[author title="" image="https://tftpstagingstg.wpengine.com/wp-content/uploads/2016/03/magorist-e1456948757204.jpg"]Matt Agorist is an honorably discharged veteran of the USMC and former intelligence operator directly tasked by the NSA. This prior experience gives him unique insight into the world of government corruption and the American police state. Agorist has been an independent journalist for over a decade and has been featured on mainstream networks around the world. Agorist is also the Editor at Large at the Free Thought Project. Follow @MattAgorist on Twitter, Steemit, and now on Facebook.[/author]