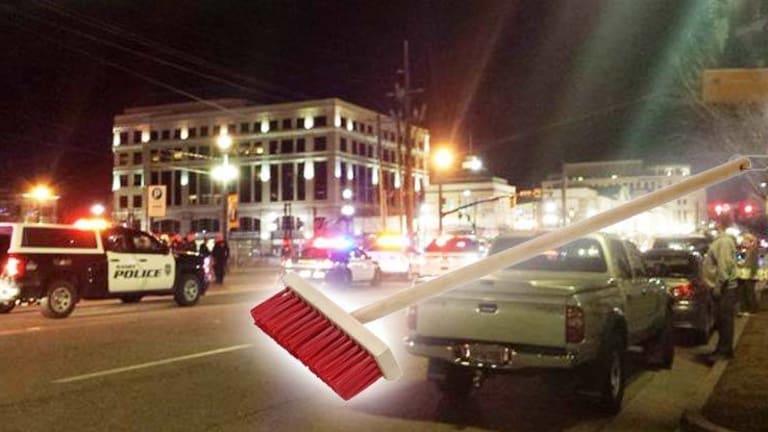 Residents Riot After Watching Salt Lake City Cops Shoot 16-year-old Holding Broomstick
Rioting followed the Salt Lake City Police shooting of a 16-year-old boy who was holding a broomstick.
Salt Lake City, UT - Salt Lake City Police shot a 16-year-old boy on Saturday, who, according to witness accounts, was not given time to comply with their orders. Witnesses to the event reportedly began rioting and throwing rocks at police in response to the shooting they said was wholly unjustified.
Over one hundred officers in riot gear, including helmets and shields, were deployed to the scene to attempt to restore order.
Salt Lake Police confirmed to the Salt Lake Tribune late Saturday that one officer, and possibly a second, were involved in the shooting. Det. Greg Wilking also confirmed shots had been fired, but did not disclose how many.
According to a
Additional info: officers on unrelated call in area, alerted to assault in progress, tried to engage altercation. Investigation cont. #OICI
— SLC Police Dept. (@slcpd) February 28, 2016
" target="_blank">tweet by the Salt Lake Police, "officers on unrelated call in area, alerted to assault in progress, tried to engage altercation."

Witnesses to the shooting say the teen was involved in an altercation with another individual. Police arriving on scene attempted to break up the fight and claimed the victim was wielding a metal pipe — though witnesses dispute this claim, saying the boy only had a broomstick and was not using it in a threatening manner against officers.
Further, Selam Mohammad, who witnessed the shooting and gave his account to the Tribune, says the victim, who was also his friend, had been holding that broomstick at his side when police arrived.
"They told him to put it down once," Mohammad told the Tribune, but "police started shooting him as soon as he turned around."
Mohammad said the 16-year-old was shot in both the chest and stomach, and bystanders recall hearing four gunshots.
Anger boiled over as witnesses to the shooting say police did not give the boy sufficient time to respond to their demands that he drop the stick.
RT reported that it took police two hours from the first reports of gunfire to say the shooting had involved an officer.
Neighboring departments were called in to deal with the unrest in the aftermath, which the Tribune said included the Unified Police Dept., West Valley City, Sandy, and University of Utah.
Unified Police will reportedly conduct an investigation of the shooting. A year-old law mandates investigations of officer-involved shootings be conducted by "outside agencies."
According to the Peace Officer Standards and Training (POST) which is overseen by the Utah Department of Safety, officers are allowed to employ force in certain situations. According to the manual,
"Officers may use any force available provided they can justify the reasonableness of force used."
If witness accounts are verified, and the 16-year-old was holding — not even wielding — a broomstick, it would seem the use of force cannot possibly be justified in this instance.
Salt Lake Police would not comment whether officers involved were using body cams or not.
It was just a year ago when a report revealed 15 percent of homicides involved police officer killings, and that "use of force by police [was] the second most common circumstance under which Utahns kill each other."
In that report by the Tribune, West Jordan Police Officer Ian Adams stated, "The onus is on the person being arrested to stop trying to assault and kill police officers … Why do some in society continue to insist the problem lies with police officers?"
It's simple. When police stop shooting, brutalizing, and killing people without justification — and without being held accountable in court for their oft-deadly terrible judgment. When police begin to employ de-escalation tactics in earnest. When police stop killing people's pets. When people feel they would honestly rather call friends or neighbors for help because they can't be sure police won't show up and kill their loved ones.
That's when people will stop justifiably calling this an epidemic of violence by police.
There are no reports of the shooting victim's condition, though he was transported and presumedly remains in the hospital at this time.