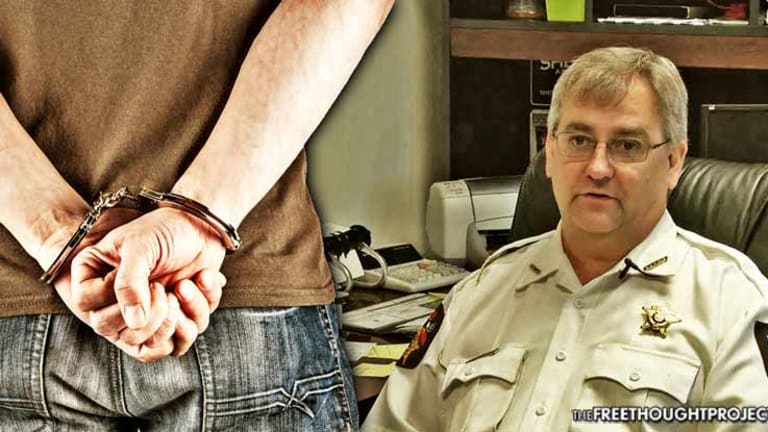 Son of Sheriff—Who Locked Down Entire School to Look for Drugs—Busted for Drugs
In a massively spectacular irony, the sheriff who locked down an entire high school of innocent children to look for drugs, just watched his son get arrested — for drugs.
Worth County, GA — In June, violated children and furious parents filed a massive lawsuit after the Worth County Sheriff's office conducted an illegal search of 900 students in a fruitless effort looking for non-existent drugs, sexually abusing multiple children in the process.
Earlier this month, Worth County Sheriff Jeff Hobby was indicted over this search for sexual battery, false imprisonment and violation of oath of office after he ordered a school-wide search of hundreds of high school students to look for drugs. Deputies allegedly touched girls vaginas and breasts and groped boys in their groin area during the search at the Worth County High School April 14, reports RARE. 
Now, we are learning that last week, after this sheriff violated the rights of 900 innocent kids and was arrested for it, his own son was busted for drugs.
As the AJC reports, the drug arrest of Zachary Lewis Hobby last week has renewed speculation that Worth County Sheriff Jeff Hobby's decision to search the entire local high school last April was somehow linked to his son's troubles.
"It's a raw issue," said Tommy Coleman, attorney for the Worth County Board of Education.
Coleman said anytime there's a development in the story it fuels community discussion. He said the arrest last week of the sheriff's son reignited speculation, according to AJC.
"My sense is this was common knowledge and it didn't really surprise anyone in the community," Coleman said.
Coleman told the paper that Zachary was a student at Worth County High School last year when the Sheriff ordered the raid. However, he was not there that day.
Agents with the Georgia Bureau of Investigation were called in last week to investigate a drug case involving the sheriff's son. The younger Hobby, age 17, was charged with possession of marijuana with intent to distribute and criminal trespass for an incident that occurred in Poulan on Oct. 9, according to the GBI.

The son allegedly handed the drugs to another person, Aaron Ray Short, 20, according to GBI. Short was also charged with possession of marijuana with intent to distribute.
Naturally, Sheriff Hobby is standing by this rights violation on a massive scale, according to his attorney, noting that as long as a school administrator was present, the search of the children was legal. But this was not the case.
As WALB reported at that time, Worth County Schools attorney Tommy Coleman said in order for the Sheriff's office to search any students, they'd had to have reason to believe there was some kind of criminal activity or the student had possession of contraband or drugs.
"If you don't have that then this search would violate an individual's rights," said Coleman. "[It] violates the constitutional right and enforcing them the right against unreasonable search and seizures."
Interim Worth County Superintendent Lawrence Walters said he understands parents concerns about the drug search at Worth County High school on Friday, according to WALB.
"I've never been involved with anything like that ever in the past 21 years and I don't condone it," said Walters.
While pot possession is certainly no danger to society, the irony of this rights-violating tyrant having to watch his own son get caught up inside a system that the sheriff perpetuates is incredible.
Perhaps, if this sheriff beats these charges—which, if history is any indicator, he most certainly will—he will choose to promote freedom instead of waging an oppressive drug war that does nothing to stop addiction and abuse but does everything to foster crime and ruin lives.