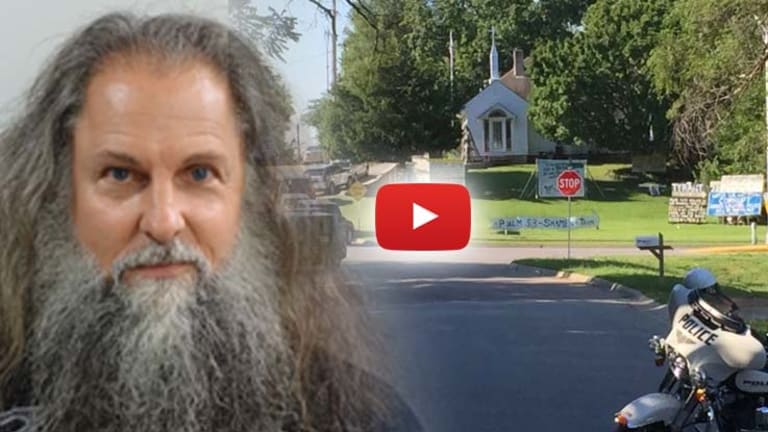 BREAKING: Police In Armed Standoff With Citizen Suddenly Withdraw and Leave
A sovereign citizen and his family were welcomed by crowds of supporters after a 5-hour-long standoff ended with police leaving.
Kansas City, KS -- A five-hour long standoff was just brought to an abrupt, yet peaceful, halt after police got in their vehicles with no warning -- and left. Shortly after it ended, the family involved in the standoff was welcomed in their front yard by onlookers who'd gathered to show their support for the family of sovereign citizens.
According to police, Federal Marshals attempted to serve the resident of the home, Gregory Paul Andrews, with a warrant for a parole violation when Andrews told police that he would not leave his home without a fight.
The Free Thought Project spoke with a representative from KMBC who was at the scene. He told us that Andrews claimed he wasn't on parole and would not answer whether he had weapons inside. His wife and two sons were inside with him. Tactical teams with KCKPD then moved in to assist.
"Some words were exchanged, some threats were made to shooting officers," Thomas Tomasic of the KCK police department said after the standoff ensued. "Right now they are surrounding the house. U.S. Marshals are continuing to talk with him. Hopefully they can get him to come out without us using our SCORE team to go in and get him."
Andrews is known in the community as being outspoken against government corruption. His front yard is covered in bible verses and anti-government signs.
According to court records, Andrews is a registered sex offender who was convicted of indecent liberties with a child. However, he claims he was framed for being outspoken against the government.
"He and his wife took to megaphones saying they were prepared to die if cops were there to take him because he was innocent of the sex charges. That he was framed and now authorities were coming after him because of his exercising free speech rights," Stacey Cameron with KMBC tells the Free Thought Project.
During the standoff, several dozen people had shown up to voice their support of Andrews. The police and media referred to them as 'protesters.' Multiple videos were taken and live streamed as the events unfolded.
Andrews, who is white, is married to an African-American woman and is also an outspoken supporter of the Black Lives Matter movement.
As the day went on, Andrews and his wife took turns calling out the names of government officials in the town who they were claiming are corrupt. They also made several claims of their innocence and said they were being framed.
At one point, people at the scene could be heard chanting, "No, don't shoot. The community says, no."
After a five hour long standoff, police on the scene removed the crowd barrier, got in their patrol cars, and left -- with no word.
The crowd began to applaud and quickly walked over to Andrews' home. Andrews and his family then walked outside and were welcomed by the crowds.
The Free Thought Project contacted Terry Zeigler, Chief of Police for the Kansas City, KS Police Department to inquire as to why officers left. However, we've yet to receive a response.
Perhaps police felt pressured from Andrews' supporters and did not want to take him in while they were under a microscope. Or, perhaps police realized the potential for an unnecessarily violent outcome and chose the high road to avoid such a situation.
Either way, one thing is certain, and that is the fact that no one was hurt.
As we receive more information from the department on this story, we will update this article.
Hours after the standoff ended, Chief Zeigler tweeted the following:
[author title="" image="https://tftpstagingstg.wpengine.com/wp-content/uploads/2016/03/magorist-e1456948757204.jpg"]Matt Agorist is an honorably discharged veteran of the USMC and former intelligence operator directly tasked by the NSA. This prior experience gives him unique insight into the world of government corruption and the American police state. Agorist has been an independent journalist for over a decade and has been featured on mainstream networks around the world. Follow @MattAgorist on Twitter and now on Steemit[/author]