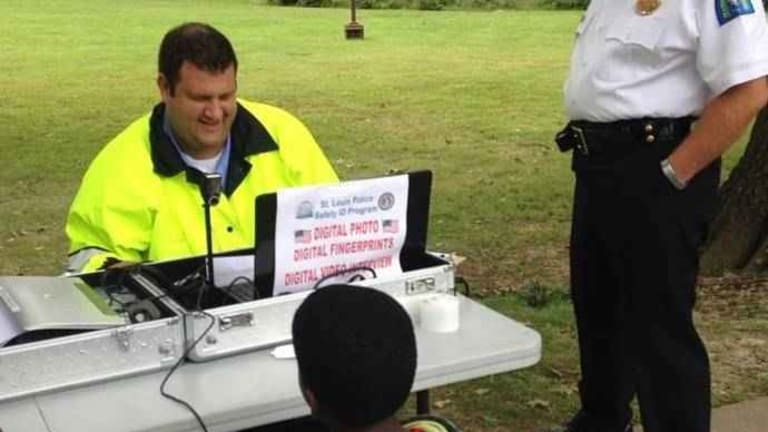 PR FAIL: St Louis Police Try to Boost Community Relations by Fingerprinting Ferguson Children
In an effort to improve public relations in Ferguson, the St Louis Police Department set up finger printing stations in the area and offered to fingerprint children. The police announced that they would be doing this as a service to the community, in order to help parents keep better track of their kids.
The police say that the children will be placed into a database that will make them easier to track down if they ever happen to get lost one day, but many people are seeing this as another example of a growing police state.
However, with the recent controversy surrounding the militarization of police, lining children up on the roadside for fingerprinting was probably a poor public relations strategy.
The promotion was largely ignored by Ferguson residents, and many of those who noticed were offended by the tactless gesture.
While they were attempting to fingerprint children on the side of the road, the police department made another post on their Twitter account saying that they were, "Having fun with the Ferguson community today w/ our law enforcement partners. Building relationships in our region!"
From the pictures that were posted by the police department, it seemed that there were very few people volunteering to get their children fingerprinted. Also, the vast majority of the people who commented on these posts were disgusted by the insensitive "outreach" effort.
In fact, if news of this operation would have gotten out beforehand, then there would have surely been more people there to protest, than were there to volunteer.
John Vibes is an author, researcher and investigative journalist who takes a special interest in the counter culture and the drug war. In addition to his writing and activist work he is also the owner of a successful music promotion company. In 2013, he became one of the organizers of the Free Your Mind Conference, which features top caliber speakers and whistle-blowers from all over the world. You can contact him and stay connected to his work at his Facebook page. You can find his 65 chapter Book entitled "Alchemy of the Timeless Renaissance" at bookpatch.com.