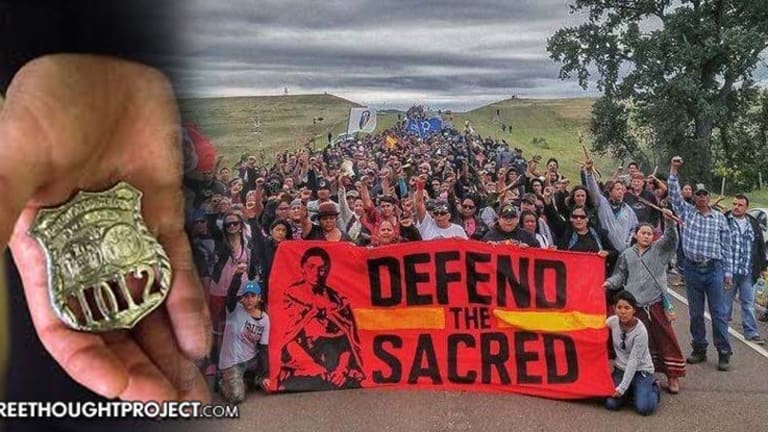 Be the Change: 2 Cops Turn In Badges in Support of Standing Rock Water Protectors
Amid increasing violence and contention, at least two officers have now turned in their badges, refusing to follow orders against the Standing Rock Sioux.
Amid increasingly contentious and excessive displays of force against water protectors opposing the Dakota Access Pipeline, there are reports officers have had their fill of orders to crack down — and have begun to turn in their badges.
In a post to the Standing Rock Rising Facebook page, Redhawk writes:
"There have been at least 2 reports of police officers turning in their badges acknowledging that this battle is not what they signed up for. You can see it in some of them, that they do not support the police actions. We must keep reminding them they are welcome to put down their weapons and badge and take a stand against this pipeline as well.

"Some are waking up."
In video footage shot by independent journalists and smaller media organizations, pipeline opponents and Standing Rock Sioux water protectors and their supporters have been seen pleading with heavily militarized officers to 'find their humanity' and cease violent actions against those attempting to preserve clean water for generations to come.
Activists and supporters of the Standing Rock Sioux Tribe's blockade of pipeline construction have implored the militarily-equipped officers to consider if their families' would approve of their belligerent actions — particularly as law enforcement in this case is essentially acting on behalf of Big Oil and wealthy pipeline stakeholders.
Officers handing over their badges as a quiet protest against orders to lash out with excessive and largely unnecessary force is no small victory for those opposed to Energy Transfer Partners' construction of the pipeline, now commonly referred to as DAPL.
In the latest showing of unnecessarily violent police action, a group of unarmed Native Americans and activists crafted a bridge to span a section of Cantapeta Creek in order to perform a prayer ceremony — but police and National Guard troops quickly dismantled the project. When dozens entered the frigid waterway to cross on foot, police coated them with pepper spray, rubber bullets, and, reportedly, tear gas.
"It messed me up, but I'm slowly recovering," Danyion LeBeaux, who had been at the standoff, told the Guardian. "People were standing there unarmed, and they start macing us for no apparent reason."
Despite some reports of violence from pipeline opposition, journalists who have visited the growing movement in North Dakota say those actions have not only been against the wishes of the Standing Rock Sioux Tribe, but were likely perpetrated by outside agitators — perhaps paid to do so in order to smear the peaceful nature of the opposition.
Officers from at least five states and multiple agencies have consistently brutalized and intimidated the water protectors with rubber and bean bag bullets, pepper spray, mace, Tasers, sound cannons and piercing tones through Long Range Acoustic Devices (LRAD), batons, and other means to antagonize and then arrest anyone in the pipeline's presumed path.
Upon arrest, water protectors are stripped, searched, and, in cases of mass arrests, are marked on their arms and detained in dog kennels.
Can it be any wonder some officers have grasped the magnitude of their actions — particularly as the world watches in horror?
Considering the brutal bent law enforcement has readily displayed, those who have visited the encampments near Cannon Ball North Dakota have come away traumatized and lacking understanding for why the Obama administration and presidential candidates haven't sooner voiced concern.
Indeed, it wasn't until Wednesday, just hours before the fracas at Cantapeta Creek, that President Obama merely slightly suggested in an interview the Army Corps of Engineers would be considering rerouting the pipeline again — this time to accommodate the concerns of the Standing Rock Sioux.
After being allowed to assess traditional land, which is now private property, for the first time in early September, a tribal historian filed documents with the federal court presiding over its pipeline lawsuit detailing a number of sites of both sacred and historical interest to the Standing Rock Sioux. Less than 24 hours after the filing, construction crews drove 20 miles away from current worksites and decimated that exact swath of land in what many called an act of retribution for growing opposition.
If the report of officers handing over badges in protest proves indeed true, perhaps police are finally seeing this exploitation and state-sponsored violence for how it ultimately will be seen years from now — as a stance for the corporations at the behest of the government against peoples native to this land.
In other words, maybe they don't want to be on the wrong side of history.