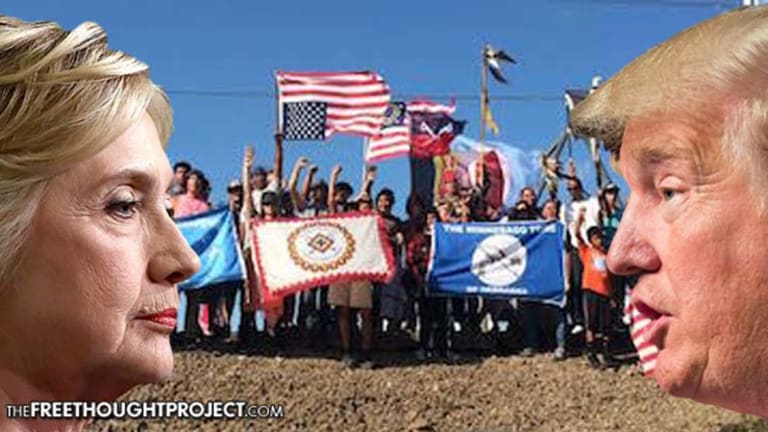 "I Am Ashamed of Them Both" Standing Rock Protesters Refuse to Vote -- "F**k the People Running"
Standing Rock Sioux water protectors are refusing to vote because they know it makes no difference.
Cannon Ball, ND — Standing Rock Sioux water protectors currently camping near the banks of the Missouri River in Cannon Ball, North Dakota, refuse to vote on Election Day — because voting for a president would only legitimize State-sponsored violent policing as has been employed against the tribe and its supporters opposing the Dakota Access Pipeline.
"I don't want to have a say in government," Standing Rock Sioux tribe member Frank Archambault told the Guardian, adding that choosing a president would be akin to picking the enemy's leader. "I guess you could call it trauma. I don't have faith in government, so I don't want to have a say."
Archambault brought his entire family — five children and a grandson — from South Dakota in July to join other Standing Rock Sioux members, Native Americans from hundreds of tribes, Indigenous peoples from around the planet, and supporters and activists opposing the pipeline and protecting water from sullying by Big Oil.
His reference to trauma should be obvious — centuries of exploitation by the colonizing United States government have continued to this day. Indeed, the exact ongoing battle for the water protectors — with ridiculously over-militarized police showering peaceful activists with mace and pepper spray, shooting them with rubber bullets and bean bags, jolting them with Tasers, and assaulting them with sound cannons — eerily mimics battles between the European settler government and Native Americans not that long ago.
Most, if not all, of the thousands-strong group occupying several camps to halt Energy Transfer Partners' construction of Dakota Access simply won't vote. They understand the perception of validation voting implies — and want no part of that.
"I don't think anyone here votes," Oglala Lakota Tribe member Julie Richards told the Guardian. "We're all like, fuck the government, fuck voting, and fuck the people running."
Those camping face decidedly harsh conditions in the very near future — unforgiving best describes North Dakota winter weather, which is expected to be colder than usual this season, with winds whipping across the plains making daytime predicted highs in the teens quite dangerous to anyone exposed.
But determination endures in each camp, with water protectors refusing to budge until the Dakota Access Pipeline construction project halts. While that ambition has garnered international attention — and police actions, international condemnation — the Standing Rock Sioux Tribe views opposition as a necessity to save water from contamination that could affect whole generations in the future.
In other words, this isn't a protest at all, as corporate media incessantly, obstinately claims — these people, who have upended their lives to stop Dakota Access construction, rightly view their opposition as a matter of life and death. As Standing Rock Sioux members have explained in previous interviews, water is a living entity — and must be protected as a vital being.
"We're either going to change the world with this movement," Ho-Waste Wakiya of the Chumash Nation told the Guardian at Sacred Stone Camp, "or the world is going to die."
Neither Hillary Clinton nor Donald Trump have won many friends in the North Dakota camps.
"Donald Trump hates Indians and loves money," Wakiya asserted, referring to contentious comments the billionaire has made about Native Americans and his investment in ETP, which also contributed a hefty sum to Trump's campaign.
But his criticism should not be construed as support for Trump's opponent, as people too often assume, Wakiya noted.
"Hillary is the queen of all fracking," he told the Guardian. "Hillary is going to put in more pipelines.
"Both of them are all about money. I'm ashamed of both of them."
Silence from the two most detested candidates in U.S. election history has been deafening — and although Clinton finally broke that streak at the end of October, her tepid statement only fueled ire and resentment among those who feel the government has turned its back on the issue.
"Hillary Clinton managed to make a statement about the Dakota Pipeline that literally says nothing. Literally," 350.org co-founder Bill McKibben tweeted afterward.
It's not shocking these protectors of the water can't fathom voting would change a thing — and could even be counterproductive.
"Trump really doesn't like Indians," said Gary Dull Knife, an Oglala elder. "If [Clinton] gets in, it's just all the same."
Dull Knife explained leaving the camp — even temporarily abandoning the others — to get to his polling place, just to vote in an election of no consequence, simply isn't an option.
"To vote, I'd have to go home, and I don't want to leave. I want this pipe shut down. I don't want none of my people to get hurt," he said.
With police from at least five states now present at various Dakota Access construction sites employing increasingly violent tactics against the almost wholly peaceful water protectors — as well as a bitter winter looming on the horizon — Dull Knife's fears appear justified.
All of this struggle, and complete lack of substantive response from the sitting president, makes voting in the 2016 presidential election to the water protectors nothing more than a question from a reporter.